You get a lot of milk out of 3,400 Holstein dairy cows. You also get a lot of mess. In a nutshell, this is the problem confronting Rob Schmidt every day. Schmidt is equipment and maintenance manager for Hidden View Dairy, a family-owned dairy farm near the northwestern Indiana town of Rensselaer. The same cows that produce 270,000 lbs of raw milk every day — seven days a week, 365 days a year — also produce 130,000 gal of waste.
At the center of the solution to this challenging waste-management problem is one very busy Case 430 Series 3 skid steer loader, equipped with a 9-ft-wide Mensch M700 manure blade. During its first 15 months on the job at Hidden View Dairy, the Case 430 skid steer clocked more than 9,000 hours of operating time, an average of 21 hours a day. As cows are rotated three times daily from their stalls to the milking parlors, the Case 430 cleans the empty stalls, pushing waste material into drains that feed a system of 24-in.-diameter pipes beneath the floor. Then a second Case 430 machine with an angled blade restores the bedding straw and re-stocks the feed supply in each stall.
Waste Recycling Generates Power
Hidden View Dairy captures the energy value of the cow waste and diminishes its negative environmental impact by processing the material through a methane digester, which is gravity-fed by the 24-in. drain pipes. Schmidt said the digester produces enough purified methane gas to power an electric generator that more than meets the dairy's electrical needs. A small fraction of the generator's 900-kW annual output is returned to the local utility's power grid, resulting in a small profit to the dairy. The value of the self-generated electricity essentially offsets the cost of operating and maintaining the digester and generator, Schmidt explained.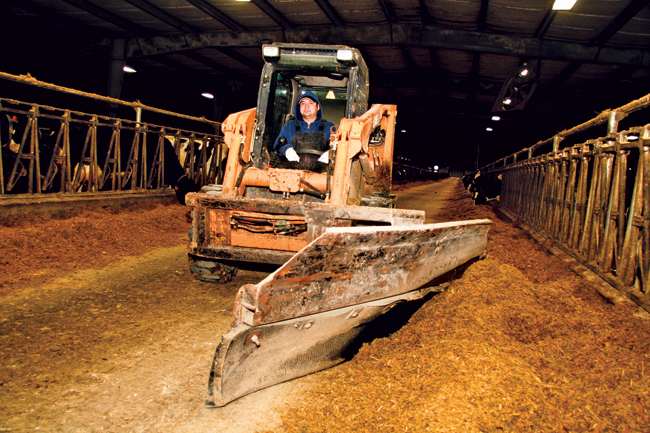 "It's a good solution, both economically and from the standpoint of protecting the environment," Schmidt said of the dairy's waste-to-energy conversion process. "It's also a good example of how we try to be as self-sufficient as possible."
In that regard, the dairy grows much of its own feed stocks on its 1,200-acre farm. The annual crop of corn, wheat and rye satisfies about two-thirds of the dairy's grain requirements. Under Schmidt's direction, the dairy staff also handles all onsite maintenance of both mobile and stationary equipment.
"If it doesn't moo, I'm responsible for taking care of it," Schmidt quipped. He attributed the dependable service of the Case 430 skid steers to rigorous preventive maintenance. "We follow all of Case's recommended service intervals. We just can't afford any downtime. We've been very happy with the skid steer's reliability in a demanding job."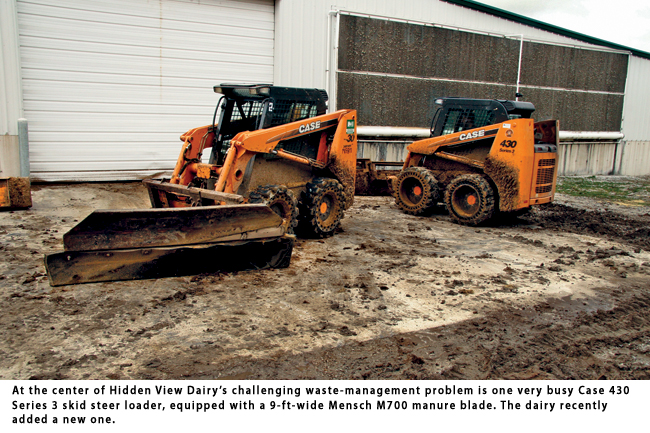 Hidden View recently added a new Case 430 Series 3 skid steer to its fleet, facilitating the rotation of its 9,000-hour workhorse into a backup, utility role. "We expect the same kind of dependability from the new machine," Schmidt said.
Schmidt explained the use of the specialty manure blade. "It's an oversized blade made of hard rubber and mounted to the skid steer with a quick-coupler design. The rubber material gives us better wear life and productivity than we'd get with a standard metal bucket or blade. It helps prevent damage to the floors and it keeps very even contact with the floor surface for efficient cleaning."
The area that the skid steer patrols is about 25 ft wide, enabling it to complete each cleaning cycle in just three passes. Schmidt says a standard blade or bucket would require six or seven passes for the same job. Hidden View's herd of Holsteins occupies three large buildings, two of which are 110 ft wide and 1,600 ft long. The third building is 130 ft wide and 800 ft long. Each building contains both stalls and milking stations, enabling the dairy to keep cows safely confined and cared for.
Dairy Enters Second Decade of Operation
Hidden View Dairy began operations in 1999 under the leadership of owner Fred Schakel on a farm close to its current location. The dairy moved to its new farm in 2006. The daily production of 270,000 lbs of raw milk — just over 30,000 gal — fills six large tank trucks, which transport the product to cheese-processing plants in Kentucky and to an Indiana milk co-op that handles sales to commercial milk processors.
"It's a non-stop operation," Schmidt said. "You need dependable equipment, dependable people — and dependable Holsteins. We have all three."
Roger Culp is a sales specialist with MacDonald Machinery Co. Inc., based in Indianapolis, Ind.