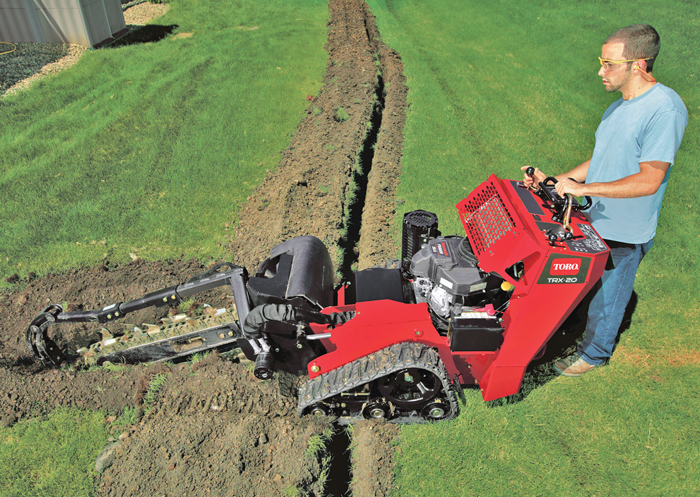 There are a number of pedestrian/walk-behind trenchers on the market, and manufacturers categorize them differently. Various combinations of categories include wheels, tracks, horsepower and digging depth. For general purposes, walk-behind trenchers are usually divided into two broad categories: mini or larger.
Mini trenchers dig at depths between 12 and 24 in., while larger walk-behind trenchers dig between 24 and 48 in. deep. Ditch Witch, Vermeer, Toro and Barreto Mfg. are major manufacturers of the larger trencher, while Ground Hog Inc., E-Z Trench and Trench Devil also contribute to the mini-trencher market.
Mini trenchers are generally under 10 hp and are primarily mechanical trenchers. Unlike the larger walk-behind trenchers — which are hydrostatic or hydrostatic-driven — mini trenchers use direct methods of trenching.
Matt Collins, senior product manager for compact equipment at Ditch Witch, says the company's 10- to 15-hp range is its most popular trencher since it offers an excellent size-to-power ratio and digs 24 in. deep. It's also relatively inexpensive at $7,000 to $10,000.  Chains can be set up differently on larger trenchers, therefore their pricing fluctuates.
"The larger walk-behind trenchers are in the $10,000 to $17,000 range, depending on horsepower and boom and chain configurations," he says.
Hot Rental Market
Homeowners usually rent walk-behind trenchers to complete small projects while contractors and rental yards primarily purchase them. But the trend over the last 15 years has been contractors moving to renting as well, says Collins. Vermeer sees 70 to 75 percent of its trenchers sold as rentals.
The rental market is driven by home improvement right now, says Jon Kuyers, global product manager for the underground business segment at Vermeer. "Many people are refurbishing utilities or remodeling, running new cable or gas lines to a particular area," he says. "Projects like these can improve quality of life."
Another reason renting is popular has to do with the current economy. "People are more cost conscious today than they have ever been, after experiencing two economic downturns in the last 12 years," Collins says. "Walk-behind trenchers are a staple in the rental industry and have been for many years. They are smaller, more compact and cater to both the contractor and the homeowner."
Manufacturers' estimates on what rental yards charge vary. "Rental rates are all over the place, at about $100 a day to rent a small machine and more than $220 per day for the larger ones," says Tim Phelps, product manager at Barreto. Geography, terrain and the amount of competition in a given area also play a role in rental rates.
New Technologies
Trenchers with tracks have emerged as the clear leader over wheels in the development of new trenchers. According to Phelps, the market is going toward track drives typically on machines that dig deeper depths, since they have the ability to provide more care on lawns — a top concern for users. Tracked trenchers can run for longer periods throughout the year, providing more traction in rainy conditions and on frozen ground.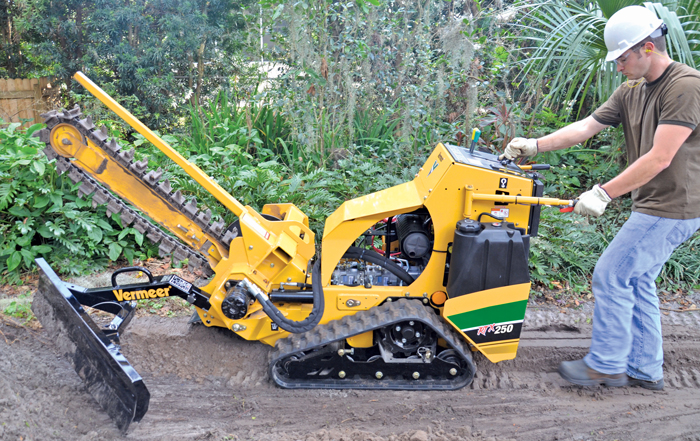 Other newer trencher technologies make the trenching process less labor intensive than before.
Manufacturers include simple and intuitive controls for machine operation so homeowners and weekend warriors don't have to take too much time learning how to use the trencher. Some manufacturers also focus on making it easier for users to maneuver around tighter and smaller areas with intuitive steering systems.
Vermeer's new RTX250 has steerable handlebars that allow users to control the machine by moving them in whatever direction they want the machine to move. "The system is really intuitive for the rental operator," Kuyers says.
Barreto's new 712MT micro trencher, developed for the rental market for novice operators, takes it in another direction. It has an auto wheel drive system that senses how fast the wheels are traveling and slows the unit down so the operator doesn't have to adjust the wheel speed. It has fewer controls, including one lever to start the chain and one to start the wheels.
Manufacturers are also working to make trenchers easier to maintain. In the newest models, they have reduced the number of wear and grease points and eliminated the need for special tools.
"It's now easier to reach filters and other items that must be checked daily," Kuyers says. "Rental yards can quickly check the tools over after they are returned. Everything is easy to get at, easy to check and easy to repair."
For Better Operation
Everyone agrees that all users should read the manual. Collins adds that renters should walk through how the machine works, from the tip of the boom to the back, at the rental yard.
"Learn what to look out for, how to operate the controls, how to load it, how to unload it and the intricacies of trenching," he suggests.
Kuyers offers an additional technique since there are many different ways to backfill. He explains that many times, the material is exhausted or augered out to one side of the machine when the trench is cut. Sometimes it may take several passes to put the material back in the trench. He says it's not a good idea to try and put it all back in at once.
"Once you set the trenching on flat terrain and set the blade to skim the top of the ground, there's no need to adjust the depth of the blade again," Kuyers says. "If you do, you'll gouge and create a wavy path when you backfill, which isn't desired when you're trying to restore the trench back to original condition. Set it once and that's it. The machine has enough power to push the material back in, so you don't need to constantly adjust it."
He says how to backfill depends on the depth of the trench and how much material there is. "If you are trenching deep, it will probably take a couple of passes," Kuyers says. "People try to get it all done at once, in one shot, and that may not be correct. Instead of one pass, do the first half of the pile, then drop the plate down and do the second half of the pile."
Rent and Test Before Buying
Anyone considering purchasing a trencher should consider the following advice: "Rent a piece of equipment, take it to the jobsite, trench with it, get comfortable with it and rent several different pieces of equipment to make sure the piece you need is the piece you purchase," Collins says. "Be comfortable around the equipment, understand it and look at different manufacturers to make sure you get the right one."
Literature can't explain everything. Demonstrations and a strong support system should help make the decision for you.
"Having a local dealer network to support you after the sale is important," Collins says. "The work is hard, so having service and support from the local dealership is important."
Debbie Sniderman is an engineer, consultant, writer and CEO of VI Ventures LLC. She can be reached at www.vivllc.com.
---
Walk-Behinds vs. Trenching Attachments
Contractors who trench may often find themselves facing a decision: purchase a dedicated walk-behind trencher, or purchase attachments for a skid steer or compact tool carrier? Jon Kuyers of Vermeer says that it's all a question of utilization. "If a contractor will use a trenching attachment at least 60 to 70 percent of the time, it makes sense to buy a dedicated trencher," he says. "For those that trench less often, an attachment may make more sense, because it frees up the tool for other project."
The functionality of attachments and dedicated trenchers is basically the same. A dedicated trencher might perform just a bit better in a horsepower-to-horsepower comparison because a dedicated design circuit has less power loss, but it would not be a significant amount of difference.
From a functionality standpoint, the two options are similar, but there is definitely a performance difference. Typically, the dedicated machines are built to perform a little better than  running a trencher attachment, but utilizing a tool carrier (like a skid steer, track loader or compact tool carrier) can allow you to use multiple attachments and thus have more versatility.