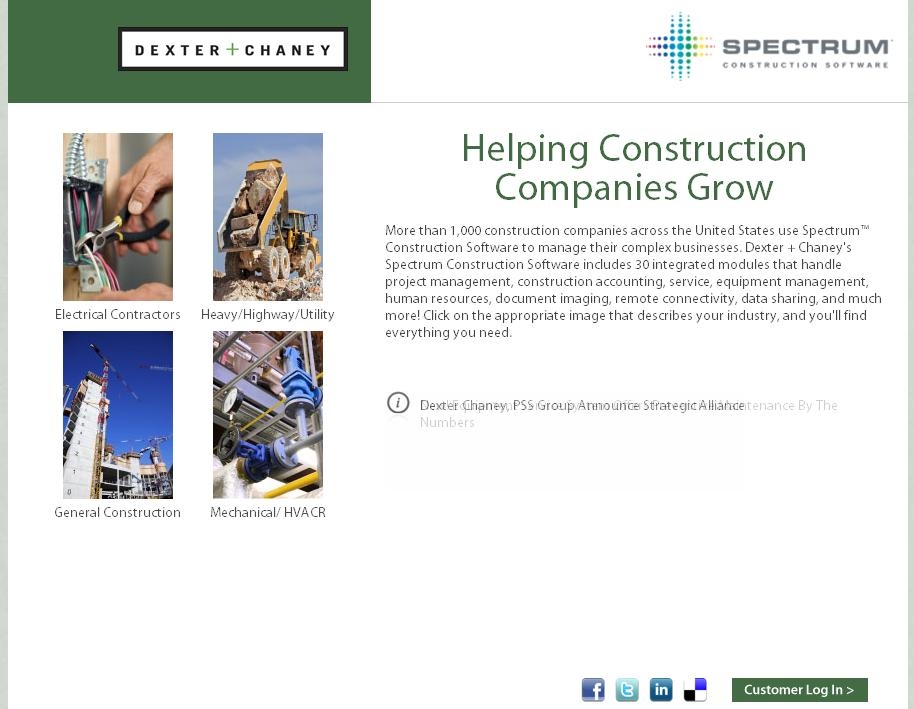 Contractors can quickly pinpoint information that addresses both their construction operations and accounting needs with the Dexter + Chaney Web site, just launched at http://www.dexterchaney.com/. The site offers easy access to the information about Spectrum Construction Software's capabilities that applies to the individual user's specific interests. The contractor can quickly pinpoint the relevant information that addresses both the operations and financial needs of their company, within a single construction ERP (enterprise resource planning) software package. 
Dexter + Chaney has tailored the Web site to the primary industries that Spectrum serves: electrical, heavy/highway/utility, general construction and mechanical/HVACR contracting. Within those, the Web site categorizes the information by specific areas of a contractor's business. Those include operational functions like equipment management, service and project management, as well as financial areas and business intelligence. 
 
"We've designed the new Web site as a critical tool to help us communicate the full range of Spectrum's ERP capabilities for the construction industry," said John Chaney, Dexter + Chaney co-founder and president. "If, for example, the user is seeking information about equipment management or project management, the Web site combines it in one place with Spectrum's accounting and finance capabilities. 
"We have a tremendous amount of information to share," Chaney added. "Our task was to simplify the search for the individual user. The site really is a reflection of Spectrum's role as a fully-integrated construction ERP system."
The home page of the new Web site features in-the-field images depicting electrical, heavy/highway/utility, general construction and mechanical/HVACR contracting. When the user points the mouse to one of the images, information about Spectrum that applies to that industry rolls onto the screen.  When the user clicks on the image, they arrive at a "landing page" that describes in detail how Spectrum helps construction companies in that industry and provides links to products and services designed for them.