Helping others get ahead has always been the vision of companies like Komatsu, Thompson Pump and ITT Corp. These businesses are known for manufacturing construction equipment, portable pump systems and water infrastructure solutions, providing the mechanical answers for problems and progress over decades. Now they're lending their expertise to great charitable causes such as the Pakistan flood crisis, the Gulf oil spill and the Special Olympics, helping those in critical situations find the resolve to overcome adversity. You always stand taller with someone else on your shoulders, whether it's elevating your business with excellent products or donating your services to those in need.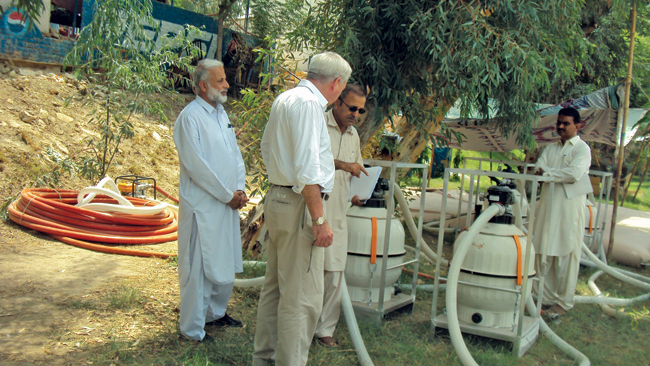 ITT Provides Safer Water for Pakistan Flood Victims
You can't lead further than you've gone yourself. That could be ITT Corp.'s mission statement. The company is already a global water leader, with products that touch every part of the water cycle, delivering fresh water to communities and commercial businesses, treating and disinfecting it, transporting the wastewater and returning it to streams and rivers cleaner than it came in. But ITT Corp. is more than a corporate trailblazer — the company is also a global community leader.
Last month, ITT Corp. (parent of Bell & Gossett, Goulds Pumps and other brands serving the HVAC and plumbing industry) announced that, through its partnership with Mercy Corps, the company is donating five portable water treatment systems to the Sindh and Khyber Pakhtunkhwa provinces of Pakistan in response to the recent flooding.
"We are pleased to be using our expertise in fluid technology to support our partner, Mercy Corps, in providing victims with immediate assistance, as well as long-term recovery," said Steve Loranger, chairman, president and CEO at ITT. "Our funds and our products are being used to provide life-saving water and to prevent the spread of waterborne disease."
Of the more than 15 million people the Pakistan floods are estimated to have affected, the World Health Organization estimates only 1.2 million have access to critical safe water supplies. The water treatment units, which have the potential to provide clean water to as many as 200,000 people, were donated by ITT and are being deployed through Mercy Corps' large-scale humanitarian aid response.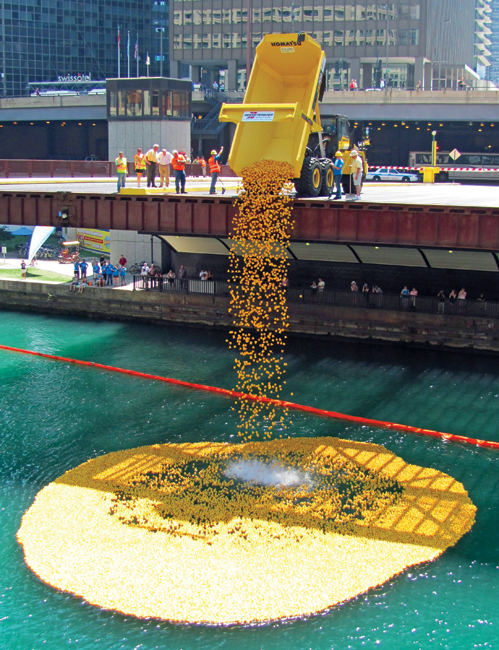 This collaborative disaster response is part of a strategic partnership between ITT's corporate citizenship program, ITT Watermark and Mercy Corps to provide safe water and sanitation during emergencies. Under the partnership, ITT has established an emergency fund to support Mercy Corps' initial, on-the-ground assessment of short- and long-term needs following a disaster.
Within hours of being notified of the Pakistan disaster, ITT authorized Mercy Corps to tap $62,000 of ITT's 2010 emergency response fund to support efforts to provide clean water to flood victims. ITT is also matching all ITT employee donations to Mercy Corps' Pakistan relief efforts.
ITT and Mercy Corps' joint activities have included trucking and chlorination of water, repair of water-related infrastructure and restoration and construction of new water sources. In the Swat Valley alone, ITT's support has already helped Mercy Corps provide 1.1 million gallons of water to 110,000 people. Mercy Corps' initial assessments in Swat Valley and Sindh province identified an acute need for access to water and sanitation. As many as four million people have been rendered homeless following the worst South Asian floods in 80 years.
Komatsu Raises Money for the Special Olympics
Have you ever wondered what 30,000 rubber ducks look like floating down the Chicago River? In mid-August, the folks at Komatsu America Corp. decided to find out, with a good cause in mind. A 30-ton Komatsu articulated dump truck HM300-2 set free more than 30,000 yellow bath toys  into the Chicago River on Aug. 12 for the fifth annual Windy City Rubber Ducky Derby which benefits Special Olympics Illinois. Each year for the derby, rubber ducks are adopted by sponsors (for a monetary donation) to race down the Chicago River. Prizes are awarded for the first ducks to cross the finish line.
This year's Duck Derby raised more than $250,000 for the Special Olympics. Komatsu has been part of this Special Olympics Illinois event since its inception five years ago. Each year, Komatsu employees have had a hands-on role in the management of the derby itself and also organize a variety of fundraisers throughout the year in support of the event. Komatsu America then matches those funds.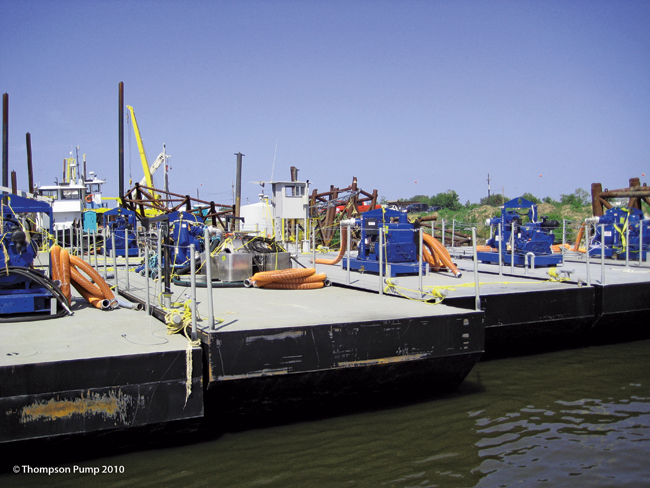 Special Olympics Illinois is a health and human services organization that offers year-round training and competition in 19 sports for nearly 21,000 athletes with intellectual disability and more than 40,000 Young Athletes age 2 to 7.
Komatsu America Corp. is a U.S. subsidiary of Komatsu Ltd., which is the world's second largest manufacturer and supplier of construction, mining and compact construction equipment. Komatsu America also serves forklift and forestry markets. Through its distributor network, Komatsu offers a state-of-the-art parts and service program to support the equipment. Komatsu has proudly been providing high-quality reliable products for nearly a century. Visit its website at www.komatsuamerica.com for more information.
Thompson Pump Co. Continues to Battle Gulf Oil Spill
Even though BP's Deepwater Horizon has been capped, clean-up efforts continue in the Gulf coast and Thompson Pump Co. is there to help. Within a few days of the incident, Thompson Pump Co. mobilized its Emergency Response Team (ERT) to provide pumping equipment, supplies, manpower and a wealth of tactical knowledge to areas devastated by the Gulf of Mexico oil spill.
Once the extent and location of the potential damages were ascertained, Thompson Pump began supplying pumps and equipment throughout areas of Louisiana, Mississippi, Alabama and Florida currently or imminently impacted by the oil spill. Thompson's ERT is currently skimming in both deep and shallow waters throughout the Gulf, as well as in rivers and streams in the bayous and marshes in order to help minimize the devastation. Thompson Pump is slated to have as many as 100 pumps, along with hoses and specialized skimming devices, to facilitate oil containment, recovery and transfer.
"Although this challenge is significant and extensive, Thompson Pump has the experience and equipment
 necessary to assist in the long-term restoration of our waters and our shoreline," says Bill Thompson, president of Thompson Pump. "We are allocating enormous resources to attack this problem with the intention of enabling the citizens in the affected areas to resume their normal lives as quickly as possible."
Thompson Pump branch locations in Hammond, La., Jackson, Miss., Pass Christian, Miss., Pensacola, Fla., and Panama City, Fla., are all directly involved with this project. These locations, along with the aid of the Thompson Pump nationwide network of branches, are providing equipment, service and support to aid in the environmental restoration efforts. Thompson Pump is working closely with contractors who are tasked with various areas of clean-up responsibilities.