The construction industry unemployment rate rose to 17.3 percent in October, up from 17.2 percent in September, according to the November 5 jobs report by the U.S. Labor Department. This is down slightly from 18.7 percent one year ago. On a seasonally adjusted basis, the construction industry gained 5,000 jobs in October, but has lost 122,000, or 2.1 percent, over the past twelve months.
"Today's jobs report adds to the already abundant supply of confusion," said Associated Builders and Contractors Chief Economist Anirban Basu. "While many observers will be delighted to know that the nation added 151,000 jobs last month, easily exceeding the expectations of 60,000 amongst the broader economic community, the household survey indicates that the labor markets continued to deteriorate."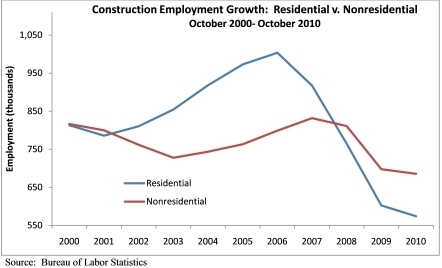 Nonresidential building construction employment slipped by 1,800 jobs in October and is down 12,200 jobs, or 1.7 percent, since October 2009 as employment stands at 685,400 jobs. In comparison, residential building construction lost 2,200 jobs for the month and 28,500 jobs, or 4.7 percent, from the same time last year.
Heavy and civil engineering construction employment gained 4,800 jobs in October, representing the fifth straight monthly increase. On a year-over-year basis, heavy and civil engineering construction has added 28,500 jobs, or an additional 3.5 percent. Nonresidential specialty trade contractors added 7,300 jobs in October, bouncing back after losing 12,700 jobs in September. However, employment in this category is down by 58,700 jobs, or 2.8 percent, from one year ago.
Private employment increased for the tenth straight month, gaining 159,000 jobs in October, and is up by 1,107,000 jobs, or 1 percent, from the same time last year. Total employment across all industries increased by 151,000 jobs following four straight months of job losses, and is up by 829,000 jobs, or 0.6 percent, from October 2009.
Overall, the nation's employment level is down by 330,000 jobs in October following increases of 290,000 jobs and 141,000 jobs in August and September, leaving the national unemployment rate unchanged at 9.6 percent from the previous month.