North Americans love their skid steers and Europeans love their compact wheel loaders. The great Euro compact king Wacker Neuson is trying to bridge the gap with its newest small wheel loader, the model WL 37, which is the ideal compact loader on any North American construction site where there is a need for power, versatility and productivity.
According to Jay Baudhuin, compact equipment product manager: "The Wacker Neuson compact wheel loaders can perform the same tasks as a higher powered skid loader but deliver up to 30 percent in fuel savings. They are also faster on the jobsite and should have higher resale values at trade-in time too. Add to this the wide range of attachment tools we offer and you really do have a machine that can match the versatility of a skid loader and save a decent amount of money on the jobsite."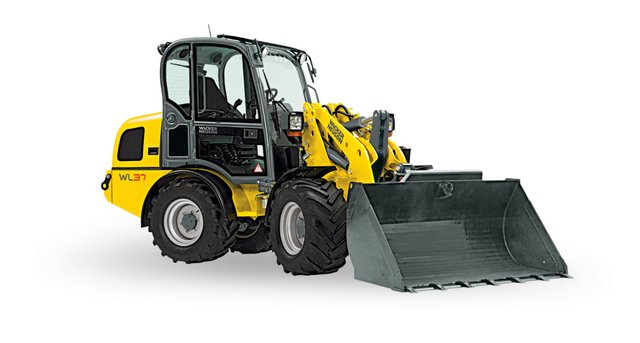 This 3.7 metric-ton unit offers a straight load capacity of 5,926 lbs and fully articulated tipping capacity of 4,912 lbs, using a standard 0.78-cu yrd bucket. Power comes from a four-cylinder, 77.8-hp turbo charged Deutz diesel engine. Wacker Neuson is the only manufacturer to offer a wheel loader with a true high-flow option. The WL 37 is available with 17-gpm auxiliary hydraulics or a true high-flow option of 33 gpm. This high-flow option allows the unit to operate high flow attachments such as cold planers, snow blowers and anything in between.
The articulated WL 37 also offers excellent maneuverability and handling especially in tight working conditions. The built-in articulated joint reacts to uneven ground and ensures that all four wheels remain on the ground at all times, providing for extremely stable operation. The spacious operator station offers many creature comforts for easy operation and improved productivity. The 360-degree visibility provides an excellent view of the immediate working area and the attachments. The multifunctional single lever control is conveniently arranged next to the driver's seat for easy operation. Plus a tilting steering wheel, cushioned and adjustable driver's seat, large, wide-opening doors, heated and air conditioned cabin and working lights all contribute to a unit any operator will be comfortable in for long periods of time no matter what the weather conditions.
Wacker Neuson's WL 37 offers a 100 percent on-demand differential lock that provides the operator with superior traction in slippery wet conditions or when driving into a pile of material. When disengaged for normal driving tire wear is reduced. The WL 37 is engineered to ensure high payloads to provide better break out force and lifting capabilities. The hydrostatic drive together with the combined brake-inch pedal provides maximum operating hydraulics power. This enables the WL 37 to maneuver with extreme safety and precision even with high loads. The skid steer quick-hitch and standard auxiliary hydraulics allow for efficient changing from one accessory to another.
The large engine cover and compartment allows for easy access to daily maintenance and service points. The driver's cabin can be tipped to the side for optimum accessibility to the hydraulic system, electrical system and articulated cylinder.