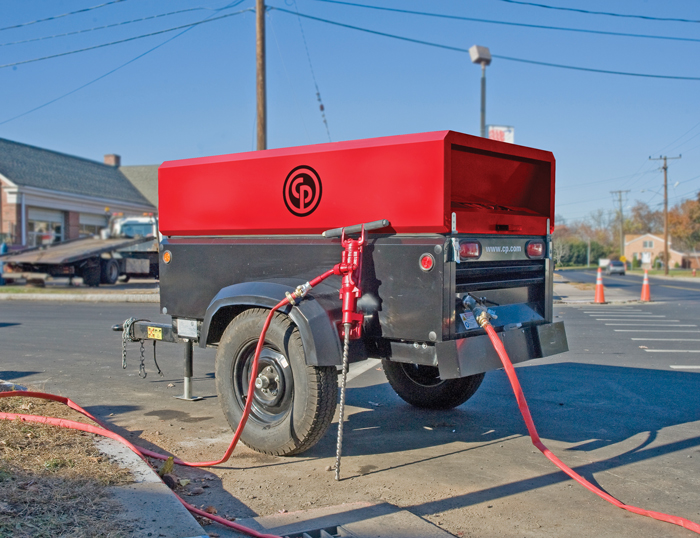 We have all heard the old adage that "an ounce of prevention is worth a pound of cure." That could not be more relevant than when it is applied to your equipment — particularly portable air compressors. This equipment is typically used in dusty, harsh conditions, which makes it that much more important to have a maintenance plan.
Since these machines typically don't require an enormous amount of upkeep, contractors and fleet managers occasionally find it easy to overlook the importance of a daily, weekly, monthly and annual maintenance plan. A well-maintained air compressor can be a contractor's best friend on the job, offering portable power to a number of different tools that are required on a typical site. However, a compressor that has not been properly cared for can quickly turn a profitable project into a nightmare. Equipment downtime is a killer when it comes to a healthy bottom line, so savvy contractors will always take the time to perform daily, weekly, monthly and annual checks on their portable air compressors.
To make a comparison, think of the portable air compressor as the heart of the project, and the pneumatic tools as the arms and legs. If the heart isn't running, neither are the arms or legs. Conversely, a healthy compressor means that the rest of the tools are operating at optimum performance. A broken compressor means the job is at a standstill until it is repaired or replaced. Again, the time it takes to repair or replace that compressor translates into dollars lost for the contractor. This can all be avoided with a proactive maintenance plan.
Before maintenance even comes into play however, the biggest favor a contractor can do for himself is to make sure he's using the proper equipment for the application. Once a contractor knows what tools they will be using on a jobsite, it is a lot easier to select the portable air compressor that will work best for them.
Not only does the contractor need to have a good idea of the amount of air (cfm) required for the specific application, it's also important to consider where the work is being done. For instance, if the work to be performed takes place a considerable distance away (say, 300 ft or so) from the compressor itself, the pressure on the compressor may need to be adjusted or a larger hose may be needed to reduce pressure loss.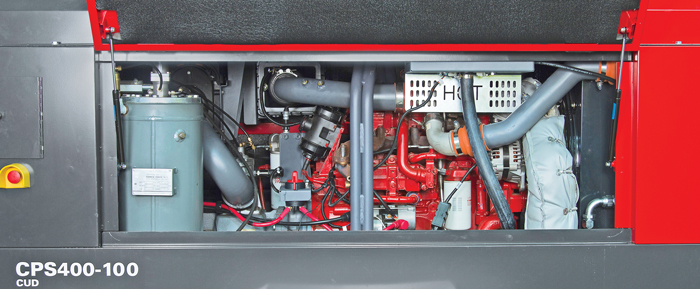 As another example, let's say the contractor is using a compressor to run three chipping hammers to knock the cured concrete out of the inside of a concrete truck. Depending on the size of the hammers, they may require about 25 to 30 cfm each. In this case, a Chicago Pneumatic CPS 90 would be the ideal compressor for this specific application.
Once a contractor has determined the right power source for the application, and the work begins on the jobsite, there are a few simple maintenance steps you can follow (daily, weekly, monthly and annually) to ensure the longevity of your machine.
Daily:
• Take a quick walk around your compressor to check for leaks and make sure that you don't see any fluids pooled underneath the machine.
•  Power up the compressor, and check your indicators to make sure you're ready to go before every use.
• Fill up your tank with enough fuel that you can make it through the day. Anytime you open your fuel tank, you welcome the opportunity for dirt and debris to enter your system — do your best to minimize that.
• Always check your tires before moving the unit.
• Wipe down your intake vents. The cleaner you keep these, the easier it is on your compressor's filtration system.
Weekly:
•  Take a good hard look at your hoses. Any cracked or leaky hoses need to be replaced right away.
• Check your oil levels, and keep in mind that a drastic change in levels from the week before could indicate other issues.
• Depending on usage, you will want to take a look at the air filter restriction indicators daily and the filters themselves on a weekly basis.
Monthly:
• Take a moment to test the automatic shutdown system at this point to make sure it is fully functional.
• Perform a visual check of your engine and make sure there is no evident wear to the components. Replace parts if needed.
Annually:
• The separator element is the part of your compressor that filters oil from compressed air. Depending on usage, this will need to be changed about every year.
• Clean the fuel tank. While you're taking some time to inspect and change out parts in your portable air compressor, it is a good time to flush and clean the fuel tank.
By investing a little bit of time into your portable air compressor on a daily, weekly, monthly and yearly basis, you are ensuring a long and productive life for your equipment. In addition to keeping your compressor running longer, a comprehensive maintenance plan will also keep your equipment running at peak performance, which will affect your bottom line in a big way.
Eric Massinon is a product manager for portable energy at Chicago Pneumatic Construction Equipment, based in Franklin, Ind.
Tags:
Chicago Pneumatic
,
Compressors
,
Maintenance