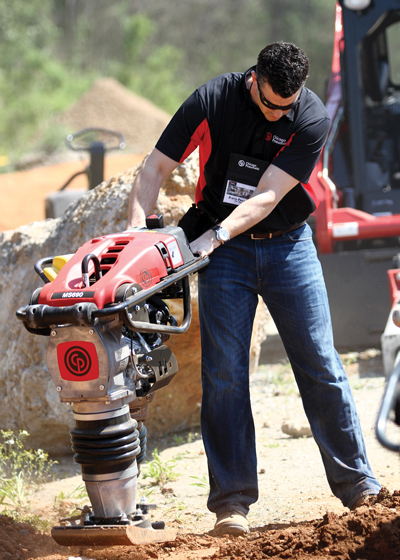 During April, Chicago Pneumatic hosted a number of equipment sales representatives at its North American distribution facility in Charlotte, N.C. The training had an in-depth focus on the features and benefits of the entire Chicago Pneumatic Construction Equipment line.
Approximately 25 authorized Chicago Pneumatic sales representatives participated in the training, taking part in dynamic, hands-on educational sessions centered around CP's construction equipment product offering. Among the product lines reviewed at the event were light compaction (rammers and plate compactors), rig-mounted hydraulic breakers (CP's popular RX line), handheld pneumatic and hydraulic construction tools (rivet busters, breakers, chipping hammers, etc.) and portable energy (generators, compressors and light towers).
"The hands-on approach to our sales training experience really helps our representatives learn about the equipment in an up-close and personal way," explained John Vogel, executive vice president. "There's no better way to educate a group of folks than having them get out there in the field and try it."
Apart from the hands-on portion of the training, the popular manufacturer of construction equipment also holds classroom-based training modules, addressing a variety of topics including financing, service, support and representative development. With a global network of distributors, CP provides customers with worldwide sales and service support. To learn more about the extensive range of CP equipment, visit www.cp.com.
Tags:
Compressors