For quite some time, Doosan has been buying used equipment, refurbishing it and selling via website listings and authorized Doosan and independent distributor locations around the world. Today, the Doosan Factory Certified Remanufacturing Program gives new life to aging machinery otherwise likely to be destined for permanent residence in an equipment graveyard. Doosan has one of the many certified remanufacturing programs on the market where a contractor can buy a rejuvenated piece of used equipment that's been approved for a new life by the manufacturer itself. Take an air compressor for example, a Doosan specialty.  
"Think of it as a makeover for an aged air compressor," says Marc James, aftermarket marketing manager for Doosan Infracore Portable Power. "Then, upon reassembly, every remanufactured air compressor is subjected to the same quality assurance testing as a new machine and is logged into a manufacturer's warranty system. Each remanufactured air compressor receives a certified warranty."
Under the factory certified remanufacturing process, Doosan Portable Power takes older, large air compressors — compressors of 675 cfm or larger, and previously manufactured by Ingersoll Rand or Doosan Portable Power — and returns them to showroom condition. Such air compressors receive a thorough, 117-point inspection upon arrival at the company's headquarters in Statesville, N.C., after which, every unit is disassembled, all the way down to the frame.
Each air compressor receives a remanufactured airend, as well as a remanufactured engine of the same tier classification as originally equipped. Then, parts from the original air compressor receive a top-to-bottom, inside-out cleaning. Those that meet the manufacturer's stringent quality standards are reused wherever possible to minimize waste. New fluids are added, all filters replaced and the exterior sheet metal and frame receives a total makeover, including a paint stripping and recoating — all with strict adherence to the Doosan Portable Power painting process.
Good reman programs have quality warranties. For example, the Doosan air compressor warranty covers one year or 2,000 hours on the compressor package and two years or 4,000 hours for the airend. The remanufactured engine is covered under new engine warranty provisions as prescribed by the applicable manufacturer. Extended warranty packages specific to the airend are also available.
Recycling Compressors for the Environment
Securing equipment for remanufacturing eligibility often originates with authorized dealers. At Doosan, all larger models — 675 cfm and above, regardless of age — are accepted. Customers can usually present older model air compressors for remanufacturing and help contribute to efforts to reduce waste while lessening impacts on the environment. To become involved, customers should work directly through their authorized dealer. All pricing and shipping details will be handled directly with customers by the dealer.
"Saving older air compressors from the crusher is among the primary objectives of the remanufacturing program," James says. "The remanufactured units are built to a standard configuration that allows for the highest utilization by our customers."
Although the remanufacturing program focuses on recycling current dealer and customer fleets, there may be a limited number of remanufactured units available for sale. At the Doosan Remarketing website, all available air compressor listings available for purchase by a qualified retail outlet or customer are posted at www.useddoosan.com.
"The factory certified remanufacturing program is a great opportunity for our dealers to provide their customers with an alternative to buying new," James says. "Since the remanufactured compressors are technically rebuilt from the frame up, and all remanufactured models carry a market leading warranty, there is little customer or dealer risk involved.
"The program extends the life of an existing product — for an investment that is less than that of buying new — and eliminates waste by giving new life to air compressors that otherwise would be destined for retirement. Current owners of an older model air compressor can extend its life and feel confident that the remanufactured unit will continue to serve them well for years to come. The remanufacturing program offers value from both a cost standpoint and machine longevity perspective."
According to James, access to factory-trained technicians that use genuine brand parts for rebuilding air compressors to OEM standards also provides peace of mind, security and reliability for purchasers of remanufactured air compressors.
"Every remanufactured air compressor undergoes stringent quality testing," he says. "So the customer is getting continuity with a service that's being performed on a piece of equipment that now has extended value."
Eager Dealers
Upon learning about the factory certified remanufacturing program, Andy Tewell, owner of Central Texas Equipment based in Round Rock, Texas, was eager to learn more.
"I have a longtime loyal customer involved in pipeline work who was searching for a good used air compressor," Tewell says. "I'd heard about the remanufacturing program and thought this would be a great way to provide him with an affordable, reliable compressor without having to buy something new.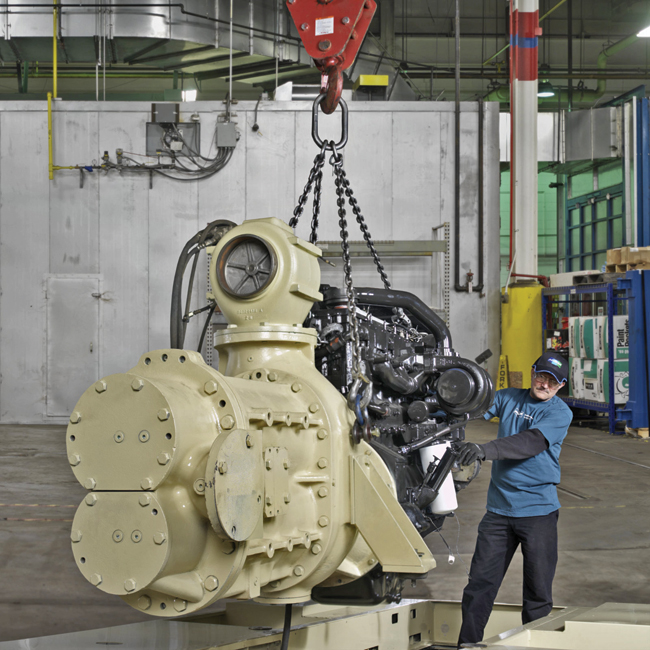 Coincidentally, the same day I received an e-mail from the folks at Doosan informing me that they had two remanufactured compressors available for sale; one was a 1,300-cfm model, previously manufactured by Ingersoll Rand. It was exactly what my customer was looking for. I called to get the price, let my customer know and all was agreeable with him. As it turns out, this was the very first remanufactured compressor made available to dealers through the program."
According to Tewell, taking possession of the remanufactured air compressor more than a month ago, the customer is very happy — so much so, that Tewell is on the lookout for future opportunities to buy remanufactured air compressors.
"I should have bought both of them," Tewell says. "This is a great model, and one that is really hard to find. The timing was perfect, we had a customer that needed a compressor and it all worked out well. We've been doing business with this customer for a long time; in fact the owner is an old friend of mine. He expects things to be right and knows I'll take good care of him. I had no reservations whatsoever selling him this remanufactured machine."
"The remanufacturing program is a great opportunity for dealers to offer our customers an option to buying new," Tewell says. "And since all Doosan remanufactured units come with a warranty, there's very little risk. It's a great program, and I predict it will be very popular."
Randy Happel is a feature writer for Two Rivers Marketing, based in Des Moines, Iowa.
Tags:
Compressors