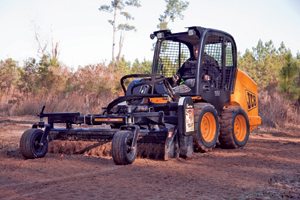 A paladin is a knightly, heroic champion — defender of a noble cause. For the Paladin Construction Group that means championing the attachment industry for tool carriers like skid steers, tractors and mini excavators. Paladin Brands announced the joining of its Paladin Light Construction and Paladin Heavy Construction companies to form Dexter, Mich.-based Paladin Construction Group in February. These brands are: Bradco, JRB, Sweepster, C&P, CustomWorks, FFC, Harley and McMillen.
"The strategic decision to combine the two companies will certainly create efficiencies, but more importantly our sales channels and end-users are looking to benefit from a larger attachment manufacturer with broader attachment lines," explained Michael Flannery, vice president and general manager of the new Paladin Construction Group.
As part of the effort to announce the new Paladin Construction Group, the company has implemented a long-term, contractor-focused support program named Back 2 Work with Paladin. The Program's goal is to help contractors capitalize and profit from the American Recovery & Reinvestment Act (ARRA) and its $143.4 billion infrastructure investment. The two-year program helps contractors and dealer/rental companies identify and locate projects that will be released in the near future related to where the ARRA funds are most targeted — at the county level and specific market segments such as roads and bridges, aviation, national parks, energy, water and others. A special ARRA-focused by market Web site, www.back2work.com, has been created for contractors that explains the program and how they can benefit.