Azure Dynamics Corp. is a world leader in the development and production of hybrid electric and powertrain systems for commercial vehicles. Ford Motor Co. is a global innovator of cars, truck and vocational vehicles. Now these two captains of industry will be combining their powers. Azure's plug-in hybrid technology will be integrated on Ford's market leading F-Series Super Duty cab and chassis, the F-550, which is expected to be available in early 2013. 
"We are extremely pleased to expand our relationship with Ford and launch our PHEV technology on the F-Series Super Duty platform, which is the largest and most successful cab and chassis brand in North America," said Scott Harrison, Azure's CEO.  "This is an ideal outcome for Azure and our customers." 
The agreement also allows Azure to perform hybrid powertrain conversions on other Super Duty platforms including F-350 and F-450 models and spans all engine, frame length and regular production options and configurations.  The Super Duty program will allow Azure to further expand its product line-up in its targeted medium duty commercial truck segment. The Azure/Ford agreement includes a 'ship-thru' provision that permits Azure to place vehicles in the Ford transportation system and allows qualified Ford Commercial Truck dealerships to sell and service the product in key markets in North America.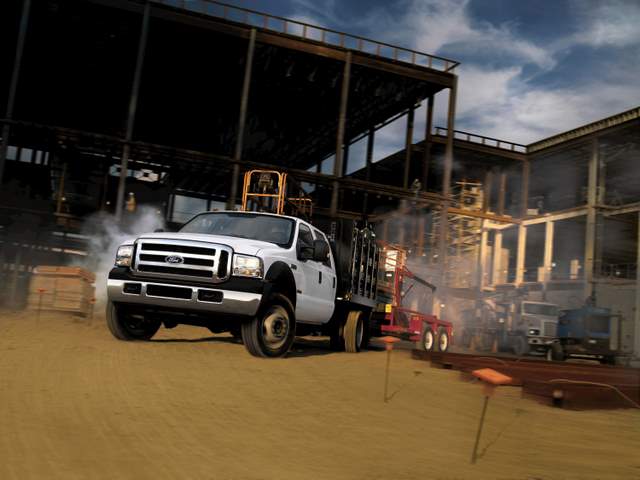 With more than a 50 percent market share, the Ford F-Series Super Duty is the most established cab and chassis brand in the North American market. The commercial cab and chassis industry supports approximately 100,000 vehicles per year and is the preferred active work-truck for thousands of commercial fleets managing a broad range of logistical needs. The Super Duty offers several diesel and gasoline engine options and a variety of cab, bed and accessories options.
Azure and Ford teamed up in 2009 to bring the innovative Transit Connect Electric to market in just 13 months after the program was first announced.  The new PHEV F-Series program further expands the Azure/Ford business relationship which, in addition to the Transit Connect Electric, also markets the E-450 Balance Hybrid Electric Step Van and Shuttle Bus.
"As interest in alternative energy products continues to grow, consumers are looking for more powertrain options that are both environmentally friendly and fit their driving needs," said Rob Stevens, Commercial Vehicle Chief Engineer, Ford Motor Company. "The flexibility of our vehicle platforms and chassis allows Ford to develop our own alternative fuel products or work with partners, like Azure Dynamics, to deliver consumers with the power of choice when purchasing a greener, more fuel efficient vehicle."