Public and private companies put excavators to good use when it comes to installing or repairing utilities. In fact, compact excavators can help increase productivity on any project requiring deep-digging capabilities and heavy-craning abilities, especially when paired with the appropriate attachment.
Attachments Increase Productivity
With a variety of attachments to use, compact excavators excel at utility site tasks, such as: craning utilities into place overhead or burying underground; digging, compacting and backfilling trenches; breaking up construction materials like concrete; and digging postholes. According to Lance Schjenken, Terex attachment marketing specialist, manufacturers such as Terex offer a variety of attachment options for excavators to increase the versatility and utilization of the machine. Standard excavator attachment offerings include various buckets, compaction wheels, hydraulic thumbs, rippers, couplers, vibratory plate compactors, hydraulic hammers (or breakers) and augers.
"Attachments increase an excavator's productivity on utility projects," says Schjenken. "For example, tilting or ditching the bucket allows operators to perform grading and finishing work in areas where a traditional dozer can't access or on sites where it doesn't make sense to have an extra piece of equipment. Tilting is done with a grading bucket and can also be used for digging when the excavator is not operating on a level surface. With a hydraulic thumb attachment, excavators can easily lift, move and place rocks and stones during site preparation and clean up when working around existing landscapes."
Buckets are essential attachments for several stages of utility work, says Schjenken. Several bucket options are available for excavators, including standard duty, heavy duty, cemetery/bellhole, as well as ditching and grading. Other utility site tasks for buckets include digging footers, foundation excavation, underground utility installation and repair, drainage and water control, grave digging, trenching and material loading.
The type of bucket for installing or repairing a utility would depend on the type of digging conditions, as well as the utility being installed or repaired, adds Schjenken.
Because excavators can handle lifting most types of pipes including PVC, steel, concrete and so on, an attachment that is becoming popular in utility work is a "pipe lift." A pipe lift is a jaw that clamps around the outside of the pipe which can be either fully automatic or semi-automatic, making the job a lot easier for the handler on the ground. It speeds up lifting tasks by not requiring slings or other devices that require manipulation by the ground handler.
Another device that is available is the "pipe hook," which grabs the pipe through the end of the cylinder. The pipe lifts can be matched to pipes having diameters of 4 to 54 in., while the pipe hooks normally handle pipes with diameters of 8 to 36 in., says Schjenken.
As the growing trend to renovate older buildings for new uses, such as loft apartments, boutique retailers and new office space, compact excavators are also very popular for controlled demolition work that needs to be done around utility project sites.
"The size, the swing, the reach and the versatility of compact excavators are perfect for demolition duty," says Rick Harris, Terex senior product manager. "And despite their smaller size, compact excavators really do have the power to take on utility site demolition work."
Attachments enable compact excavators to perform many different demolition jobs around a utility jobsite, including to break, grapple, shear, hammer, crush, cut, compact and scoop up construction debris on utility sites and are ideal tools to tackle all types of structural debris, such as steel, brick, wood, concrete, glass and drywall.
And, compact excavators aren't just used for the actual demolition work. These machines also play a large role in handling the debris during the cleanup process, such as segmenting recyclable items from the construction materials, crushing debris into aggregate with crusher buckets and loading the material into trucks for haul away. Many compact excavators also come equipped with a short dozer blade on the front of the unit for dozing, grading and finishing tasks.
"But no matter what attachment an operator wants to use on a utility site," says Harris, "the key to productivity is to make sure the machine's hydraulic flow is matched to the attachment, and that it is easy for operators to change out and operate the attachment." For instance, quick-coupler systems make it fast and easy to change attachments. And, auxiliary hydraulics offer flexibility in adding attachments.
Harris further explains that each manufacturer designs its compact excavators differently to meet customer demands. "Terex excavators, for example, are engineered with an auxiliary hydraulic circuit that has an open return and are plumbed out to the dipper stick. This provides customers with immediate dual function capability — no switching back and forth."
In the end, compact excavators with the right attachments are ideal for every aspect of a utility project where other machines wouldn't be as productive.
An Inspection a Day Keeps the Mechanic Away
"Like an excavator's daily maintenance routine," says Schjenken, "attachments need daily care and inspection to maximize an owner's investment." Four simple steps can keep operating costs to a minimum and keep attachments in working order for a long time to come.
"Compact excavators are ideal for use on any utility project site where space restrictions don't allow larger, more traditional demolition machines to be used," concludes Harris, "as well as where manual labor would be time-consuming and cost-prohibitive."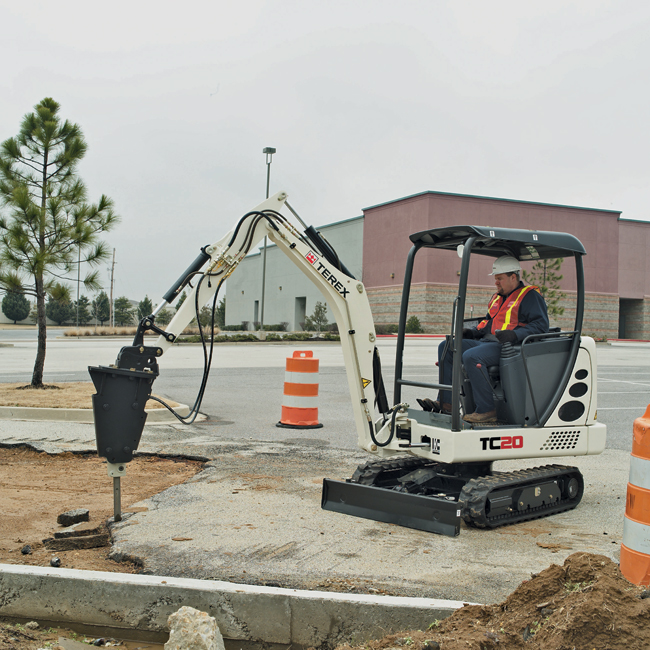 Step 1: Check for any leaks or cracks in the attachment's hoses and fittings and make sure the fittings are not loose. Also, check that the hoses and fittings are clean and free of contaminants.
Step 2: Make sure all of the attachment's critical points are lubricated and functioning properly. Schjenken recommends washing down the attachment after use to remove jobsite contaminants that accumulate during operation. Once the attachment is clean, lubricate according to the manufacturer's guidelines.
Step 3: If the attachment and/or the attachment system are hydraulically operated, says Schjenken, routine maintenance on the hydraulic system is critical. Follow both the compact excavator manufacturer's and the attachment manufacturer's service recommendations for these checks.
Step 4: Inspect your compact excavator's attachment system to make sure the locking mechanism is operating properly. Complete a daily walk-around of the excavator to spot wear and tear, including a check of the attachment as well. This is especially important if the attachment stays on the machine in long-term applications. "Attachments have wear points too," says Schjenken. "For example, on buckets, the edges and teeth will wear over time. These wear points must be fixed or replaced as needed because good edges and teeth increase productivity." 
Amber Reed is a technical writer, based in West Des Moines, Iowa.