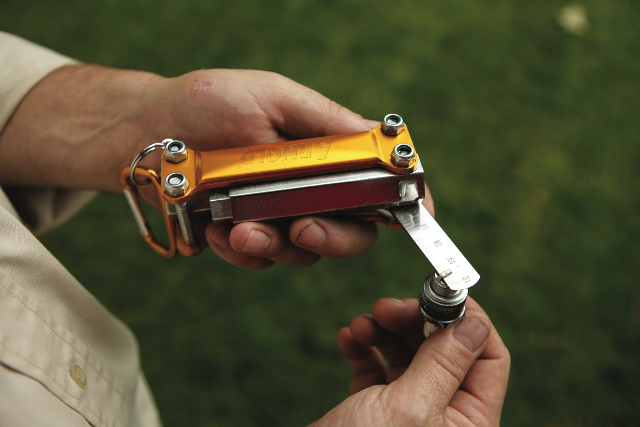 After running your lawnmower and other outdoor equipment ragged this weekend, be sure to give it a little extra TLC to ensure great performance throughout the summer. To make upkeep easier, Arnold has introduced The Gadget, an 11-in-1 multi-tool designed specifically to help home landscapers, gardeners and other DIYers more quickly and easily maintain their outdoor power equipment (OPE).
"The Gadget is not only convenient, it's a money-saving, all-in-one unit that replaces about $55 worth of separate tools," said Bryan Grabowski, product manager for Arnold at MTD Products. "It enables the DIYer to keep their equipment in excellent repair without a huge investment in tools. You get everything you need — and nothing you don't — in one convenient package."
Useful for any level DIYer, The Gadget provides several commonly needed tools in one, eliminating large investments in multiple repair tools and accessories. It also eliminates some of the fear and confusion that younger consumers may have about doing their own OPE maintenance, by providing them all the necessary tools with a single affordable purchase.
"Throughout the development of The Gadget, we relied heavily on our strong expertise and knowledge of OPE replacement parts and accessories," Grabowski said. "The Gadget makes it easy to perform a number of fast repairs like changing or gapping a mower's spark plug, changing an air filter, or even holding a file to sharpen your chain saw chain, and much more."
The Gadget combines several popular tools into a single unit, including four sockets (1/2-in., 5/8-in., 3/4-in. and 13/16-in.), a large Phillips screwdriver, small and large standard screwdrivers, T27 TORX screwdriver, tapered spark plug gap gauge, chain saw file holder and bottle opener. Featuring an attractive and corrosion resistant anodized gold and silver finish, the tool's design includes a practical, sturdy metal D-clip for quick attachment to any DIYer's belt.
For additional information about The Gadget and other Arnold products, please contact your nearest Arnold retailer or go to the Arnold Web site at www.arnoldproducts.com.