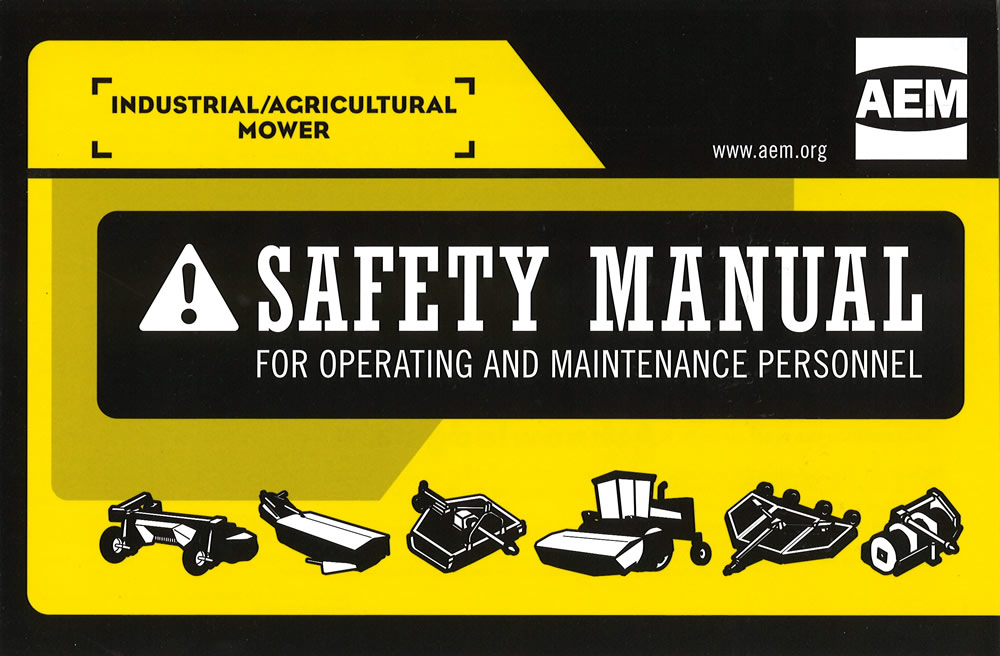 The Association of Equipment Manufacturers (AEM) has extensively updated its industrial/agricultural mower safety manual – both the English only and Spanish/English versions. Types of equipment covered include rotary, folding wing rotary, flail, boom and sickle bar mowers as well as disc mowers, disc mower conditioners and self-propelled windrowers. (The AEM "disc mower" manual is now obsolete.)
The AEM Industrial/Agricultural Mower Safety Manual was developed under the direction of the association's Industrial/Agricultural Mower Manufacturers Council. AEM safety manuals outline common sense "do's and don'ts" in clear language and an easy-to-follow format, and they are a convenient and cost-effective way to provide in-house safety training.
The manual covers current industry practice in machine design and construction as well as up-to-date industry safety best practices for equipment preparation, operation, maintenance and transport. Enhancements include: an expanded "safe maintenance" section, with a new section discussing mower blade maintenance; expanded discussion of "mower thrown objects" and "slope operation"; and use of newer safety design features and enhanced operator protection systems.
Graphics reinforce the safety messages and are in pictorial style to harmonize with the latest machine safety sign and manufacturer manual practices. ISO safety symbols are incorporated where appropriate. Safety alert messages, use of the "Safety Alert symbol" and use of "Signal Words" are revised to conform to ANSI Z535.6:2006 standards.
AEM's safety and training materials cover more than 40 types of equipment used in agricultural, construction, forestry and utility applications. The association initiated its safety-tools program more than 40 years ago to provide job-proven and time-tested suggestions that promote safety-conscious attitudes and performance. In addition to accident prevention, benefits include improved worker productivity and less equipment downtime for repairs.
All AEM safety manuals, videos and related safety and training products are available online at http://shop.aem.org. Some safety materials are offered in downloadable files or in DVD format. AEM members receive discounts on select materials.