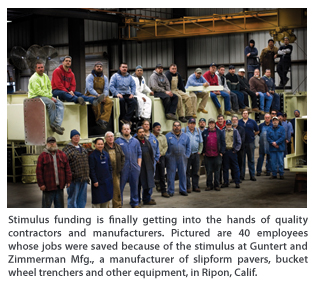 The construction industry may be down on its luck right now (sitting at more than 20 percent unemployment), but it's certainly not down for the count. Good news is creeping into the spotlight in 2010. First off, stimulus-funded infrastructure projects are saving and creating more direct construction jobs than initially estimated, according to a new analysis of federal data recently released by the Associated General Contractors of America (AGC). The analysis also found that more contractors are likely to perform stimulus-funded work this year as work starts on many of the non-transportation projects funded in the initial package.
"The stimulus is one of the very few bright spots the construction industry experienced last year and is one of the few hopes keeping it going in 2010," said Ken Simonson, the association's chief economist. "The stimulus is saving construction jobs, driving demand for new equipment and delivering better and more efficient infrastructure for our economy."
Simonson noted that new federal reports show the $20.6 billion dollars worth of stimulus highway projects initiated over the past 12 months have saved or created nearly 280,000 direct construction jobs. That amounts to 15,000 jobs per billion dollars invested, well above pre-stimulus estimates that every billion invested in infrastructure projects would create 9,700 direct construction jobs.
Simonson added that heavy and civil engineering construction employment was stable in March even as total construction employment declined by 75,000. Meanwhile, highway and road construction was one of the only areas to see an increase in spending last year even as total construction spending fell by $100 billion. The two figures are a clear sign the stimulus is having a significant and stabilizing, impact on the industry, Simonson noted.
Simonson cited examples like Pittsburgh's Golden Triangle Construction Co. as an indication of the benefits of investing in infrastructure. The company is hiring two new engineers and more than 100 employees this spring just to perform $24 million worth of stimulus-funded projects this year.
It also is ordering new construction equipment to perform the work from Ripon, Calif.-based Guntert and Zimmerman. As a result, the equipment maker saved 40 jobs on its assembly line. And thanks to its stimulus work, Golden Triangle decided to complete construction of its delayed headquarters, providing even more local construction jobs.
Simonson cautioned however that overall declines in construction activity have, and likely will continue to overshadow the benefits of the stimulus. "The stimulus will keep a bad situation from deteriorating further," Simonson said. "That may not make for great headlines, but it is welcome news for construction workers anxious to continue receiving paychecks."