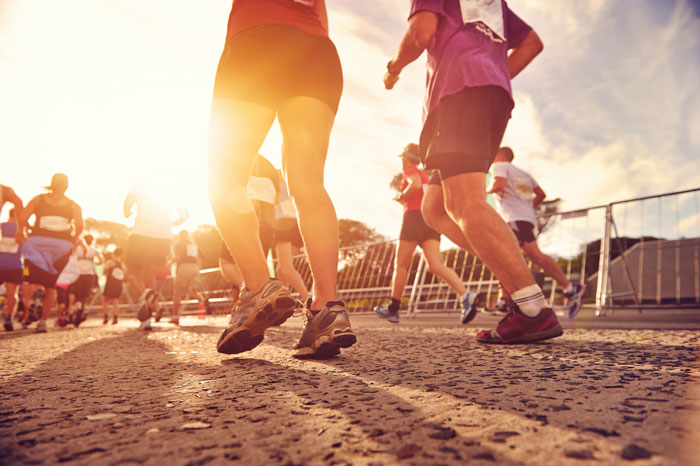 A new year typically brings millions of resolutions, many dealing with losing weight or getting healthier. However, many people are left alone in their quest to drop a few pounds or pants sizes — but this doesn't have to be the case. By adding a company-wide wellness program, employers can help their workers take charge of their well-being while making their business better in the process.
"Employee morale is boosted when employees feel that the employer cares about and is interested in their health," says Seena Khonsari, health and safety officer for Griffin Dewatering and Griffin Pump, manufacturers of dewatering pumps. "Granted, there are benefits to be had for both. But it is an important element in the emotional health of employees when they feel they are being taken care of. By promoting the health of your employees, you have potential to increase production by decreased absenteeism and better work efficiency. You can also prevent worker injuries and better the mood of your employees."
To understand how to start and maintain a program, three companies share advice, ideas and personal experiences below.
Getting Started
Although the thought of starting this type of program may seem intimidating, the first step is to simply start. This requires deciding exactly what you want out of the program and what will best benefit employees.  
"Start small and develop a plan and goals," says Lisa Bogert, person and team relations coordinator for Schlouch Inc., a single source provider of site design and construction services. "Start with a needs and interest survey to get feedback from your employees on what is important to them and what areas they are looking to make changes in to help start a roadmap on what areas to focus on and to set goals."
Next, Khonsari suggests finding the person or persons responsible for leading the program. This can be someone within the company, but doesn't necessarily have to be. If management isn't in charge, they still need to participate on some level.
"You will need a qualified individual or team, tasked with leading the wellness program. Or, you could potentially hire from the outside," he says. "Once you have this, you need to decide what your program will consist of [e.g. company gym, health incentives]."
"Management needs to help provide opportunities, but the most important thing you need from management is participation," adds Matthew W. Sutton, vice president of sales and marketing for RapidView, a supplier of pipeline and manhole inspection systems. "If your CEO and CFO are running beside employees during a 5K, it will motivate everyone to work harder. Management also needs to continually communicate the importance of wellness to employees."
After deciding who will spearhead the initiative and what it will consist of, next is to determine what kind of cost is involved. This can range greatly depending on what the program entails. For example, if the program includes a company gym, equipment can add up — but don't let that discourage you.
"Keep in mind that equipment for gyms can be costly, so make sure you do your research into the most effective method for your company," says Khonsari. "If you choose to go the route of buying your own equipment and setting up a company gym, select a manufacturer which primarily deals with setting up corporate/school/community gyms and establish a relationship."
Other wellness programs can be less expensive, such as participating in a local race. RapidView first started its wellness program with this type of investment before it moved into larger-scale efforts. "We began to sponsor a few local charity runs/walks and bicycle rides and RapidView paid for the employee's entrance fees," says Sutton. "We were able to make a charitable contribution and encourage our employees to take part in fitness events."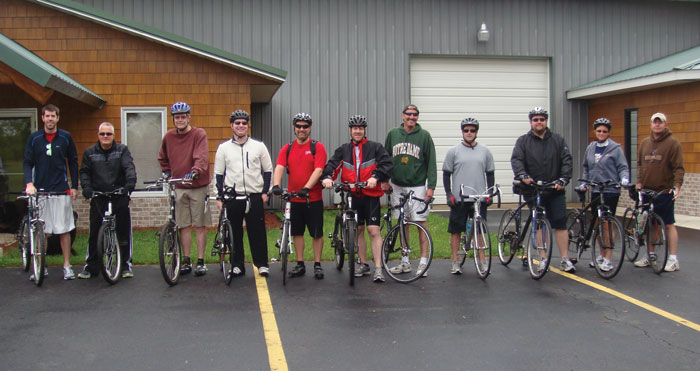 Staying Motivated
Just like any New Year's resolution that can fall to the wayside, a wellness program needs to be continuously supported to ensure its success. Since motivation can fluctuate as time goes on, it's important for companies to keep their employees engaged in the program. Financial incentives and camaraderie among fellow coworkers always help. For example, Schlouch's wellness program consists of reductions in insurance premiums.
"We try to keep employees motivated by offering additional wellness opportunities each year for them to save money," explains Bogert. "Each year, the premium reduction [Schlouch offers] has gone up. We also take every opportunity to make the participation in the initiatives as easy for the field employees as possible, such as starting health screenings at 6 a.m. We also continue to do surveys each year to get feedback from our employees."
Khonsari points out that the employees can be the biggest cheerleaders (and motivators) in keeping others going and engaged in the program. "Employees are motivated to utilize the gym and stay in attendance by encouraging one another and creating challenges," he says. "Once there is a boom in gym attendance, this motivates and encourages more to join."
Reaping the Rewards
To fully appreciate the importance of starting a wellness program, it's essential to hear positive feedback from companies who have established them. The benefits range anywhere from happier employees and less sick time to better relationships among employees and with customers.
"Our program has had a positive effect on our business and our people," says Bogert. "Having a wellness program shows that we as a company care about our employees' health and well-being, and we are very aware of the impact that the increase in premiums has each year on the employees financially. For the past two years at our annual company meeting, we have had a few employees share their success stories related to improving their health with the entire company at the meeting. These are individuals getting up in front of the entire company sharing their story on why and what they did to make a change in their health — it is very inspirational to the workforce."
Sutton adds: "It has had a positive impact on our employees' health and our bottom line. We try to foster a family culture at our company, but training and participating in these events has brought our employees even closer together. Another unplanned benefit of our wellness program was the strengthening of our relationships with customers, dealers and vendors who share our commitment to wellness."
The health and wellness of employees will always be an important part of a company's culture and success. Let 2014 be the year for a company wellness program and a healthier, happier workforce.
Pam Kleineke is a contributing editor to Compact Equipment, based in Brecksville, Ohio.