When the job to be done is overhead, and materials, tools and several workmen must be up there to do it, aerial work platforms are the solution. Except we don't call them aerial lifts anymore. We call them mobile elevating work platforms or MEWPs. Scissor lifts. Low-left access units. Articulating booms. There are many choices to reach high and work hard. Below are a few we highly suggest.
JLG's Low-Level Access 1030P
JLG Industries Inc. has expanded its low-level access line with the new 1030P. The new manually propelled model offers a 10-ft, 2-in. platform height, is 30 in. wide and weighs just 755 lbs. This lightweight machine is designed with a compact footprint, making it easy to push into place. It is ideal for use in place of scaffolding during both the finishing and regular stages of construction requiring a work height up to 16 ft. The 1030P delivers a class-leading 30- by 60-in. platform. Its 550-lb platform capacity allows for ample tools and materials to be brought to the workspace. For more info, visit jlg.com.
Manitou's ATJ 46+ Articulated Aerial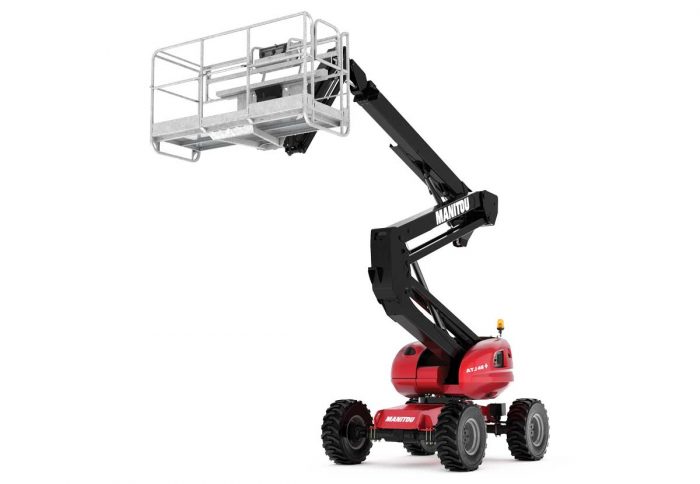 Enjoy more platform capacity and horizontal outreach with the Manitou ATJ 46+ aerial work platform. Thanks to its compact structure, all-terrain design and high ground clearance, this MEWP has excellent performance on uneven surfaces with the ability to work in cramped, difficult-to-access areas. This unit is designed with 360-degree continuous rotation and features a large platform to fit three operators, carrying 900 lbs of capacity unrestricted. Increased operator comfort is provided by the large working area. Maintenance is also made easy with a self-diagnostic system that identifies when care is required. For more info, visit manitou.com.
Snorkel's S4740E
The new Snorkel S4740E is the largest model in Snorkel's electric slab scissor lift family. Reaching up to a max working height of 45 ft, 5 in., the S4740E is ideal for working in tilt-up warehouse construction and confined high-rise indoor spaces. It is also the first Snorkel lift to be offered with a choice of either hydraulic or electric drive. Weighing 6,825 lbs and with a lifting capacity to 550 lbs, the Snorkel S4740E boasts saloon-door style entry gates, a 48-in. roll-out extension deck, "inside-out" access to key components for easy servicing and a fixed upper control box with integrated power outlets. For more info, visit snorkellifts.com.
Skyjack's Micro Scissor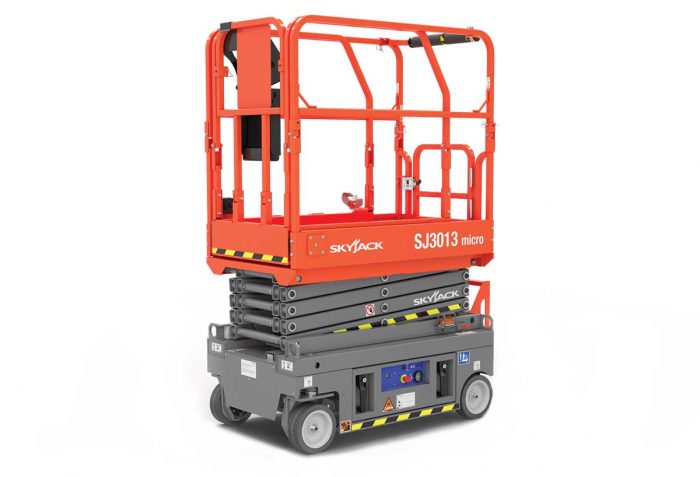 Skyjack reaches a milestone by launching its first micro scissor lift in 2021. There are two micro scissors coming to market: the SJ3013 for the ANSI market and the SJ3014 for the CE market. Skyjack's micro combines low cost of ownership with Skyjack's product support, quiet and swift electric drive and low floor load ratings. The micros provide up to 25 percent gradeability, fully proportional drive and lift controls and limited maintenance on wheel motors. Due to customer feedback on what's important in a micro scissor lift, the North American product of the SJ3013 is also wind rated for one person. For more info, visit skyjack.com.
Genie's E-Drive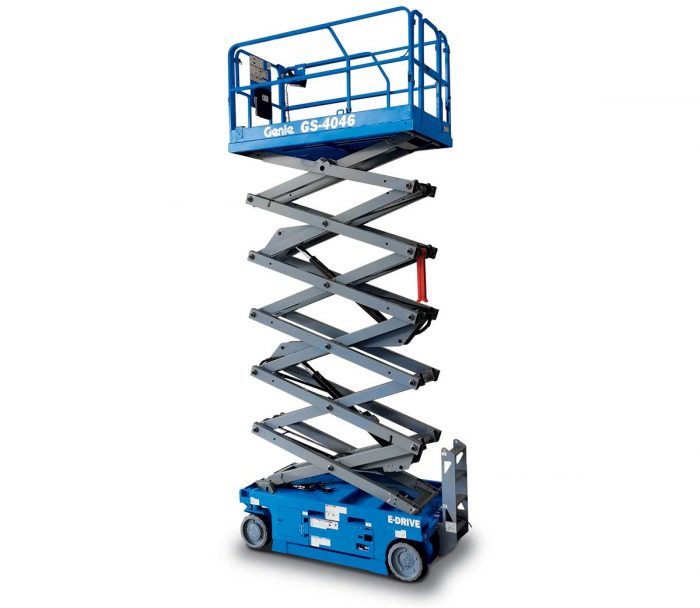 Available across the entire line of Genie GS slab scissor lifts, Genie E-Drive is an optimized AC Electric drive system that delivers increased run time, reduced maintenance costs and industry-leading performance while reducing total cost of ownership. The quiet, emissions-free AC electric E-Drive motors are brushless and fully sealed against moisture and water. With 70 percent fewer hydraulic hoses and fittings, potential for hydraulic leaks is drastically reduced. Owners also will find they spend less on batteries over the life of the scissor lift due to longer runtime per charge and fewer lifetime charge cycles. For more info, visit genielift.com.
Pettibone's Electric Scissors
Pettibone's mobile elevating work platform offering includes eight electric scissor lift models with work heights ranging from 18.4 to 46 ft. These ANSI A92.20 compliant lifts provide personnel with reliable solutions for safely working at height in indoor or outdoor applications. Platform capacities range from 510 lbs to a maximum of 990 lbs. Key features of the line include a universal drive control box with motion alarm and LED screen, 2- or 3-ft platform extensions with smooth foot pedal control and large scissor arms for excellent stability and durability. For more info, visit gopettibone.com.
Sinoboom's 4047E Electric Scissor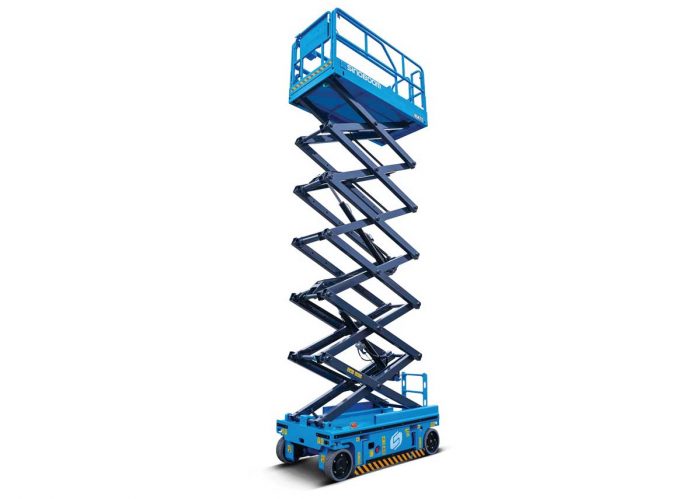 The Sinoboom 4047E scissor lift gives you the premium performance demanded by high rise spaces at a price you can afford. The 4047E features a maximum indoor working height of 45 ft, 7 in. in a compact width of 3 ft, 10 in. and a platform capacity of over 700 lbs. Designed for quick and easy servicing, you'll enjoy reduced maintenance costs from the unique open chassis. You'll also find the components you know and trust, including the Delta 5 control system and Danfoss Power hydraulic components. New 2021 models also feature Sinoboom's new blue and graphite color scheme. For more info, visit sinoboom.us.
Hy-Brid Lifts' PS-1930 Scissor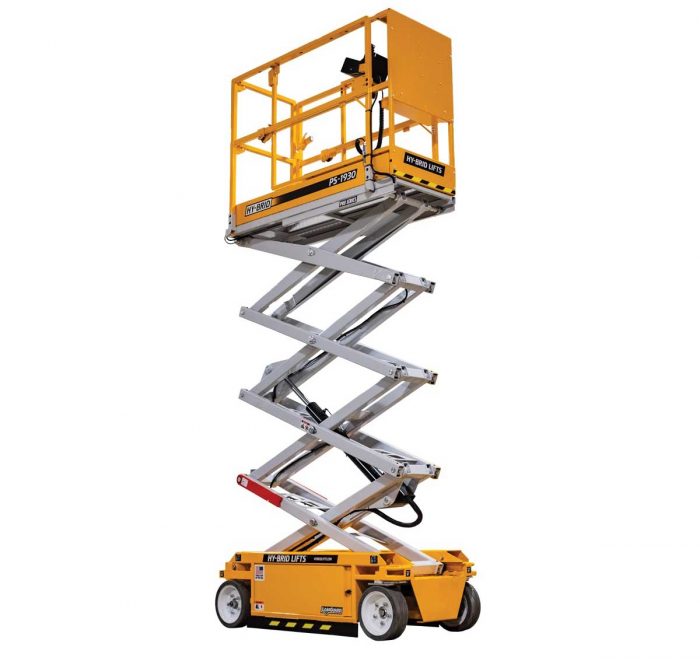 Hy-Brid Lifts' PS-1930 is its tallest self-propelled electric scissor lift, featuring a 19-ft platform height, non-folding rails, the company's innovative LeakGuard system and the lowest floor loading pressures in the industry, all while meeting ANSI A92.20 standards. The PS-1930 provides the highest working height, 25 ft, in the Pro Series line from Hy-Brid Lifts while still fitting through standard doors without the hassle of fold-down rails. The lift is also lightweight and compact enough to fit in standard elevators. The PS-1930 is rated for indoor and outdoor use and features the lowest step-in height in the industry. For more info, visit hybridlifts.com.
Tags:
April 2021 Print Issue
,
Genie Lift
,
Hy-Brid Lifts
,
JLG
,
Manitou
,
Pettibone
,
Sinoboom
,
Skyjack
,
Snorkel