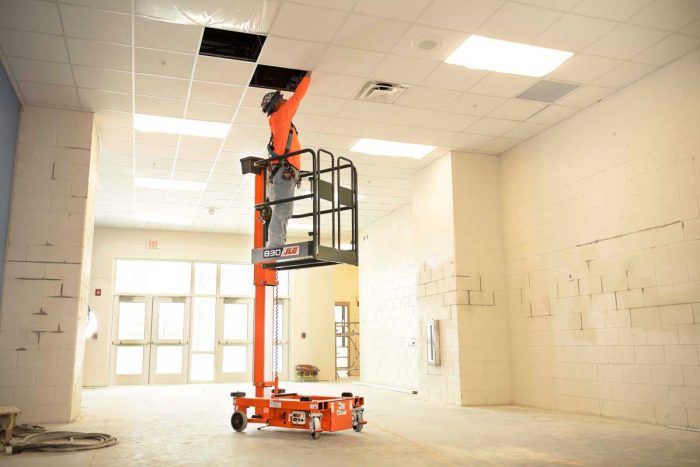 By Randy Marzicola, Director — Channel Development, JLG
Small man lifts, also commonly known in the industry as low-level access MEWPs (mobile elevating work platforms) or AWPs (aerial work platforms), can help you get the job done in many applications — from construction tasks like drywall, HVAC and electrical work to general facility maintenance to-dos such as cleaning, painting and replacing light bulbs. And, because low-level lifts are simple to use, they are suitable for those who are not regular access equipment operators.
So, whether you are familiar with this type of equipment or it is entirely new to you, following these six operating tips can improve productivity on your next project.
Tip #1: Plan Ahead
Before any work begins or equipment for the job is selected, you need to perform a site assessment to evaluate how to complete the tasks safely and effectively. In fact, a site assessment must be conducted to comply with industry standards (ANSI A92.22 and CSA B354.7).
A site assessment involves asking the following questions:
What can go wrong?
What are the consequences?
How could it arise?
What are other contributing factors?
How likely is it that the hazard will occur?
Planning ahead allows you to think through each aspect of the job — not just the work environment and the tasks to be performed. It also allows you to consider the appropriate equipment and technology needed and what physical risk factors crews will experience.

Tip #2: Be Compliant
Updated ANSI and CSA industry standards require safety features, such as load sensing, in aerial equipment, and low-level models are not exempt. Per ANSI A92.20 & CSA B354.6, all low-level MEWPs must be equipped with load sensing systems to actively monitor load and interrupt normal operations/sound an alarm if overloaded.
Also, low-level access MEWPs' design elements must include a fully encircled work platform with 38- to 42-in. high railings and toeboards. The railings reduce the risk of workers falling from an elevated lift, while toeboards protect people below from falling tools and materials.
Tip #3: Know Your Options
As with any equipment selection, when choosing a low-level access MEWP, you should consider the work to be done, including:
The jobsite height requirements
The materials and tools you need to take to the work area
The number of workers needed at height
Other factors to consider are the constraints of the work area, such as narrow doorways, elevators, sensitive flooring and/or noise and emissions sensitivity. Also, it is important to know where the machine will be working. JLG Low Level Access lifts are rated for indoor use only.
When making your equipment choice, you also will need to know specifics about the machine you want to use, including its:
Rated operating capacity
Maximum platform height and working height
Floor loading and weight specifications
Tip #4: Get Trained
Current industry standards (ANSI A92.24 & CSA B354.8) require that all operators, in order to be authorized to use a machine, must be trained on and familiarized with the specific MEWP they intend to operate. The standards specify that training must be delivered by a qualified person experienced with that classification of MEWP. The trainer also must be knowledgeable about laws, regulations, safe use practices, manufacturer's requirements, as well as the ability to recognize and avoid hazards as they relate to these MEWPs.
Also, occupants (other than operators) need to receive instruction before working in the lift, including (at a minimum):
The requirement to use fall protection and the location of fall protection anchors
Factors including how their actions could affect stability
Safe use of MEWP accessories
Site specific work procedures
Hazards related to the task
The intended purpose and function of MEWP controls and safety-related items specified by the manufacturer, including emergency shut-down and lowering procedures, to the extent required to lower the MEWP safely to the ground/stowed position
Manufacturer's warnings and instructions
Tip #5: Take Safety Precautions
Operators and occupants should take all necessary precautions to avoid hazards in the work area, both before and during the operation of these machines.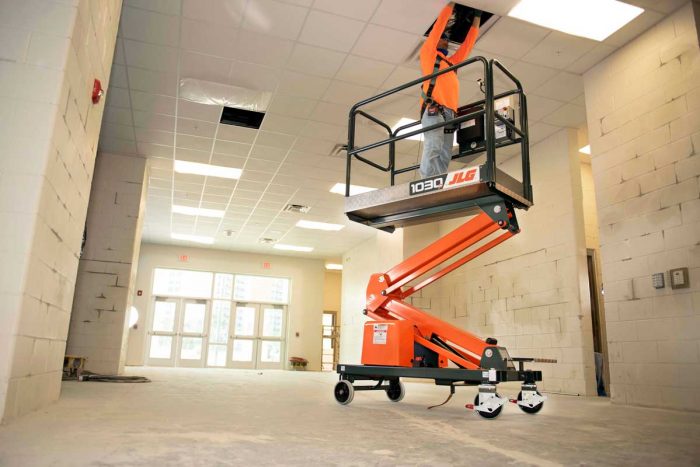 Before operating a lift…
Perform a workplace inspection. Items to look for during the inspection include (but are not limited to):
Drop-offs, holes, bumps or unstable surfaces
Ceiling heights
Debris and floor obstructions
Overhead obstructions
The presence of others in close proximity to the work
It is also important to be familiar with the operating surface, ensuring that the worksite's flooring/foundation is adequate to support the maximum weight/ and load of the machine (indicated on the tire load decals located on the chassis adjacent to each wheel).
Conduct a machine inspection to verify that the equipment and its components are in safe operating conditions. Follow the manufacturer's recommendations, outlined in the machine's Operation and Safety Manual, for specific machine checks. Note: you should not operate any aerial lift if a component is defective.
Remove rings, watches and jewelry, and do not wear loose-fitting clothing and tie back long hair — both could potentially become caught or entangled in equipment.
Once you begin operating the machine, it requires your full attention…
And always bring the machine to a full stop before using any device (i.e., cell phones, radios, etc.) that will distract you from safe operation.
Before raising the platform, ensure that all gates and rails are fastened and secured in their proper position. You should only enter/exit the platform through the gate area, using extreme caution. Always fully lower the platform before exiting the machine.
In the platform, you should wear a fall/travel restraint system with a lanyard attached to an authorized lanyard anchorage point. Also, you must maintain 3-points of contact with the machine (two hands and a foot, or two feet and a hand) at all times.
Additional safety measures include wearing approved head gear and keeping body parts inside the platform railing during operation.
When lifting or lowering the platform, check clearances above, on the sides of and the bottom of the platform. Also, keep all loads within the confines of the platform, properly secure or stow materials and tools and never exceed the machine's maximum platform capacity
Also, make sure that the machine is positioned on a smooth, firm surface before elevating the platform —do not exceed the machine's allowable side slope and grade limits.
Exercise extreme caution when operating to prevent obstacles from striking or interfering with the machine's controls and persons in the platform. As an example, limit your travel speed according to the conditions of the ground surface, congestion, visibility, slope and location of personnel.
Finally, if a machine is malfunctioning, shut it down immediately and remove it from service. Don't forget to notify the team that the machine should not be used until necessary repairs are made.
Tip #6: Take Advantage of the Productivity Features Included in Low-Level Access Lifts
In addition to offering an alternative to ladders and scaffolding to complete work at height indoors, low-level access lifts can also enhance your crew's productivity. For example, operators in low-level equipment can use both hands comfortably to work safely at height — a full 360 degrees.
Only one person is needed to operate a low-level access MEWP. So, if your company requires a spotter with a ladder, you've got two people doing the work that one person could do — using a low-level lift frees up the second crew member to complete other tasks. This can contribute to speeding up the pace of the job.
These lifts provide operators a large, enclosed platform with a lanyard anchor attachment point, and their heavy-duty, up to 550-lb platform capacity allows for tools and materials to get the job done. The tool trays in these MEWPs are designed to allow operators to have gear in a convenient location, and an optional tool tray has tethering capabilities to help prevent falling materials.
Low-level lifts also feature portability benefits to enhance productivity. These machines can be lowered and moved from one location to another, fitting through standard single and double doorways, which makes it easy to perform multiple tasks throughout a facility in less time.
The reality is that many mechanical and electrical contractors, plumbers, painters, drywallers and facility professionals today still commonly use ladders to get work done at heights up to 20-ft. But there is a safer, more productive way…
The ultimate payoff of using low-level access lifts is that when your crews are more productive, they do better work. Following these six operating tips will help your crews achieve better quality, which translates to less rework and more profitability.
Tags:
Digital Rental Guide
,
JLG Industries
,
Rental