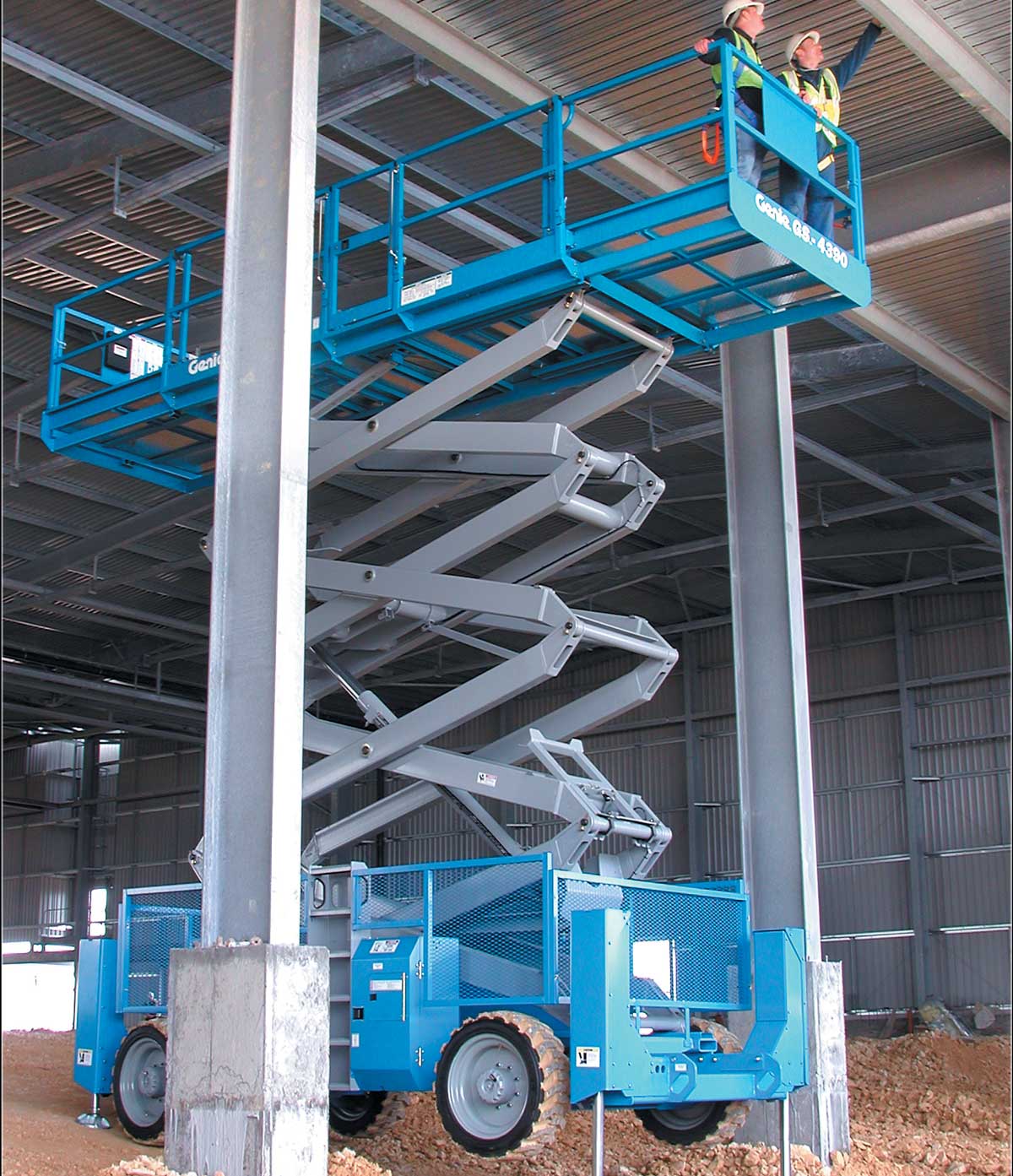 Mobile elevating work platforms (MEWPs) have become a common tool on jobsites all over the world due to their ability to allow workers to perform tasks at height safely. Scissor lifts, in particular, have become increasingly popular throughout a wide range of industries because of their high lifting capacity in a compact footprint, relatively light weight, outstanding maneuverability and productivity-enhancing features.
The focus on scissor lift performance improvements has been elevated in the past decade thanks, in large part, to their inclusion in the ANSI A92 and CSA B354 MEWP standards. While OSHA has differentiated scissor lifts from "aerial lifts" (their terminology for booms) and has primarily referenced them in their scaffolding regulations, 1 ANSI, CSA and ISO standards classify scissor lifts as Type 3, Group B MEWPs, which have the same safety requirements as articulating booms, telescopic booms and trailer-mounted booms, as well as manually propelled vertical lifts.
First Steps for Safe Operation
As with any MEWP, the safe operation of a scissor lift begins with the operator receiving proper training — both general training and hands-on practical training — as well as becoming familiar with the exact model of scissor lift they will be operating.
Also critical to safe operation is understanding the hazards associated with operating scissor lifts, as well as how to eliminate, mitigate or avoid hazards, before beginning operation. This includes thoroughly reading the operator's manual and safety signs on the machine and understanding the function and location of all safety devices and controls. Operators also should read, understand and obey all of their employer's safety rules and worksite regulations, as well as any applicable local, governmental or provincial regulations that apply.
There are several additional steps an operator must take before operating any scissor lift. The first is a pre-operation inspection. The operator should visually inspect the machine, checking for things like missing or illegible manuals and decals, damage or loose/missing parts. If the machine checks out, the operator should move on to function tests, thoroughly testing each function from both the ground and platform controls.
Finally, before the scissor lift is moved to the work location, the operator must perform a workplace risk assessment, looking for hazardous situations such as drop-offs and holes, slopes, slippery or unstable surfaces, overhead obstacles, power lines, wind and unsafe weather conditions or any other hazards that may exist. It also is important to ensure that the ground can support all forces imposed by the machine. A plan must be developed to avoid any hazards that are identified.
PFPE for Scissor Lifts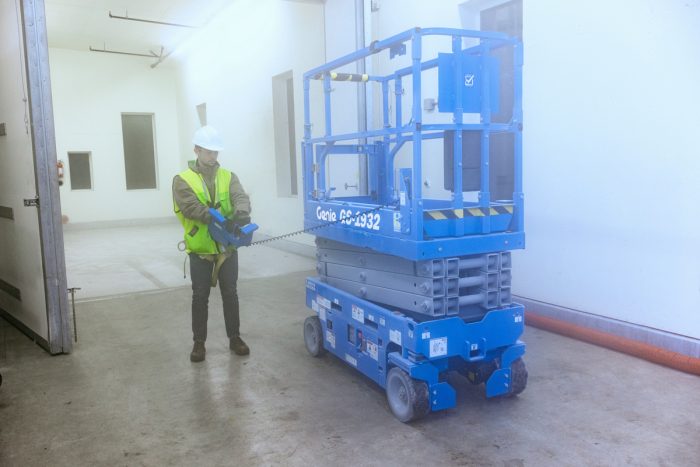 The issue of whether an operator should wear personal fall protection equipment (PFPE) on a scissor lift has been a subject of discussion for more than a decade. Per ANSI, CSA and ISO standards, the guardrail system of the MEWP is the primary fall protection for occupants. Personal fall protective equipment is not required in addition to guardrails for Type 3, Group A MEWPs, which includes scissor lifts and single personnel lifts.
That said, if a user, employer and/or local government regulations require an operator to use PFPE in addition to guardrails on MEWPs, most scissor lift manufacturers provide lanyard attachment points in the platform. For example, many jobsites throughout North America — in addition to some provinces in Canada, like Saskatchewan, Ontario and Nova Scotia — have requirements or regulations that do require all occupants in a scissor lift to wear PFPE.
The question then becomes, should an operator wear a fall arrest lanyard, a fall restraint lanyard or a self-retracting lifeline/lanyard (SRL)? There are important differences between these three types of PFPE that an operator should understand.
While a fall arrest lanyard will allow the operator and occupants to move freely about the platform, the longer lanyard could pose a tripping hazard or, worse, could potentially catch on the control joystick and cause unexpected machine movement. Operators also need to be careful not to take additional risks just because they are wearing PFPE. For example, operators might be tempted to climb up on the guardrails of the lift thinking it is safe because they are wearing PFPE. However, this is an extremely dangerous thing to do.
A fall restraint lanyard might eliminate the potential hazards associated with fall arrest lanyards, but it also can limit mobility in the platform.
A third option — a full body harness and a 6-ft self-retracting lifeline/lanyard approved for use on a MEWP — minimizes tripping hazards and the risk of catching the lanyard on the joystick. It also allows the operator to have full mobility on the platform. That is why another critical aspect of safety is having trained, qualified and engaged supervision on the jobsite.
Safety + Productivity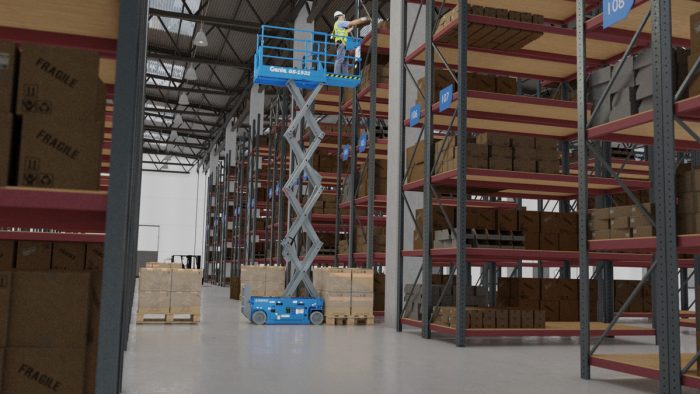 Modern scissor lifts have many standard features that improve safety as well as productivity. This includes fully proportional controls and a tight inside turning radius, which allow the operator to carefully navigate around a congested jobsite. Pothole guards assist with machine stability by reducing the ground clearance when the scissor lift is elevated and inadvertently drives into a pothole.
Many scissor lift models also offer a removable control box, allowing the operator to walk in front of or behind the lift while moving it through a doorway or into a container. Front slide-out extension decks offer additional platform space for workers and tools, and many manufacturers offer a rear slide-out extension deck as on option on rough-terrain models. Another safety and productivity enhancing option on many rough terrain scissor lifts is automatically leveling hydraulic outriggers, which allow the machine to be used on sloped surfaces within a limited range.
In addition to those standard features mentioned above, options and accessories can be used to safely increase productivity. For example, tool trays provide storage and easy access for light tools and small materials. To eliminate the hazard of materials falling from the platform guardrails, pipe cradles and material handling devices are a popular and affordable option. Quickly and easily installed, these devices safely cradle and secure loose materials such as pipes, lumber, etc. Certain models also offer panel cradles, which allow operators to lift glass, siding and other plate materials safely and securely.
Another popular, recently introduced accessory is the access deck, a secondary platform that provides the operator with an additional 20 in. of reach to help access tight spaces, including between ceiling joists and HVAC ductwork, when the platform guardrails may inhibit needed access. These are designed to provide a safe alternative to the temptation to climb onto the guardrails to access tight spaces.
Scissor lifts themselves have many safety features built in. Safety is further enhanced by ensuring operators have the proper training and supervision, that the machines are properly maintained and that available safety features and accessories are being used — and used properly.