Proper maintenance of access equipment allows owners to operate and/or rent a safer fleet of machines that offer optimal performance and uptime. Failure to properly maintain boom, scissor and vertical lifts can disrupt project schedules and cause unnecessary downtime that may adversely impact timelines and profitability. Regular service of mobile elevating work platforms (MEWPs) is necessary to ensure compliance, help reduce workplace accidents and achieve a machine's lowest total cost of ownership. Beyond the inspection checklist, here are a few items to consider when inspecting and maintaining MEWPs.
ANSI Standards Define Inspection Protocols
ANSI outlines the suggested frequency of preventive and annual MEWP inspections. Inspections are required under the most recent ANSI standards if the MEWP has been out of service for a period longer than three months, or if environmental conditions require a shorter period. An annual inspection must be performed on a MEWP no later than 13 months from the date of the prior annual inspection. Owners should consider placing MEWPs on a planned maintenance schedule based on manufacturer recommendations and type of application.
ANSI also mandates that each inspection be performed by a technician qualified on the specific make and model of the MEWP or one having similar design characteristics. What's required for inspections is determined by the original equipment manufacturer (OEM). Therefore, a mixed fleet must reference the manual of each manufacturer for the specific piece of equipment being inspected to ensure compliance and operator safety. Below we discuss the benefits of machine cleanliness, preventing hydraulic system contamination and extending powertrain life by cleaning and protecting the battery against corrosion and using the right fluids during maintenance. All these things contribute to healthier machines.
Machine Cleanliness Extends Service Life
Dirt and foreign materials that collect in the vital components of a MEWP can shorten its service life and impact resale value. Although manufacturers provide safeguards such as shields, covers, seals and filters to keep air, fuel, oil and grease supplies clean, regular maintenance is necessary to function properly. Openings in air, fuel or oil lines that are disconnected during maintenance should be covered to prevent dirt or other foreign materials from entering. When replacing old or damaged parts, such as oil and air filters, keep the new parts in their containers to maintain cleanliness and avoid scratching or scoring.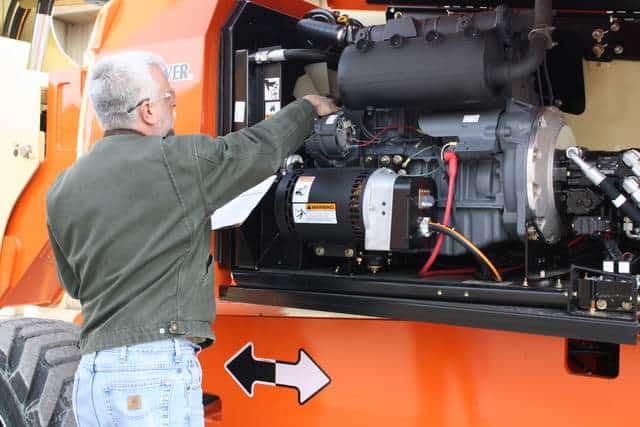 Preventing Contamination of Hydraulic Systems
With many MEWPs featuring hydraulic systems, fluid cleanliness is key to a long life for the system and its components. Even a small amount of dirt or other contaminants can compromise the functionality of a hydraulic system. Contamination can be caused by using inadequate hydraulic oil or allowing moisture, grease, filings, sealing components or sand to enter when performing maintenance. Insufficient warmup or leaks in suction lines can cavitate pumps and cause contamination, too. A tainted system can cause wear or damage to close-fitting parts like valves, pumps and motors and lead to vehicle malfunction, possibly resulting in faulty operation and shorter service life.
To assess hydraulic oil cleanliness, remove filters and look for cloudy oil or metal particles or perform an oil cleanliness test. If the hydraulic system has been contaminated, it must be drained, flushed and refilled with clean hydraulic oil. Reference the MEWP's service manual for how often filters should be checked, cleaned and replaced. Filters may need to be inspected or replaced sooner if the machine is operating in a harsh environment.
Extending Powertrain Life
Many combustion engines, specifically diesel, require the use of diesel exhaust fluid (DEF). If the wrong fluid is added, such as screen washer or diesel gas, damage can occur to the exhaust after treatment system and fluid quality sensing system, which can impact system life. While battery packs are unlikely to become contaminated with foreign material, they may be subject to corrosion. To clean the battery, use a non-metallic brush and solution of baking soda and water. Once finished, rinse with clean water. After rinsing, thoroughly dry the battery and coat with an anti-corrosion compound to prevent further corrosion.
Compliance with New ANSI Standards
In addition to key areas of MEWP maintenance, the new suite of ANSI 92 standards has the greatest impact on operators and machine users, while fleet managers and equipment owners also feel the effects. Rental companies are now required to retrain technicians on the current standards for each class of equipment they service. End-users will also face new responsibilities and now need to address questions related to site training and compliance. The new standards require the annual machine inspection (AMI) completion dates be noted on the MEWP. Machines not marked may either be returned from the site to the rental company if the equipment is on rent or the AMI will need to be completed by the owner before use. If rental companies or owners use a third-party to support machine inspections and maintenance beyond daily walk-arounds, they must verify the person responsible is adhering to the new standard.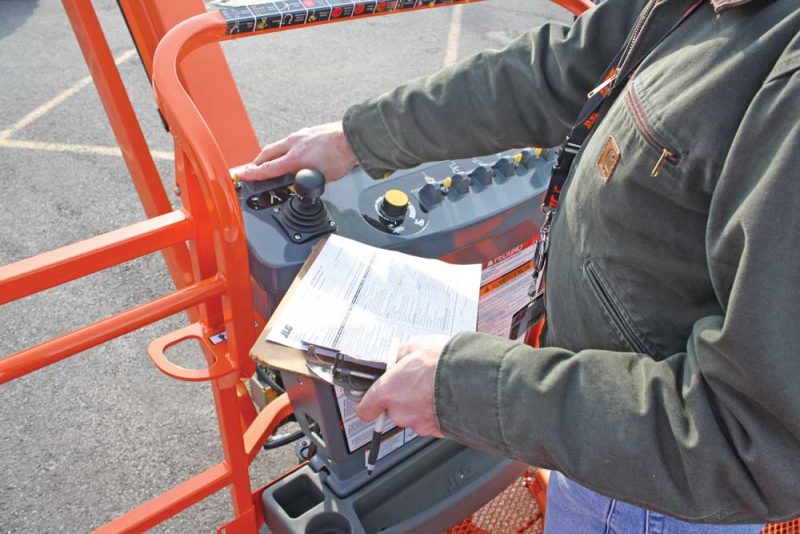 Updates to MEWP Equipment Design
Several changes to MEWP design that impact load- and tilt-sensing, wind-force ratings, entrance gates, platform railings, tires and machine markings have resulted from the new ANSI 92.20 standards. For any component added to the machine after purchase, it must continue to meet the new ANSI standards and OEM requirements. For example, replacing a full ANSI-compliant gate with a chain gate on a new ANSI 92.20 compliant scissor lift is an unauthorized product modification and will render the machine non-compliant.
Best Practices Lower Total Cost of Ownership
Regular MEWP inspections, preventive maintenance and ongoing training will improve operator and worker safety, while increasing the uptime of equipment fleets. Partner with OEMs to understand best practices and develop a plan for optimal fleet health and utilization to lower your total cost of MEWP ownership over the equipment's lifespan.
Nate Hoover is the director of marketing and product management for boom lifts at JLG Industries Inc.