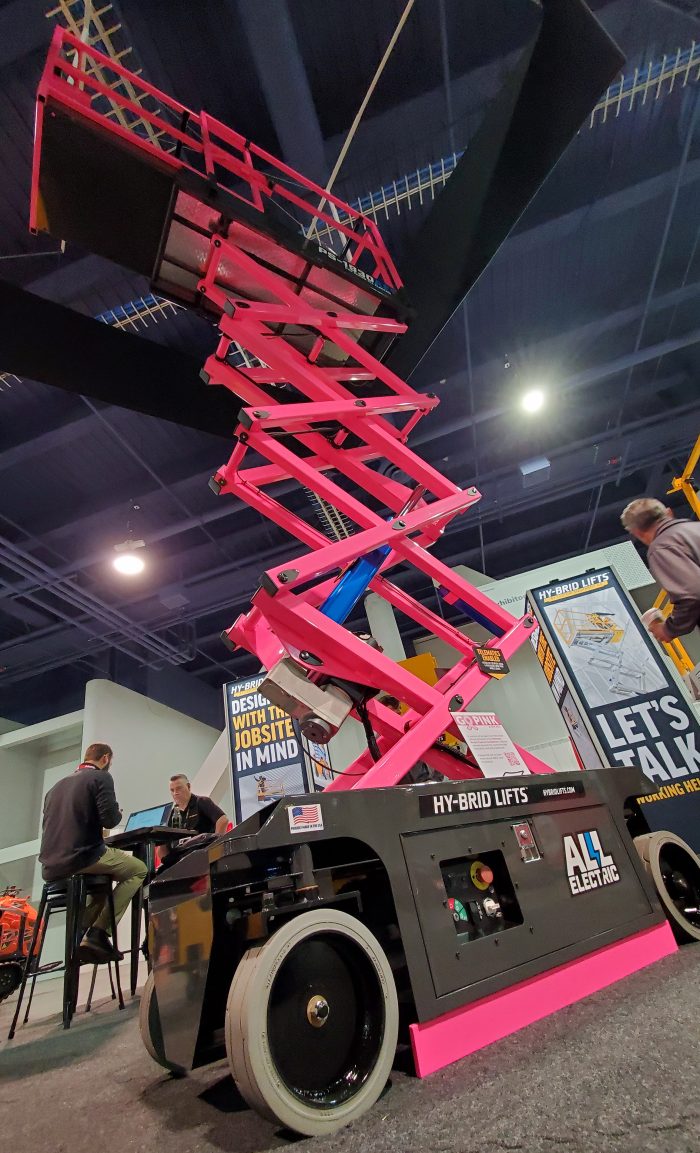 Hy-Brid Lifts, a leader in the access industry, announced a successful first trade show since the beginning of the COVID-19 pandemic. The scissor lift manufacturer made a bold appearance at The ARA Show 2021 in Las Vegas, Nev., attracting attention from patrons near and far.
The company displayed models from each of its three series of scissor lifts— the Push-Around Series, Pro Series and Zero-Turn Series — and a hot pink all-electric scissor lift promoting breast cancer awareness during the month of October.
"The pink lift was designed to be more than attention-grabbing. While it certainly generated excitement, it also defined continuing support from Hy-Brid Lifts for the community and those we serve," said Marshall Shaver, VP of Sales and Marketing. A portion of sales from the show will be donated to support breast cancer education and early detection for women across the globe.
The all-electric 19-foot lift weighs less than 2,000 pounds and has a working height of 25 feet along with a class-leading 650-pound platform capacity. This all-electric scissor lift eliminates all hydraulic fluid for leak-free operation. Other features include 30% gradeability, indoor and outdoor operation settings, lithium-ion batteries, telematics, regenerative descent charging, active load-sensing, and proportional controls.
Wanna know all about aerial lifts? You're in luck! Click here for a whole lotta articles on these high-reaching machines.
In addition to the popular pink prototype, Hy-Brid Lifts also debuted several new scissor lift options, including lithium-ion batteries, a pipe rack, and confined access rails. The lithium-ion batteries can be fully charged in three hours and will be standard on future all-electric models and optional on Pro Series and Zero-Turn scissor lifts. These 24V batteries require minimal maintenance and have significantly longer lifespans than their 12V lead-acid counterparts, reducing lift downtime and upkeep costs.
The new pipe rack attaches to the outside of any A92.20 Pro Series model's rails, enabling workers to safely elevate up to 250 pounds of pipe or conduit without the need for counterweights or added restrictions. This rack is available immediately as both a factory order option and an aftermarket kit.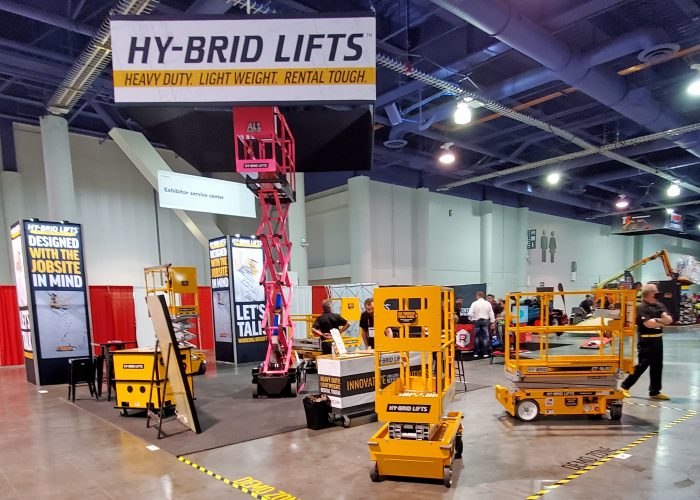 Taking safety one step further, the company introduced a confined access rail concept for Pro Series and Zero-Turn Series machines. This new rail system allows operators to confidently elevate directly into narrow work areas like drop ceilings without being exposed to a fall hazard.
Hy-Brid Lifts team members also received positive feedback on the company's first ever mobile charging station, aimed at maximizing power sources on jobsites that need it most. This lithium-ion battery-based concept can charge multiple scissor lifts and other devices while outputting more power than it draws, making it ideal for early phase projects with limited power availability.
Visit www.hybridlifts.com for the latest innovations.
Tags:
Hy-Brid Lifts
,
The ARA Show