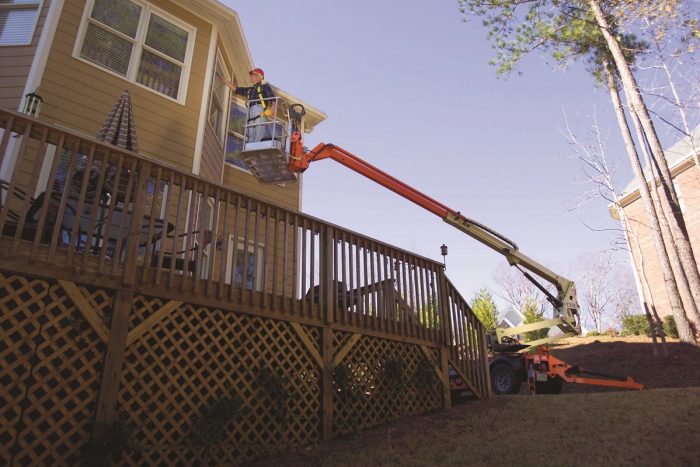 Towable boom lifts offer many advantages on jobsites, but by far, the biggest one is that these machines provide operators reach and mobility — combining the flexibility of a small utility vehicle with the versatility of a self-propelled lift and platform. Many workers choose to use this type of machine on project sites because it has the ability to be easily moved into position, and it allow workers to gain the reach needed to complete work at height.
Other benefits of a towable boom lift are that it:
Is lightweight, simple to operate and setup and easy to transport, making it an affordable solution to accessing height.
Excels in areas that might not support a heavy machine and allows the user to transport it without delivery service.
Is purpose-built for applications that focus on tasks requiring access to height without the need for long-term usage.
Because towable boom lifts can be brought to the jobsite and begin working in no time, these machines are ideal to use to complete a wide variety of everyday home/business/municipality construction and maintenance applications, as well as seasonal tasks, like tree trimming, decorating, lighting, exterior painting and maintenance.
Below are answers to the most frequently asked questions on towable boom lifts:
What features are important when looking to rent a towable boom lift?
The most important features to look for when renting a towable boom lift are: Ease of operation, ease of setup, work envelope range (height and reach) and capacity.
Towable boom lifts are not necessarily a common MEWP (mobile elevating work platform) category for advanced technology and innovation. They are often times selected for their operational simplicity combined with easy access for work at height — both features continue to drive significant demand for this type of equipment.
What training is required to operate this type of equipment?
Per the ANSI A92.2 standards, only qualified operators can operate this type of equipment. JLG offers online e-learning for operators looking to be compliant on A92.2 boom lifts, and JLG distribution partners (including rental stores) can also qualify operators prior to rental or purchase.
What do you need to know about operating a towable boom lift?
Most towable boom lift operators are not regular daily operators of MEWPs, so it is important for each towable boom lift operator to take the time to be familiarized with the machine, practice operation in a safe space before beginning work and perform pre-operation inspection and function testing as recommended by the manufacturer's guidelines.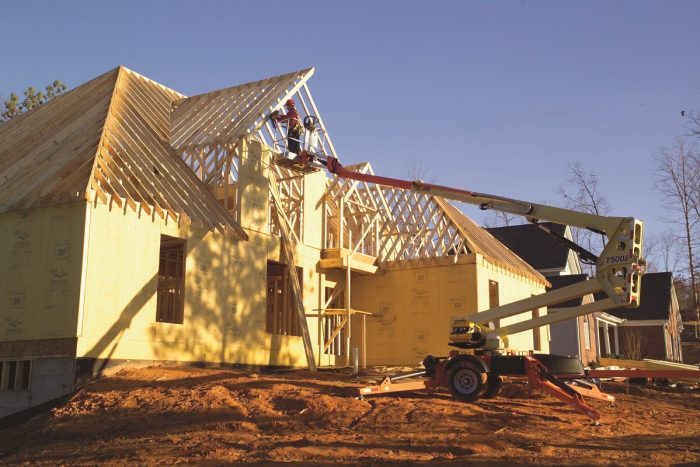 When operating a towable boom lift, operators need to ensure that the ground will support the machine's outriggers, as well as operators need to be aware of electrical and overhead hazards. It is important that operators also wear fall protection, practice operation before working and familiarize themselves with the controls and test functions from the ground first.
For towing this type of equipment, it is important to review the operation and safety manual for towing procedures. Guidance in these procedures include details on ensuring safety chains are crossed beneath the tongue, ensuring the tow vehicle has the capacity to tow and ensuring the boom lift is properly stowed and secured for towing.
JLG manufactures an exclusive line of towable boom lifts that let operators tackle the same jobs as other JLG electric or diesel-powered boom lifts — but with an easier option for transportation. To learn how a JLG towable boom lift was used to improve access at Snow Valley Ski Club, click here.
At A Glance: Benefits of Towable Boom Lifts
Lightweight, simple to operate and setup and easy to transport
Affordable solution to access height
Excels in areas that might not support a heavy machine
Allows the user to transport it without delivery service
Purpose-built for short-term, work-at-height tasks
Craig Edwards is vice president of national accounts for JLG. Learn more about JLG here. Tags: JLG, JLG Industries