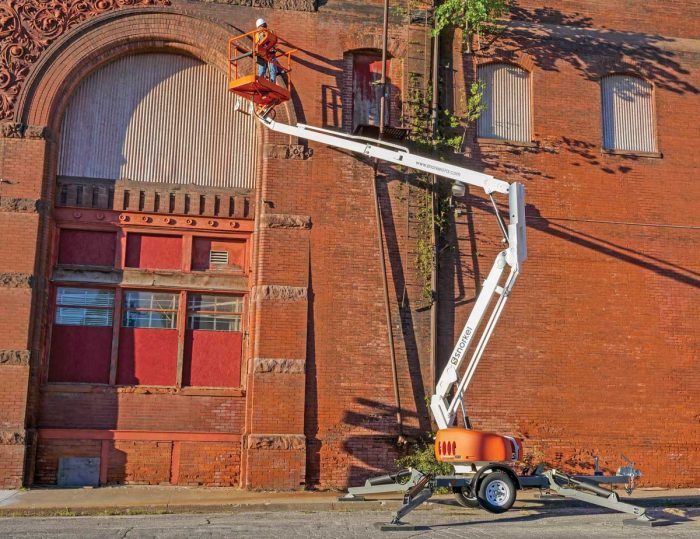 When your project calls for a lot of height — say window washing, tree trimming or even hanging some holiday lights — a towable boom lift is the perfect elevated work platform for the job.
"The biggest advantage of a towable boom lift is that it provides operators reach and mobility, combining the flexibility of a small utility vehicle with the versatility of a self-propelled lift and platform," says Craig Edwards, vice president — national accounts at JLG. "This type of machine has the ability to be easily moved into position and allows workers to gain the reach needed to complete work at height."
Towable boom lifts are lightweight and easy to transport, set up and operate, making them an affordable solution for accessing hard-to-reach spots. Edwards adds that these machines excel in areas that might not support a heavy machine and allows the user to transport it without delivery service.
"Since towable boom lifts can be brought to the jobsite and begin working in no time, these machines are ideal to use to complete a wide variety of everyday construction and maintenance applications, as well as seasonal tasks, like tree trimming, decorating, lighting, exterior painting and maintenance," he says.
Rental is a big market for towable boom lifts thanks to their ability to fit into so many applications, and companies like Genie, JLG and Snorkel fill up rental lots with plenty of popular machines. Let's take a look at how to select the right lift and what's out there.
"Customers should consider the size and height of the project to ensure the machine bucket will reach intended heights," says Griffin Eure, strategic account manager at United Rentals. "Customers should also consider whether they want electric or gas-powered, based on location and conditions, and scope out enough surface area for the base of the machine."
Another consideration, obviously, is price. Although cost will vary depending on the model and manufacturer, towable boom lifts are typically the least expensive boom lifts to purchase or rent. Eure says towable boom lift rentals vary by location, date and rental duration.
Genie currently produces two trailer-mounted booms, the Genie TZ-34/20 and TZ-50 models, which are easy to operate and maintain. Both units provide safe lifting solutions for contractors and homeowners, offering a 500-lb platform capacity and true Z-boom (articulated) functionality. The TZ-34/20 offers a max working height of 40 ft and a horizontal reach of 18 ft, 4 in. The TZ-50 boasts a max working height of 55 ft, 6 in. and a horizontal reach of 29 ft, 2 in.
Rental Companies Can Control Access to Machines with Genie Access Manager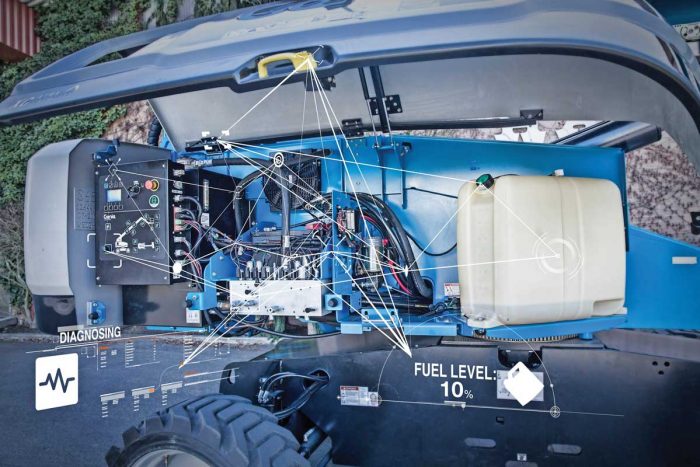 Rental companies will now have the option to remotely manage access to their fleet — improving the security of their equipment on the jobsite — by utilizing Access Manager, a new add-on feature that works with Genie Lift Connect telematics. Now, any unit equipped with Lift Connect can be retrofitted to include Access Manager, allowing rental companies to expand the benefits of their Lift Connect system. Access Manager works by assigning a unique code — which can be randomly generated or personally selected, much like an ATM pin code — to an individual operator through the Lift Connect portal. That operator then can be assigned to specific equipment. The unit then can be started only when an operator enters an authorized code on the Access Manager keypad, or when they use an authorized Access Manager RFID card, which can be purchased separately. Because Access Manager is designed for jobsite use, the keypad has been intentionally designed with durable, highly tactile buttons that are easily pushed even if the user is wearing work gloves. For more info, visit genielift.com.
JLG also offers two towable boom lift models — the T350 and T500J — which boast 35- and 50-ft platform heights, respectively. Key features of these units include either a gas engine or 24V DC electric power, as well as an accessory mounting tray to accommodate an operator's generator, air compressor, pressure washer, etc.
Snorkel offers a range of three towable boom lift models, which the company says are known for their simplicity of operation and maintenance. The high specification Snorkel TL37J features a 41-ft, 9-in. max working height, 18-ft, 5-in. horizontal outreach and a 4-ft, 3-in. jib boom. The heavy-duty Snorkel TL49J reaches an impressive maximum working height of 54 ft, 1 in. and a maximum horizontal outreach of up to 27 ft, 10 in. — it also benefits from a 4-ft, 3-in. jib boom.
"The mid-size Snorkel TL39 towable boom offers exceptional height and reach, yet has very compact towing dimensions, thanks to an innovative articulating/telescopic boom design," says Matthew Elvin, CEO, Snorkel. "Capable of reaching up to a working height of 43 ft, 9 in. and a forward reach of 21 ft, the Snorkel TL39 stows to a towing length of just 16 ft, 8 in., making it easy to maneuver."
Prepped and Ready to Work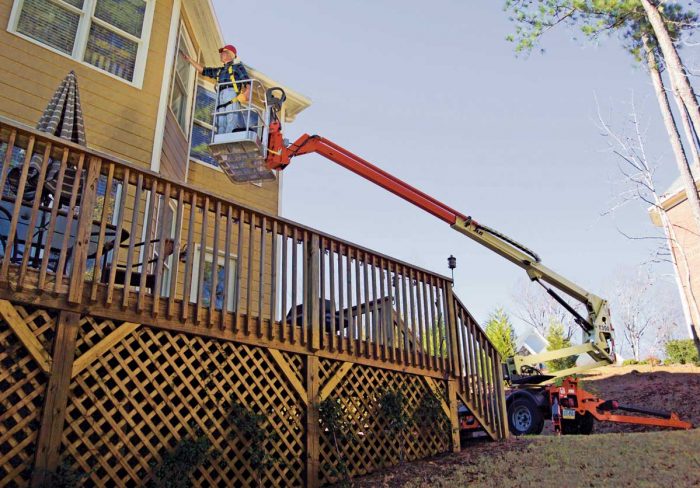 After finding the right towable boom lift, it's time to put it to work. Before operating a towable boom lift, read the manual and ensure you are familiar with the machine's setup and operation. Training is especially important with this type of equipment. Fortunately, there are a variety of up-to-date training resources from manufacturers and rental centers — ones that address the new ANSI A92.2 standards.
"Per the ANSI A92.2 standards, only qualified operators can operate this type of equipment," says Edwards. "JLG offers online e-learning for operators looking to be compliant on A92.2 boom lifts, and JLG distribution partners [including rental stores] can also qualify operators prior to rental or purchase."
Eure adds, "There are several opportunities for continued education and certification renewals. One recommendation would be to start with boom lift operator training and explore additional courses like Boomlift Counterbalance Operator Certification. Both courses, plus several others, are available through United Academy."
In addition to professional training, operators should take their time to become familiar with their particular machine. The time spent doing this will pay off in safe and efficient operation down the road.
"Most towable boom lift operators are not regular daily operators of MEWPs," says Edwards. "It is important for each towable boom lift operator to take the time to be familiarized with the machine, practice operation in a safe space before beginning work and perform pre-operation inspection and function testing as recommended by the manufacturer's guidelines."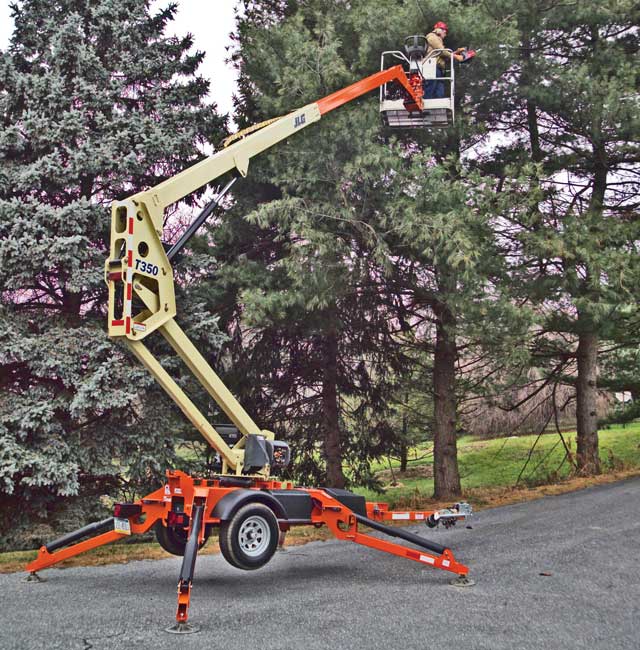 Knowing how to tow the unit to the jobsite is also important. Eure mentions that towable boom lifts are compact and mobile and can be towed with a Class 3 hitch receiver. Renters should review the machine's operation and safety manual for towing procedures, as well as follow the local speed limit. Another good idea is to select a unit that comes with a spare tire and has a "drive and set" feature.
"Guidance in these procedures includes details on ensuring safety chains are crossed beneath the tongue, ensuring the tow vehicle has the capacity to tow and ensuring the boom lift is properly stowed and secured for towing," says Edwards.
Once on the jobsite, operators and crews should survey the area. As with any piece of aerial lift equipment, it's important to know your surroundings, especially any overhead obstacles.
"When operating a towable boom lift, operators need to ensure that the ground will support the machine's outriggers, as well as being aware of electrical and overhead hazards," says Edwards. "It is important that operators also wear fall protection, practice operation before working and familiarize themselves with the controls and test functions from the ground first."
Pam Kleineke is managing editor of Compact Equipment.