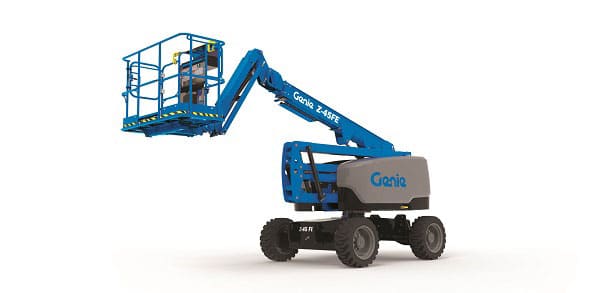 This week at The ARA Show 2020 in Orlando, Fla., Genie is showcasing a range of aerial products and services designed to meet the needs of the rental industry, including the NEW:
Genie S-60 J boom
Genie Z-45 FE boom
Genie global-spec GR, QS and GRC vertical mast lifts
Right-sized for completing work-at-height applications, such as general construction, maintenance, inspection and painting tasks, the new Genie S-60 J telescopic boom offers the essential performance that operators need to get work done at height from a jibbed boom with a leading unrestricted platform capacity of 660 lbs with 6-ft jib, a low 16,650-lb operating weight and compact chassis design, a platform height of 60 ft, 10 in. and horizontal reach of 40 ft, 6 in. and 1 ft, 10 in. of ground clearance to clear obstacles.
The new Genie Z-45 FE hybrid articulating boom lift responds to increased demand worldwide for versatile and cost-effective "green" access solutions in the 52-ft range. And, designed with productivity in mind, the new hybrid Genie Z-45 FE boom features an unrestricted range of motion and a maximum lift capacity of 660 lbs.
Meeting new global standards requirements, Genie GS slab scissor lift machine specifications and performance have been updated worldwide to adopt one global slab scissor lift specification. The new Genie GS scissor lifts will be equipped with:
Dual zone control, enabling outdoor use on all models
Load sense
Standard folding guardrails (excluding the Genie GS-1330m)
Standard swing gates
Genie GS global-spec scissor lifts went into production in Redmond, Wash., and Changzhou, China, in late 2019. These models will be available immediately in North America and China, with deliveries globally in 2020.