For many contractors, whether general, electrical, HVAC or mechanical, every now and then a project comes along and its impact trickles beyond the building's future tenants. For the many crews working on UP Health System's new hospital in Marquette, Michigan, this is that project.
With more than 538,000 sq ft of space across 11 floors and two buildings, and 4,000 individuals who will have worked on the project upon its completion, the construction of the new Duke LifePoint Hospital is making quite an impression on the relatively small community.
Building a Culture
"This doesn't happen every day in our area," said Darren Muljo.
Muljo is the lead environmental safety and health manager on the project, representing Skanska Closner the construction management company for the job.
"Many of the folks working here will be using the hospital and attached clinical building in the future, so there is a real sense of pride going into this," Muljo said.
But pride isn't the only thing happening. What Muljo and many others are doing to ensure everyone on the job gets to go home at the end of the day has been the most important thing going on behind the scenes.
On a project where as many as 450 people can be operating at once, ensuring hazards are addressed, safety measures are in place, and proper equipment and protective gear is used is a tall order. But many, including Muljo and his team, operate like a well-oiled machine.
"We aren't just telling people how to work safely," Muljo said. "We strive to ensure everyone understands the 'why' behind our safety programs. Whether that's seeing their kids graduate from college or being able to maintain a high quality of life as they age, our goal is to ensure they get to go home to their families every day. Safety is our No. 1 priority, and we strive to create a culture based around that."
From Skanska's Care For Life culture that emphasizes the value of each individual's life on the job, to its Injury-Free Environment initiative, which focuses on the personal side of safety, the company takes working safely seriously, and that sentiment extends across all others on the job.
Midway Rentals & Sales, the equipment supplier for several crews on the project, was on site weekly, participating in daily Stretch and Flex exercises. The practice consists of several minutes of stretching as well as conducting Daily Hazard Awareness discussions about risks and efforts to eliminate or minimize them prior to work commencing.
"Everyone on the job appreciates the Stretch and Flex time," said Brad Cuyler, Midway Rentals project manager. "Not only is it an opportunity for workers to take a break and reset, but our mechanics also take this time to look over equipment and make any necessary repairs or maintenance, which helps keep installers productive."
Having the equipment on the site in working order so it's ready when needed is necessary for productivity. But having the right equipment from the get-go is imperative for a safe and successful job. For HJ Martin and Son, the contractor installing the framing and drywall for the hospital, this rang especially true.
"By the time our installers are wrapped up with this project, they will have installed 2,552,315 sq ft of drywall," said Brandon Pecho, HJ Martin, Walls and Ceilings Division foreman. "Using ladders or tall scissor lifts for the job would mean a lot of up and down and difficulty maneuvering around the site — something that runs the risk of repetitive strain injuries and damage to walls."
A large portion of HJ Martin's work is taking place in the facility's 8-by-8-ft and 10-by-10-ft hospital rooms, which all have 9-ft ceiling heights.
"Like everywhere else in the building, these areas need floor-to-ceiling framing and drywall. Using standard 19-ft lifts just isn't an option," Pecho said.
On many jobsites, this is the point where extension ladders or stepladders come into play. But like many contractors who are starting to take a strong stance on preventing injuries from falls, Skanska Closner and HJ Martin employ a ladders-last mentality. That is, if there is a safer way to get work-at-height jobs done, then that approach must be used first, and only as a last resort should ladders be considered unless performed from podium, or platform, ladders.
"We're familiar with the ladders last initiative and knew for these confined areas we needed to bring in more compact, maneuverable and user-friendly options than the traditional 19-ft lifts," Cuyler said.
As Cuyler discussed this need with HJ Martin during the planning phase, he realized that while his fleet consists of a wide range of high-reach equipment, nothing ticked all the boxes for the drywall crew. In fact, the same challenge was facing other sub-contractors on the project, as well.
Larger lifts often have a wide turning radius, which requires quite a bit of pivoting to navigate around corners or to turn around in the small hospital rooms. Even if operators are cautious, drywall and door frames still end up as an unintended targets of damage.
"The last thing we want to do after installing new drywall is to have to come back and patch up damaged areas. That takes time, labor and materials," Pecho said. "We've always liked using Hy-Brid Lifts and knew this was going to be another project where their compact size, maneuverability and safety would be paramount."
The Remedy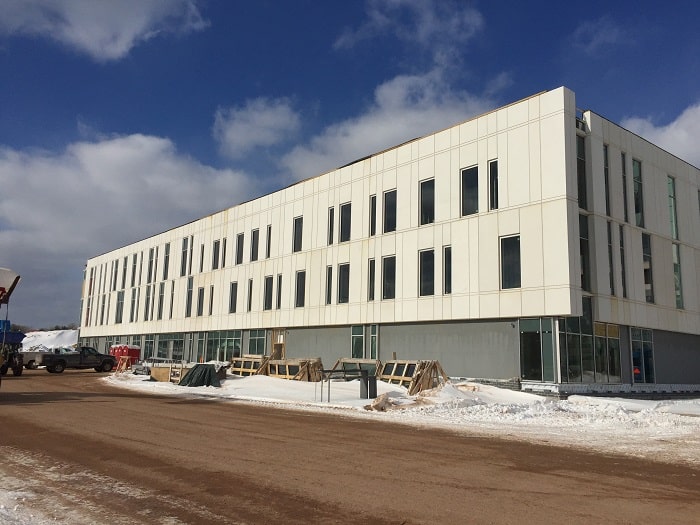 Hy-Brid Lifts offer a zero-turn radius and are small enough to easily maneuver around confined areas on jobsites, yet offer plenty of platform capacity for materials. Most importantly, however, is how they maintain safety on the jobsite.
The lifts offer some of the industry's lowest entry heights — one step as low as 20 in. As installers get on and off the lifts, this low step up is more forgiving on joints than the two or three steps up onto taller platforms.
"This job is a perfect example of why we build Hy-Brid Lifts the way we do," said Justin Kissinger, vice president of marketing for Hy-Brid Lifts. "They allow contractors to do their jobs in the most efficient and safest way possible."
Pecho's crew of more than 95 installers has been using as many as 30 of the low-level lifts since their portion of the project began. With a mix of both 12- and 14-ft units, the drywall installers are placing pre-fabricated sections of drywall and steel studs in patient rooms, bathrooms and other small areas of the buildings. This includes 20-ft-long sections throughout the hallways, topped with standard 4-by-5-ft drywall.
Without the lifts, installers would need to use ladders in the smaller rooms, which would mean stepping up and down as many as 15 times to fasten each sheet. Instead, installers can adjust the lift to the appropriate height and drive it to the next position when needed.
"Our guys also appreciate having the tool trays so their tools and supplies are within reach," Pecho said. "This setup is about as ergonomic as we can get."
The Hy-Brid Lifts are also proving beneficial to other subcontractors on the job, including insulators and mechanical installers.
"More often than not, contractors aren't working at a full 19 or 20 ft. They only need to reach 7 to 12 ft," Cuyler said.
The new Duke LifePoint Hospital campus includes an eight-story hospital, a three-story clinical services building and a three-story, above-ground parking ramp.
Building with Purpose
Walls and beams may be what will hold the new Duke LifePoint Hospital up for many years to come, but the true measures of the project's success are already visible today. From the people who maintain the site's strong safety culture to the equipment tasked with following that initiative through, the project is already fulfilling part of its future purpose — health and wellbeing.
Tags:
Hy-Brid Lifts