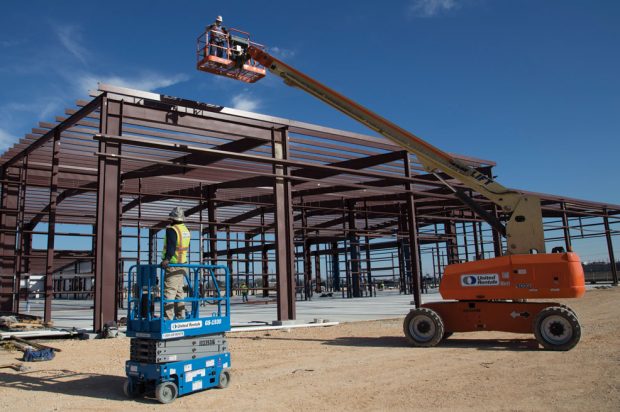 Getting from ground-level to a warehouse shelf or to a dirty foyer window or a burned-out streetlight used to mean hauling out ladders or erecting a scaffold. Then along came hydraulics and reaching out-of-reach workstations became as simple as working a lever.
Among today's mobile elevating work platform (MEWP) choices are a category simply called booms, which is usually broken down into 1) articulating and 2) telescoping booms — both with platforms on the working end for workers, tools and products. The problem now is determining what size and kind of boom will best do a particular job. The choices today are many, and the responsibilities of operators have grown.
Which MEWP Boom?
The key to selecting an articulating or telescoping boom starts with accurately sizing up a worksite. Employing the wrong lift can be worse than having no lift at all. Marie Engstrom, Genie product manager for Terex, offers advice about choosing.
"A few key features will lead a user to determine which model will meet their needs," she says. "The first filter is often the height of the work to be carried out. Also, if the worksite requires navigating around or over obstacles, they also need to take in the up-and-over height of the boom as well as the need for a rotating jib."
She goes on to explain that the dimensions of the boom base are a consideration. "If the site has narrow access points, the width of the machine becomes critical. For indoor work this frequently means assessing door widths or aisle sizes to be sure the boom can get to the work area." In addition, the structure of the floor on which the boom will be moving may restrict choices to lighter boom models.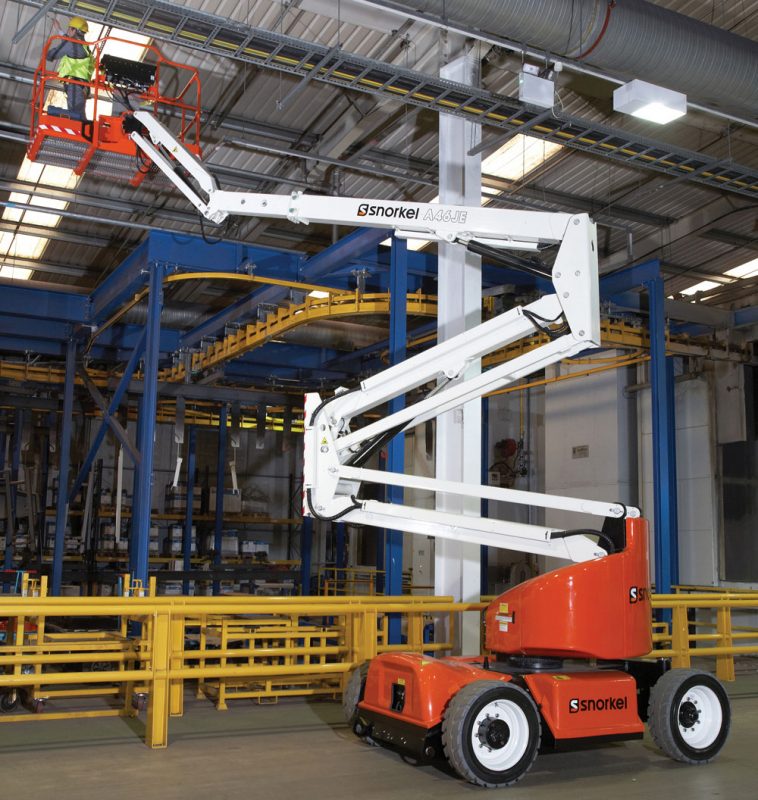 Matthew Elvin cites "key criteria" in choosing a boom lift. The Snorkel chief executive officer lists "maximum working height, platform capacity, width and weight, but other criteria, such as horizontal reach, clearance height at maximum outreach and tail-swing, also are important in selecting boom lifts."
The user may have the choice of rolling in either an articulated or a telescopic boom. These units are best utilized when the working area is open, the floor is solid and the elevated point to be reached is a straight shot.
"But there are differences between articulated and telescopic booms," Elvin says, noting that "if you were going to use one unit to reach both high and forward, a telescopic boom would give you much greater outreach than an articulated boom. For example, a Snorkel 600S all-terrain telescopic boom lift would give you about 53 ft of forward reach, whereas a Snorkel AB60J articulated lift would provide just 43 ft of forward reach."
On the other hand, it also is true that preferences play a role in selection. Engstrom points out that U.S. boom-users generally tend to prefer telescopic lifts, whereas in Europe articulated booms are significantly more popular. And hauling a lift to a worksite can be a consideration, says Elvin. "Articulating booms generally have more compact stowed dimensions because the boom is able to be folded away, unlike a telescopic boom. This has advantages for transport, where multiple articulating booms may be able to be transported together."
If a workspace is constricted and impediments bar easy access to an upper level, a compact articulated boom may be the only choice. When such a lift is to be rented, Brent Kuchynka, vice president of corporate fleet management for United Rentals, says a detailed conversation in the rental office is the first order of business.
"Typically, there's a lot of question and answer time at the rental branch to help assess a job need before a piece of equipment is reserved," he says. "United offers a number of articulated boom lifts, from 20 ft on up, many standard sizes and many for narrow and indoor usage. A renter should have a good understanding of the job to properly assess the need."
So, a lift customer must know the machine's application. Wait a minute — wasn't that point just made? Yes, but it can't be overemphasized. A look at two similar Genie articulated lifts — the Z-30/20 and Z-3318 — illustrates the situation. Both are electric-drive, compact models that can reach just under 40 ft. They each lift 400 to 500 lbs.
Yet there are critical differences. The Z-30/20 is a foot narrower — at 3 ft, 11 in. — than the Z-33/18. The narrow profile gives it more access in confined indoor spaces. On the other hand, the Z-33/18 weighs 8,080 lbs, fully 6,000 lbs less than the Z-30/20, and lightness can be a consideration in some indoor utilizations. Such subtle engineering differences as these differentiate machines that might appear more-or-less identical.
The popularity of battery-powered articulated booms is owed to their indoor-outdoor versatility. Operating compact emissions-free units in an enclosed space is a no-brainer, but the electric lifts also can function just as ably in outdoor work, such as painting a building's upper-story or hanging Christmas decorations. Quiet operation is a worksite plus in any setting. Hybrid articulated lifts are another option. Genie's fuel-electric models, for example, are popular where indoor-outdoor use is expected, particularly if lengthy runs between lifting moments are likely or battery-recharging outlets are absent. The smallest Genie bi-energy model, the Z-45 FE, raises a platform 51 ft in the air and is suitable for rough terrain.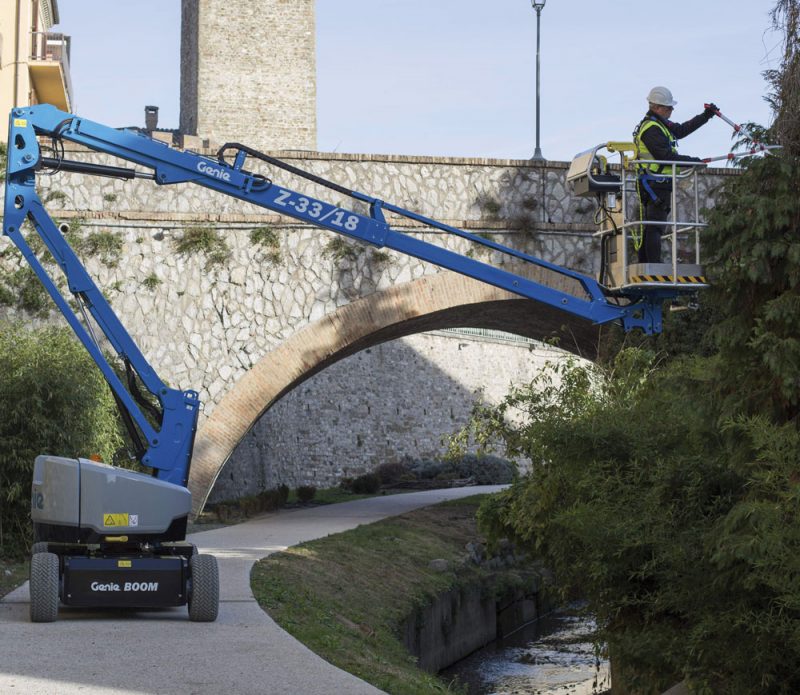 Be Aware of New ANSI Units and Training
The newest machines in the market are manufactured to meet the latest ANSI safety standards, so they feature new safety technologies that users need to be trained on — from load- and tilt-sensing equipment to new gate requirements. By June 2020, operators will be required to be retrained for operation, maintenance and supervision on MEWPs. Rental companies, manufacturers and trade organizations like IPAF are great places to start to understand an ANSI-compliant certification.
"Regardless of the rental, there should be a certified operator using the equipment," says Kuchynka. "This doesn't always mean that the person placing the order for the equipment is the certified operator. However, it's always the responsibility of the renter to ensure that a certified operator will be operating the equipment and operating it correctly. There may be times when a piece of equipment is delivered to a site where no one is yet present, as work crews may not have arrived. It's always the responsibility of the renters to ensure that they are familiar with equipment controls and any job limitations prior to using the equipment."
Besides ensuring that the controls of the articulated lift are in the hands of certified operators — Kuchynka terms this requirement "imperative" — he says that having workers on the platform properly equipped with personal protection gear is important to safe operation. And then there's the fact that the lift operator and anyone else on the rig are 20, 30 or 40 ft in the air, an intrinsic hazard. Kuchynka cautions operators against overlooking anything that might bring them down. "Hazard awareness, including uneven surfaces, overhead and crushing obstacles and powerlines, are all critical pieces to be evaluated and constantly observed."
Giles Lambertson is a freelance writer for Compact Equipment.
Transformational tech: JLG Introduces Self-Leveling Boom Lift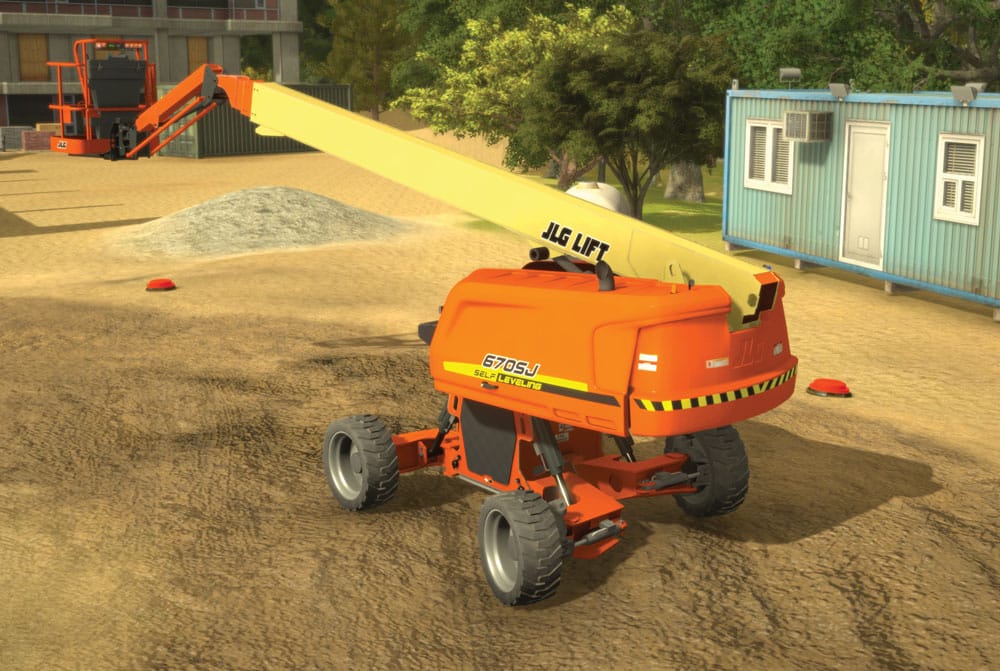 JLG Industries announced the introduction of its 670SJ self-leveling boom lift at CONEXPO-CON/AGG. After seeing how challenging select boom lift applications could be, JLG engineers realized that the industry as a whole had designed current lifts for the near ideal conditions of firm, flat surfaces with a grade of 5 degrees or less. The 67-ft platform height boom lift boasts a 550-lb unrestricted and 750-lb restricted capacity. It offers 45 percent gradeability, a 57-ft, 1-in. horizontal reach and elevates to full height or back to ground level from full height in just 101 seconds. It automatically levels on grades up to 10 degrees when in self-leveling mode. For versatility, there are two additional modes: standard mode for driving with the boom down at faster speeds and shipping mode which allows the suspension to be lowered during transport. For more info, visit jlg.com.