Selection Tips & Tech Advice
Cool Unit: 340AJ Articulating Boom Lift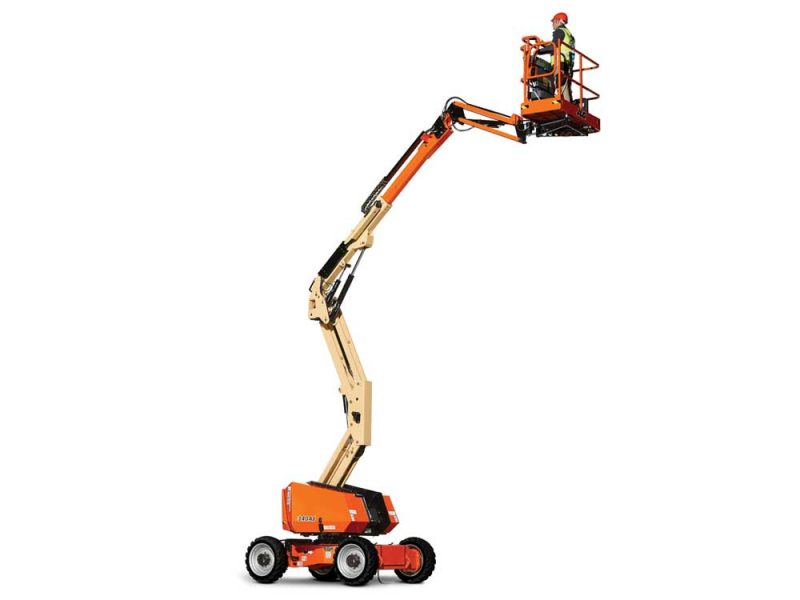 This ANSI 92.20 compliant boom lift delivers over 33 ft, 10 in. of platform height with a 19-ft, 11-in. outreach and an unrestricted 500-lb capacity. The 340AJ boasts a steel hood for added durability and offers industry-leading terrainability. An optional cold-weather package is available. Its compact size makes it ideal for general contractors, steel erectors, painters, stadium construction and more. For more info, visit jlg.com/equipment/engine-powered-boom-lifts/articulating/340aj.
Advice: Via Jennifer Stiansen, Director of Marketing at JLG
Urbanization is resulting in less open space, driving greater demand for compact equipment. Boom lifts are no exception with smaller models that can work in tight quarters and that are easily transportable gaining in popularity. There are many boom types to choose from including articulated, telescopic, mast style, towable and compact crawler. Careful consideration should be given during selection, including the work that needs to be done, height requirements, obstacles the boom may need to maneuver up and over, the number of people, tools and materials the platform will need to support and the space in which the boom will need to operate. Selecting a boom has traditionally been manual in nature. If you get it right, you're off to work. If you get it wrong, you have unnecessary delays and downtime on your hands. New tools such as Building Information Modeling (BIM) allow design engineers to select and place to scale equipment models into 3D environments during project planning.
Articulated Booms Are Great for Confined Spaces
Cool Unit: Snorkel A38E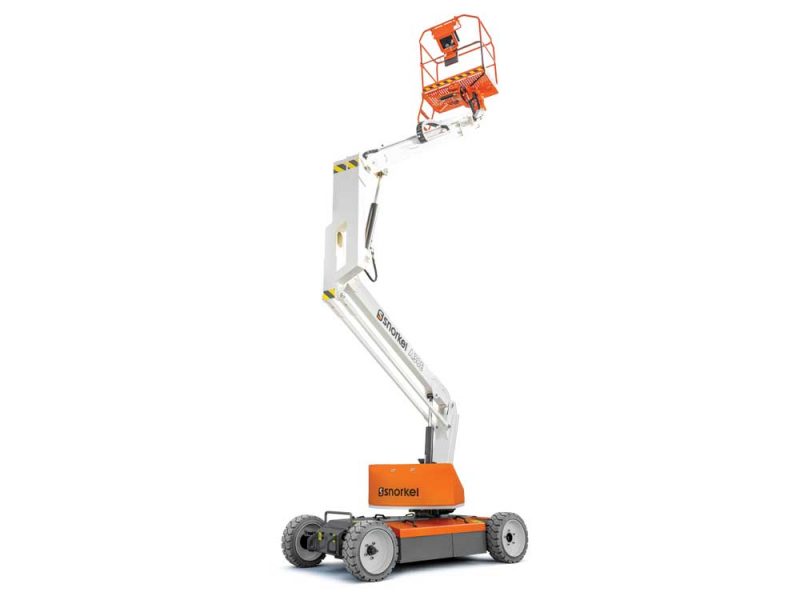 The Snorkel A38E electric articulated boom has a working height of up to 43 ft, 7 in., a forward reach of up to 37 ft, 7 in. and can lift up to 475 lbs. Designed for indoor and outdoor use, the zero-emissions A38E features an industry-leading height-to-weight ratio and articulating/telescopic boom configuration that combines an excellent working envelope and maneuverability at height with compact stowed dimensions for easy transport. Weighing 8,554 lbs, the A38E comes equipped with non-marking high grip tires and efficient direct DC electric drive as standard. For more info, visit snorkellifts.com/a38e.
Advice: Via Jeffrey L. Eckhardt, P.E. Vice President/Chief Engineer at Snorkel
More compact than telescopic booms, articulated booms are ideal for working at height in confined spaces. However, there is more than just working height to consider when selecting an articulated boom. A key feature of an articulated boom is the capability to reach up and over obstacles. This is referred to as maximum horizontal reach, showing how far forward the boom can reach, and clearance height at maximum outreach, which is the height of obstacles that the boom can reach over at the maximum horizontal reach. A difference between articulated booms is whether they have a single or double riser. The riser is the lower boom structure, which may be a single section or two sections, divided by a knuckle. A single riser boom will have a greater stowed length and a greater horizontal reach than the double riser. Booms with a double riser are common in the rental sector as they are more compact when stowed, enabling multiple units to be carried on a truck and have a reduced boom overhang.
Safety & Damage Assessment
Cool Unit: Genie Z-30/20 N
The Genie Z-30/20 N articulating boom lift offers quiet, emissions-free operation for work at height in the most sensitive work environments. It is powered by 48v DC deep-cycle battery pack. With zero tail swing and front arm swing, operators can maneuver this narrow, electric boom lift through standard doorways. An up-and-over clearance of 12 ft, 8 in. and a 4-ft jib boom with 139-degree range of motion enables precise positioning close to buildings, around obstacles or during aisle work. Maximum platform height is 30 ft and maximum horizontal reach is 21 ft, 5 in. For more info, visit genielift.com.
Advice: Via Jason Berry, Senior Product Safety Manager at Genie
When a machine has been involved in an incident, damage to a boom lift may be undetected and can only be identified by a thorough inspection and possibly complete disassembly. For this reason, all inspection and damage assessments must be conducted by a qualified service or engineering person/entity. Damage must be assessed based on the nature of the incident, abuse or misuse and the probable damage that could result. A component failure (e.g structures, tires, control systems, etc.) may cause a potential hazard including, in the case of a MEWP, the platform and its occupants to fall from an elevated position, which could result in death or serious injury. Further inspection and/or disassembly may reveal additional damage to the machine and its component parts. Until the machine has been fully inspected and all damaged machine components are replaced or repaired, the machine must include any inspection or repair documentation to any party taking possession of the machine, for any purpose.