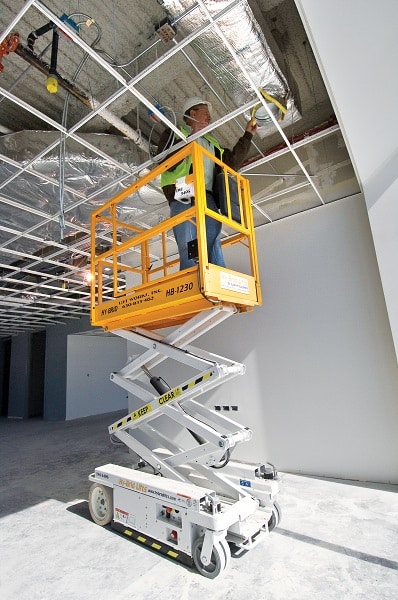 What happens when the tools designed to make jobs faster, easier and safer fail to live up to those expectations? Productivity and profits pay the price. Mast lifts, for example, are designed with good intentions: they have compact footprints, average 18-ft working heights and feature simple maneuverability. But, beyond that, their benefits fall short.
To be successful from start to finish on work-at-heights jobs, such as installing electrical wires and changing light bulbs, requires lifts that take ease of use, productivity and safety to the limit — it takes the full package, or a 12-foot low-level scissor lift.
Capacity
Whether contractors are installing HVAC or cleaning rafters, they need to work efficiently to maximize profits, and platform space plays a big part. It's perhaps one of mast lifts' biggest pitfalls. Most units have small platforms, some just 27 in. by 37 in. — roughly the size of a road map. This might be fine for changing a single light bulb, but as projects grow, the practicality of mast lifts' platform space quickly shrinks. Users may be able to fit two people on the platform, but it's at the expense of all the tools and materials they need to perform the task. And because the platforms are small it's nearly impossible to fit a productive amount of materials alongside one user. What is a productive amount of materials? That's enough materials, such as electrical wire, conduit or light bulbs, to allow technicians to perform a generous amount of work before having to lower the lift and reload.
Twelve-foot scissor lifts also offer 18-ft working heights, but are a more practical option with roughly 25-by-53-in. platforms. They can hold up to 550 lbs, as much as 50 lbs more than some mast-lift models. This means users can load them with plenty of materials to keep productivity rolling or safely share the lift for two-person jobs. Nearly every 12-ft low-level lift also offers an extension, giving users as much as 30 in. of additional space.

Maneuverability
In addition to platform space, a lift's overall size can also impact productivity. Being able to easily maneuver around confined interior spaces quickly adds up to time saved on the job. But mast lifts are no longer No. 1 in this category. Mast lifts are about 29.5 in. by 53 in., so they can certainly navigate confined jobsites and get through doorways. Twelve-foot scissor lifts, however, are just as compact, coming in at roughly 30 in. by 56 in. They, too, offer easy maneuverability, but deliver considerably more productivity with their larger platform capacities. Some 12-ft scissor lifts also stow 6 in. lower than mast lifts, which means easier navigation under doorways and into elevators, especially when carrying longer materials.
Like many mast lifts, low-level scissor lifts also are designed with zero-turn radiuses, so operators can turn on a dime around studs and through doorways directly into hallways. But not all zero-turn systems are created equal. Some low-level lifts' zero-turn drive systems feature point-and-go steering that drives with the rear wheels giving operators optimal control and further enhancing maneuverability around obstacles. This virtually eliminates awkward maneuvering back and forth, which occurs with front wheel steering lifts.
Weight
Weight also plays an important factor when determining which lift is best for the job, and it's another reason a low-level lift might fit the bill. The lighter the weight, the lower the wheel load, and the lower the wheel load, the more finished floors, such as tile and laminate, the lift can be used on without damage. Lighter lifts also allow contractors to get onto jobs with green concrete faster than heavier models, speeding up the entire project.

Damage
Dual front wheels are another feature that makes the case against mast lifts stronger. Dual front wheels distribute the lift's weight, resulting in lower wheel loads than lifts with single wheels. This allows users to maneuver over tile or carpeting without marking or causing tears.
A few low-level scissor lift models also feature completely self-contained hydraulic systems with just two connection points. This reduces the potential for hydraulic fluid leaks, which not only can damage floors, but also creates a safety hazard. Mast lifts, on the other hand, have as many as 38 hydraulic connection points.
In addition to avoiding flooring damage, contractors must also take care when working close to walls. A low-level lift with a proportional drive and lift system allows users to adjust how fast the lift travels and the rate at which they raise and lower the platform. These systems allow contractors to sneak up close to walls or objects with minimal risk of damage. They also provide a smooth operation rather than herky-jerky motions.
Stability
Fluid control of the lift's movement increases an operator's comfort, but so does a lift's stability, and when the user is confident they often perform better. Mast lifts feature a rigid mast on which the platform raises and lowers. While this design sounds as if it should deliver rock-solid stability, many models still sway, or deflect, both when moving up or down as well as when working on projects. Low-level scissor lifts are generally more stable, particularly those with robust scissor stacks and over-sized pins.
It's not a single feature that makes one lift better for a job over the other; it's the full package. From larger platforms for greater efficiency to lower weights for flexibility over multiple types of floors, 12-ft scissor lifts can offer it all, and that equates to a job done faster and with more room for profits.
Justin Kissinger is the vice president of marketing for Hy-Brid Lifts.