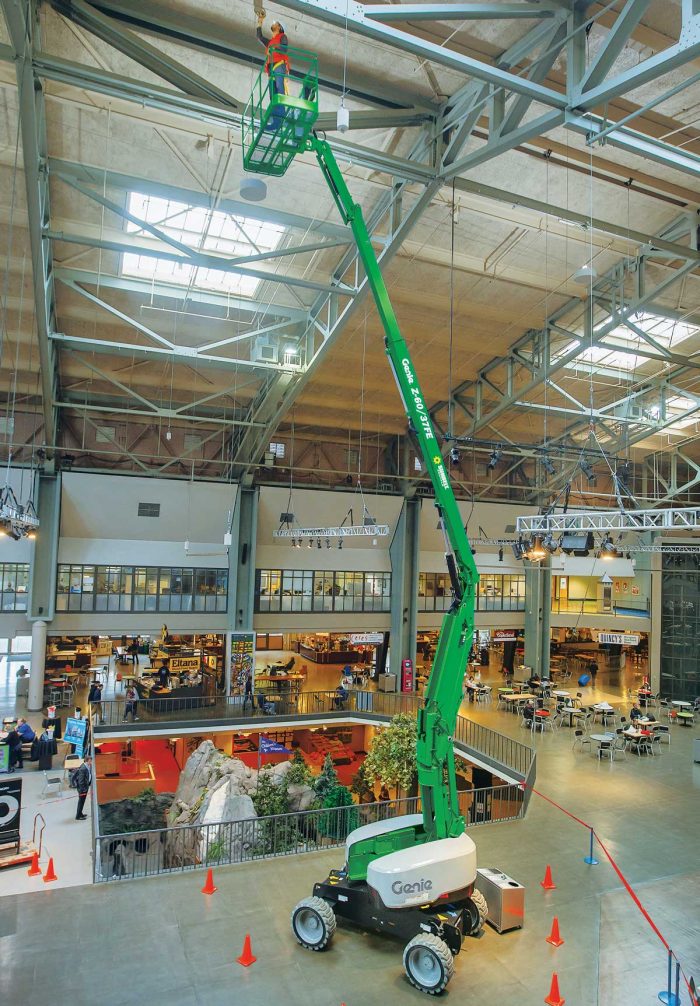 The technology behind construction equipment continues to evolve, but that doesn't mean it's always readily adopted by contractors. Previous misconceptions about the performance and power capabilities of hybrid or electric booms, for example, may have held operations back from adopting the technology in years past. However, many of today's models offer just as much power — or even more — than traditional combustion options. For this and several other reasons, more contractors are making the move from combustion-powered booms to hybrid and electric booms. Rental companies are also adjusting to this shift by offering more electric and hybrid machines in their fleets.
What's Driving the Shift?
One of the primary reasons prompting the move from combustible booms to hybrid and electric booms is changing emissions requirements. Stricter standards from the Environmental Protection Agency (EPA) — with the eventual goal of net neutral emissions — are driving this shift across many industries and applications, from vehicles to tools. The lowered cost for this equipment, along with increased availability and high performance are also key factors. The emissions benefit of electric booms is obvious since these machines don't produce any. Hybrid booms produce minimal emissions compared to a traditional combustion engine that runs constantly on the jobsite.
Hybrid and electric boom lifts have been available for decades, but they were often used as a niche product for specific applications, and the majority of booms for outdoor applications remained combustion-engine driven. There has been a shift to using hybrid booms in more general outdoor applications and this move will likely continue to accelerate as adoption of these models becomes more widespread. These booms also offer the versatility to be used inside.
Hybrid and Electric Options
Hybrid and electric models are available for most every common size and type of boom lift. They are also typically available with many of the same options and machine configurations as combustion engine machines. The available types of hybrid and electric booms include those designed for indoor and outdoor use and on rough terrain. Having these options allows for flexibility across many applications and makes the transition to these types of machines more appealing.
Fully electric boom lifts run on battery power and typically provide a full working day of operation without the need for charging. Hybrid boom lifts have an on-board power source, typically a small combustion engine that powers and recharges a set of batteries. The batteries provide the power for all drivetrain functions and controls. In a hybrid machine, the small engine isn't always running when the boom is running; it may only start up to charge the batteries. It's possible to work a full day without the engine kicking in, depending on the boom size. The time to fully charge a battery for hybrid and electric equipment varies, depending on the type of battery used and what work the machine is doing. For example, one model of hybrid articulating manlift can recharge to 80 percent in four hours with the onboard generator.
Benefits of Hybrid and Electric Tech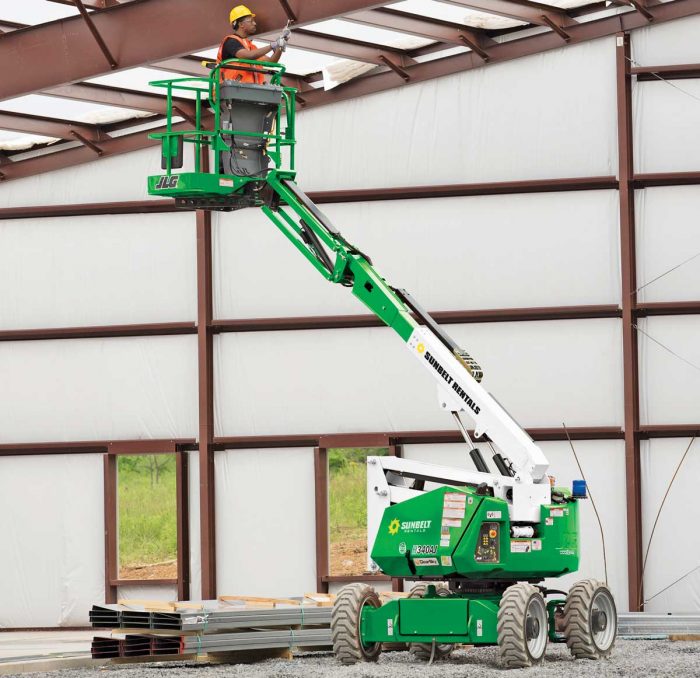 These technologies can deliver numerous benefits that help operations work in a range of environments and save money. Benefits include:
Fuel savings: An electric boom doesn't require any fuel since it runs solely on a battery charge. Some hybrid models use up to 40 percent less fuel than a comparable combustion engine machine.
Reduced maintenance: Fewer mechanical parts on hybrid and electric machines means there is less maintenance required to keep the equipment running smoothly. This helps save time and money.
More data and control: Electric equipment allows for more data collection and better control of the machine. Electric components have sensors and monitors that provide readings and data points about performance that can help optimize productivity. For example, advanced telematics can collect usage and battery charging data.
Good in many environments: Hybrid and electric booms can be used for both indoor and outdoor jobs. They are especially good choices when working in sensitive or clean environments, such as those involved with food or medical applications or where there are open flames.
Reduced noise: An electric machine has no engine noise, while a hybrid machine has minimal noise compared to a traditional combustion-driven machine. If the job requires working overnight or in a sound-sensitive environment, reduced noise is a big advantage.
Training on hybrid and electric equipment is the same as any other type of boom lift. There are ANSI-mandated requirements for safety and training that were recently updated. Large rental companies typically offer a comprehensive in-house training program for customers, which is required for operation of aerial equipment. Be sure to consult a trusted rental provider for the required equipment training.
Making the Move
As emissions standards continue to evolve and there is an ever-increasing focus on being "green," more and more industries will likely make the move to electric and hybrid technologies. Making the shift to electric and hybrid equipment can provide many benefits that help increase flexibility for taking on new projects, while still delivering the power and capabilities necessary to complete jobs on time.
Austin Caskey is a product line manager for Sunbelt Rentals.
Tags:
May 2021 Print Issue
,
Rental Industry
,
Sunbelt Rentals