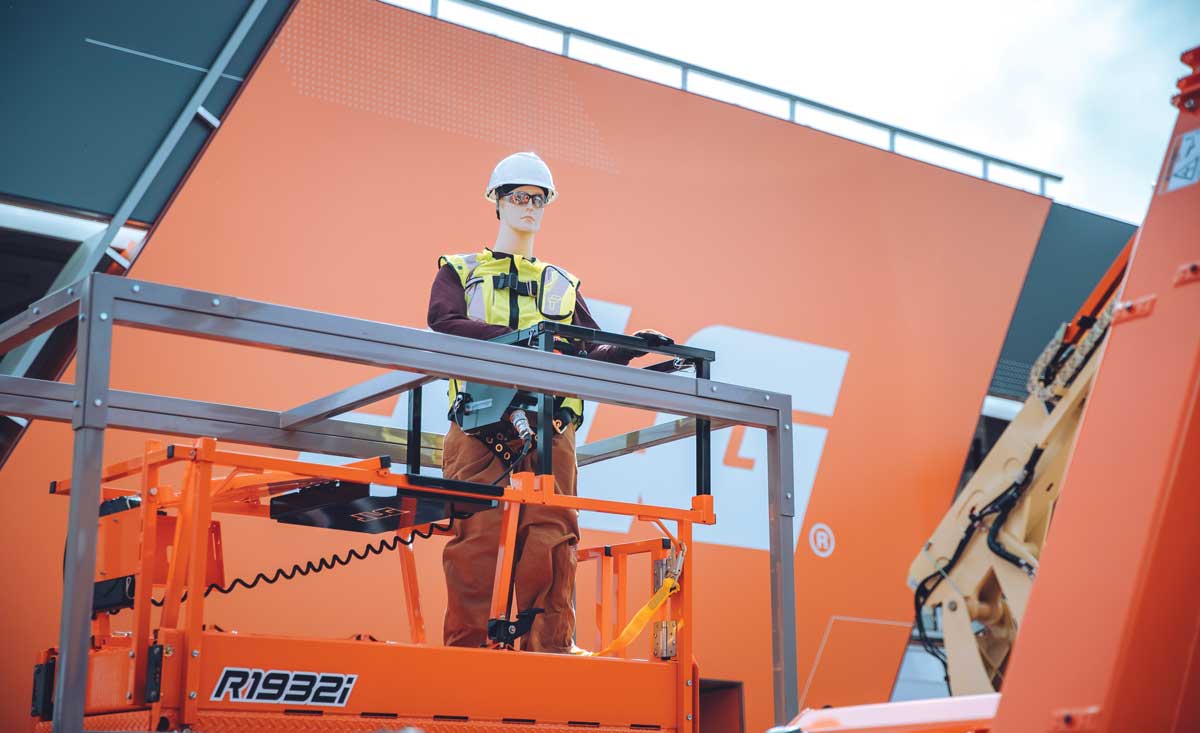 Because scissor lifts can be used to perform a wide range of tasks, OEMs like JLG offer a variety of optional accessories for these machines to enhance the equipment operators' ability to get overhead work done. These add-ons can increase an operator's productivity, add additional safety measures and/or extend the machine's efficiency in certain applications.
Some accessories for scissor lifts are designed to conserve platform space, while others improve jobsite working conditions. As operators have realized the usefulness of add-ons in aerial workspaces, the range of options for scissor lifts has expanded to include accessories available a la carte or as packages for specific applications or conditions, such as cold weather, welding, electrical work, plumbing and maintenance. For example, many manufacturers offer pipe racks (a.k.a. pipe cradles) as a stand-alone option but also as part of an accessory bundle, like JLG's plant maintenance package.
When selecting accessories to outfit a scissor lift with, both the type of work and the location where the work will be performed are the top considerations. Below are summaries of the extras available for scissor lifts and how these tools can help operators work at height.
Platform Extensions
When working at height with a scissor lift, operators often need to access areas above or beyond where the machine's standard platform allows them to reach. At one time, platform (a.k.a. deck) extensions were only offered as an option on scissor lifts. But because the additional workspace and up-and-over reach made them such a popular add-on, today most OEMs offer this feature standard.
That said, work at height often requires scissor lift operators to access extremely tight, hard-to-reach spaces, like between drop ceiling tiles and joists, duct work, pipes and other existing overhead infrastructure that obstructs the work area. But often the size of a scissor lift's platform is greater than these areas, which leaves operators with few choices to fully reach the work area and safely complete the work that needs to be done. Using ladders, buckets, planks or the platform's guardrails to stand on to gain extra reach is strictly prohibited by ANSI standards and OSHA safety regulations, so what other options do operators have?
This real-world jobsite challenge led many manufacturers to create unique solutions that give operators the ability to modify the platform space. For example, JLG's QuickAccess Platform lets operators fold down most of the rails to form a smaller "L" shape platform, allowing the operator to raise the machine higher for better overhead access. This option keeps the operator narrowly enclosed and protected by full-height rails that meet ANSI A92 requirements. This type of accessory is primarily needed by electricians and plumbers for working around pipes and in tight areas during HVAC installations.
Pipe Racks (Pipe Cradles)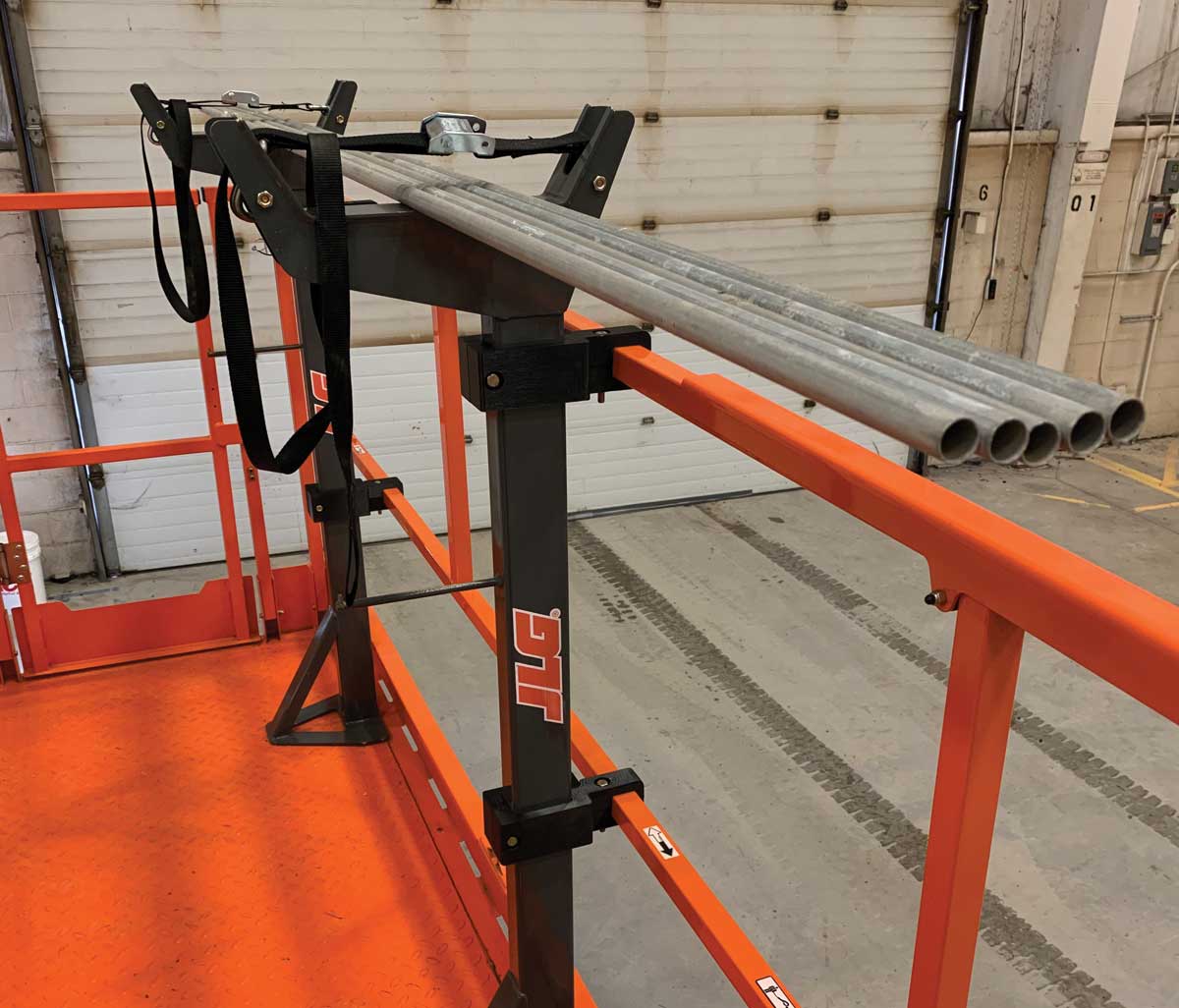 This type of accessory enables operators to store materials, like conduit and pipes, on the outside of the platform, freeing up the workspace inside the platform while keeping tools and materials organized and within reach.
Panel Carriers
A panel carrier accessory allows operators to load drywall or plywood panels outside the scissor lift's rails in a carrier tray. This can be a real asset for drywallers and panel installers to easily transfer the panels to the elevated or overhead installation site.
Vises
A bench vise is a factory-approved, rail-mounted tool that offers scissor lift operators a convenient and safe method to securely hold the material as they work with it.
Platform Power
Generator sets, inverters (to convert DC power to AC power) and airlines provide power on the platform. This allows operators to run hand tools, like drills and saws, while working at height.
Welders
Onboard welders, like the JLG SkyPower with SkyWelder package, offer operators a self-contained wire-feed welder that eliminates the need to move bulky tanks or cumbersome weld leads. The leads are integrated into the scissor lift, and a belt-driven generator off the engine powers the welder. With this accessory, operators won't have welding leads draped over the railings, which can create safety concerns.
Tool Trays and Workstations
Add-on tool trays and workstations help scissor lift operators optimize their platform space with extra compartments for commonly used jobsite tools, like reciprocating saws, drills or circular saws. These accessories also have compartments for keeping boxes of connectors, hangers or other fasteners within reach and off of the floor. They also may feature a pull-out tray that provides a flat working surface near the top of the platform rails.
Packaged Accessories
Many OEMs offer optional packages, or bundles, when more than one accessory may be needed to complete work at height. For example, an electrician's package is great for applications that require battery-powered tools. It combines multiple accessories that are designed to keep operators' tools within reach and off the floor of the platform, such as a stowable workbench and molded pockets that provide ample storage within reach of tools or fasteners, while leaving the workspace open to help prevent tripping hazards.
A plumber's package offers operators everything they need to get plumbing work done more efficiently, including manufacturer-approved pipe racks that provide positive retention of materials outside of the platform, reducing rail damage and optimizing platform space. And, a maintenance package combines popular elements of the electrician's package and the plumber's package, including pipe racks, a vise and welder, to get work done around industrial plants or building facilities.
Operator Enhancement Accessories
Access control is an optional tool that allows equipment owners to safeguard their scissor lifts and improve jobsite safety by preventing unauthorized personnel from accessing equipment. The machine's telematics system enables remote management of users, machine lock-out and access.
Object detection systems utilize sensors to alert scissor lift operators if they are nearing an obstruction during machine operation, increasing the protection of people and property.
Extra lighting options, such as flood lamps and flashing beacons, can promote a safe working environment for both the operators in the platform and the crew on the ground. Flood lamps, for example, illuminate darkened areas with minimal access to natural light. Flashing beacons can visually let bystanders know when the machine is moving or in operation.
Technology Accessories
Advancements in technology can improve the operator's experience with a scissor lift, even before work begins. For example, an augmented reality (AR) app can make machine selection more effective. On JLG's AR app, for instance, the machine visualization feature allows operators to place "to-scale" 3D machine models into the actual work environments the scissor lift will be used in. Users can then virtually move the machine through doorways, into small spaces and/or around obstacles to see how it will fit and maneuver around within a given space.
Users can also use AR apps to scan the machine's decals to get current machine information and translations. These apps also allow operators to see an overlay of a specific machine's control panel with explanations of its functions before machine operation. In addition, JLG's AR app offers accessory visualization for users to check out the various accessories available for the selected scissor lift so they know what options they have to further enhance productivity on the jobsite.
Mobile apps can also offer remote control on select scissor lifts, without tethering to the machine. This allows users, while maintaining a safe distance from the machine, to maneuver around obstacles, position it into areas with low clearance and load/unload it from trucks without the need for an operator in the platform or walking next to the machine.
Ground-Level Accessories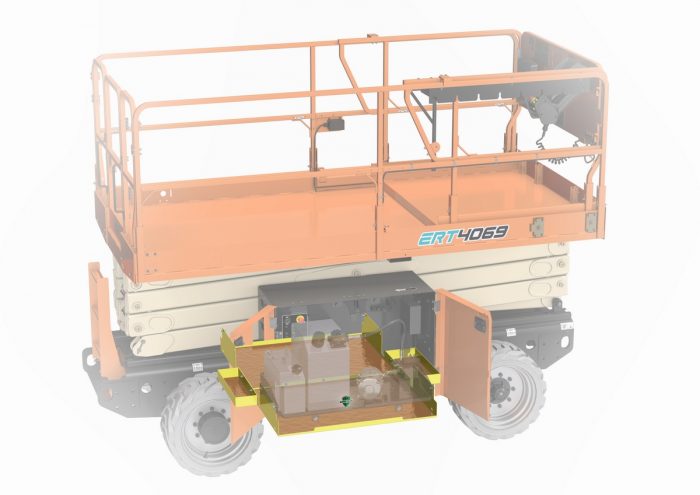 Many OEMs, including JLG, also offer options to accessorize the machine at ground level, including on its chassis. For example, leveling jacks or outriggers provide stability solutions for scissor lifts working on uneven surfaces. Some manufacturers also offer alternative technology add-ons, like auto-level systems, for greater efficiency when operating in rough terrain.
Advancements in variable-tilt, quick-leveling and self-leveling technologies are also available. These types of innovations allow operators to adjust a machine's capability, under certain conditions, to the ground or surface being worked on. An example of this is JLG's optional QuikLevel Advanced system, which automatically levels the scissor lift on a side slope up to 4.5 degrees while allowing the operator to drive fully elevated on constant terrain.
Different tire sizes and treads are available to make sure a scissor lift can be used in certain applications, like solid, non-marking tires for indoor applications or work on concrete slabs or non-solid, foam-filled lug patterns or high flotation tires for outdoor use on undeveloped sites.
There are multiple types of batteries available for scissor lifts: FLA (flooded-lead acid), AGM (absorbed glass mat), Nickel-metal hydride and Lithium-ion. The most common ones used by OEMs today are FLA and Lithium-ion. In addition to the many battery options, OEMs also offer a variety of battery chargers for scissor lifts. For example, JLG has optional high-capacity chargers and standard chargers.
And speaking of batteries, optional battery monitoring systems are also available for scissor lifts. It's not unheard of for machine batteries to die during the workday, causing a huge efficiency problem. Knowing how much charge is remaining in a machine's battery pack and what can be done with it can drastically improve the machine's productivity. To address this, some OEMs, including JLG, offer battery monitoring capabilities on their products. JLG's technology, for example, is sophisticated enough to analyze the machine's battery charge and share information, via a mobile app, on battery usage and diagnostic information on the battery and charger system.
Leak containment systems, like the JLG CleanGuard accessory, feature custom-fit trays that capture leaks and drips from the power unit of electric scissor lifts. This add-on replaces the need to cover the entire underside of the machine with a diaper. In the case of JLG's option, CleanGuard does not interfere with the operation or general servicing of the machine, and it blends in with the aesthetics of the unit.
The cold-weather accessory packages include a battery blanket, hydraulic tank heater, block heater and glow plugs (diesel only), allowing scissor lifts to operate more effectively in below-freezing conditions.
Consider the Options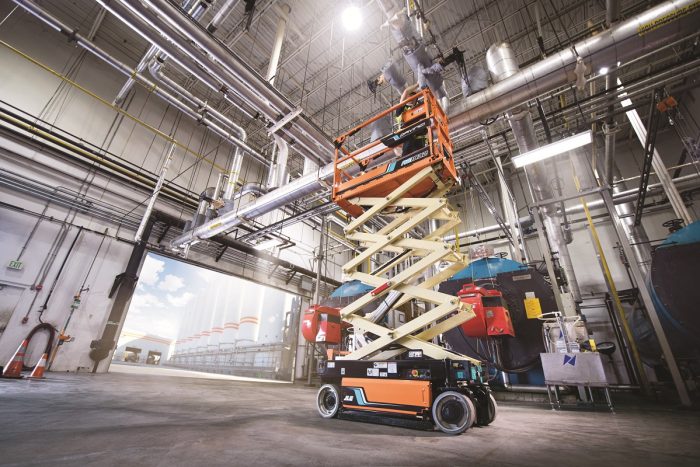 When a crew needs to get work done at height — like hanging drywall, installing plumbing or performing electrical work — a scissor lift equipped with the right accessories can be one of the most effective tools to help them get the job done. That's because accessories add functionality to the machine and provide convenience for the operator, driving tangible jobsite benefits, such as helping to get materials up to the worksite or enhancing jobsite safety.
Accessories can come factory-installed on new machines or upfitted to existing scissor lifts in the field, adding flexibility for operators to be able to productively use multiple models within an equipment fleet. So, once operators have identified both the type of work to be done and the conditions where the work will be done, it's best to investigate the options available to accessories their scissor lifts. It's important to not only review the specs but to also know what features and technologies they'll need to accomplish the task at hand — as efficiently and productively as possible.
Bob Begley is JLG's director of product management for scissor, vertical and low-level access lifts.
We'd love to keep in touch! Check us out on Facebook, Twitter and LinkedIn!