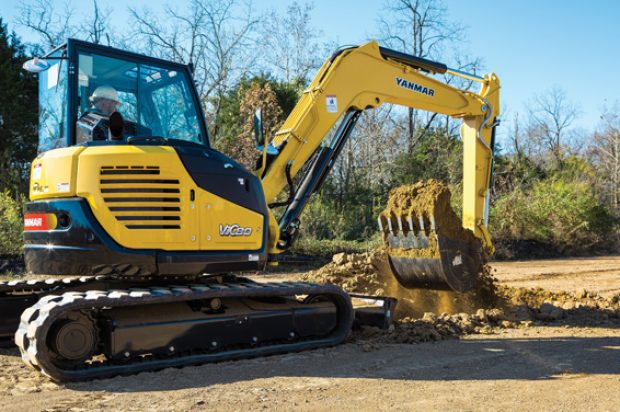 Eight Powerful and Efficient Models in the ViO and SV Series
Since its inception in 1912, Yanmar's core business has been the production of engines. Following the introduction of the walk-behind dozer in 1967, Yanmar introduced one of the first mini excavators in 1968. These mini excavators proved popular, and since then, Yanmar has introduced a number of firsts to the mini excavator market, including the first swing boom excavator and the first zero tail swing excavator, says the company.
In 1993, Yanmar launched the ViO Series, which was the world's first zero tail swing excavator and is currently marketing its sixth generation model. The ViO development objective of turning within the machine width has been successfully achieved, while still maintaining the stability and work performance of a conventional-style unit. No part of the housing extends beyond the track, which allows efficient operation in tight spaces, access to more jobs, less damage to the machine and less damage to the site.
Yanmar produces six models in the ViO Series, ranging from 3,836- through 18,136-lbs operating weight. For starters, the ViO17-A is equipped with a 14.5-hp Yanmar diesel engine, 3,836-lb operating weight, 7-ft, 3-in. digging depth and variable width of 3 ft, 1 in. to 4 ft, 1 in. On the other end of the spectrum, there's the ViO80-1A, which is engineered with a 56.9-hp Yanmar diesel engine, 18,136-lb operating weight, 14-ft, 5-in. digging depth and a width of 7 ft, 5 in.
The advanced technology true zero tail swing ViO25-6A, ViO35-6A, ViO45-6A, ViO55-6A and ViO80-1A feature an electronically controlled Tier 4 Final engine and dramatically evolved hydraulic system. It also comes standard with Eco and Auto-Deceleration modes for even more operational efficiency. All of which means these new models can deliver up to 20 percent less fuel consumption than previous models, says Yanmar.
The ViO Series excavators utilize multiple variable displacement piston pumps and gear pumps. The load sensing pumps in combination with Yanmar's hydraulic circuitry design allow fast, smooth and powerful performance even when combining functions of the boom, arm bucket and swing, says Yanmar. The new digital SmartAssist control system allows you to monitor up to three months of operational history. This system centralizes control of machine operation information and maintenance support information.
And let's not forget about the SV Series of ultra-tight-turning excavators, which have minimal turning radii in both the front and rear. This tight turning radius adds versatility on a tight worksite. Yanmar has two models in its SV Series. The smallest model is the SV08-1B, with a 10.3-hp diesel engine, 2,348-lb operating weight, 4-ft, 11-in. digging depth and variable width of 2 ft, 3 in. to 2 ft, 9 in. The largest model is the SV100-2A, with a 72-hp Yanmar diesel engine, 21,550-lb operating weight, 14-ft, 10-in. digging depth and a width of 7 ft, 7 in.
Advice to Buyers
"Productivity and reliability are key for contractors to complete jobs on time, and working efficiently with lower fuel consumption is a plus. When choosing a compact excavator, buyers should look at balance of power and functionality combined with smooth control for fast cycle times," explains David Morice, construction equipment business unit manager with Yanmar.