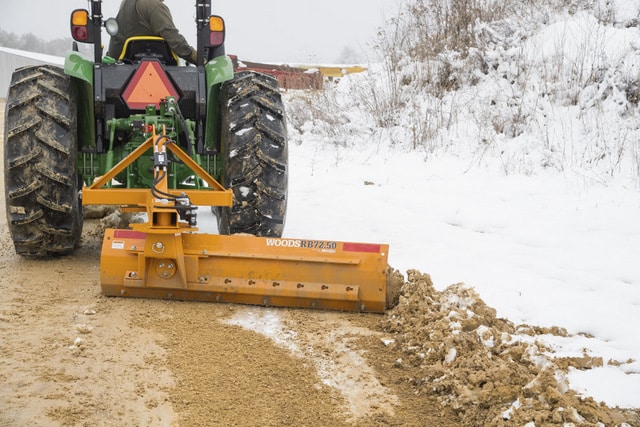 Woods Equipment introduces the 50- and 60-series Rear Blades, which are ideal for moving a variety of materials at feedlots, outdoor arenas, nurseries, farms and ranches. The equipment can also be used for clearing snow and cleaning up construction sites.
A relief valve is standard with hydraulic angle/offset kits, to help protect the tractor and rear blade when striking unexpected objects. The units are equipped with a reversible, double-beveled cutting edge for long life.
"We knew from talking to customers that they wanted additional hydraulic capability on our smaller blades. So we designed the new 60-series blades with optional hydraulic adjustment of blade angle, offset, and tilt," according to Kyle Macklin, Product Design Engineer.
"With our available selector valve, all three functions can be run on tractors with only two remotes… And if hydraulics isn't what you're looking for, we set out to make manual adjustments quick and easy by incorporating a sliding offset on our new 50-series blades."
Both units have a standard parking stand and are ASABE quick-hitch compatible. The wide A-frame design and high-strength steel moldboard provide durability that Woods is known for. The 50-series models RB72.50, RB84.50 and RB96.50 are fully mechanical with a hydraulic angle option for 30-65 hp, Cat 1 or 2, tractors. It is available in 6-foot, 7-foot, and 8-foot widths. It is built with an easy-slide manual offset, optional end plates and skid shoes.
The 60-series models RB84.60 and RB96.60 are available with any combination of mechanical or hydraulic angle, offset or tilt for 40-85 hp, Cat 1 or 2, tractors. It is available in 7-foot and 8-foot widths. It offers nearly infinite mechanical adjustments with ratchet jack or hydraulic kits. Optional accessories include end plates, skid shoes, tailwheel and selector valve.
With a reputation for innovative, high-quality implements and attachments, Woods brand products are sold throughout North America — as well as in Europe, Latin America, and Australia — through a dealer network of agricultural, landscape, and construction professionals. Woods products are manufactured to American Welding Society standards; tested in rigorous, real-life conditions; and comply with recommended industry safety standards. Woods, a brand of Blount International's Farm, Ranch and Agriculture Division, is headquartered in Oregon, Illinois.
For more info on Woods Equipment, click here. You can do it!