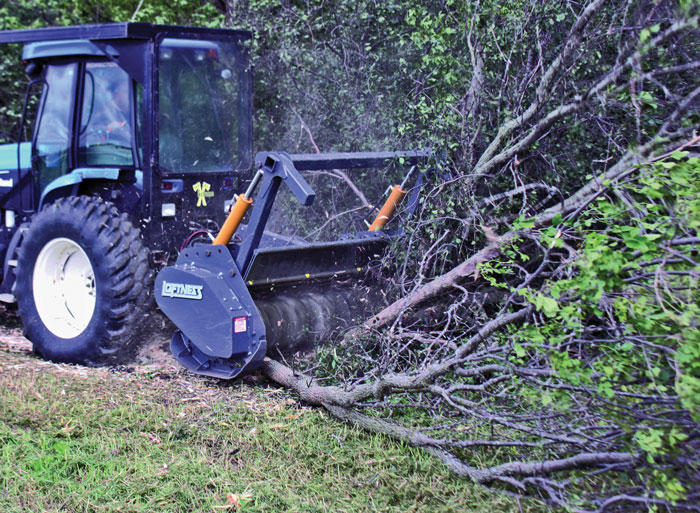 PTO-driven horizontal drum mulchers are becoming more and more popular. These units can be pushed or pulled behind the tractor for mulching or mowing, but let us ask a question first: Will the operator actually use the machine for multiple applications or just one? By answering this question, a person can make the decision process a little easier. The type of application also helps determine what type of tractor will work best. For mowing applications where the mulcher will mostly be pulled, any tractor with a standard three-point hitch, PTO shaft and operator protection system is fine. However, if the mulchers will be pushed for a large portion of the time, reversible platforms are preferable.
Swinging the seat around to face the rear of the tractor provides a much more comfortable and natural position for the operator to work for extended periods of time. Hydrostatic tractor drives are also recommended over mechanical drives for applications where the unit will be pushed behind the tractor. Mechanical transmissions can be jerky, and a tractor may stall if the mulcher is forced into a large tree too quickly. On the other hand, hydrostatic transmissions help the operator slowly drive the mulching drum into tough material.
After considering how the horizontal mulching drum will be used, it's time to think about options. The best place to start is deciding between a swinging-hammer and fixed cutting teeth. The two types require different rotor configurations, so this decision needs to be made right away. After deciding on the cutting teeth, consider the components of the cutting chamber. Most manufacturers offer counter teeth, which are welded inside the housing to enhance the grinding performance, but some units are also available with a shear bar. It increases efficiency and provides a cutting edge to help reduce particle size. Also, it minimizes wedging from root balls or other debris in the tapered chamber.
Tags:
Mulchers
,
PTO
,
Tractors