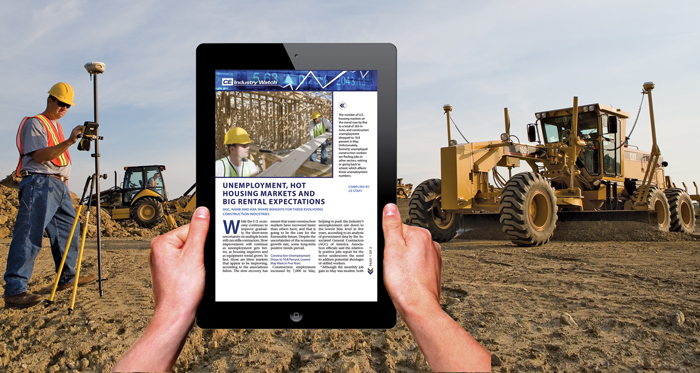 Contractors are natural nomads. Each new job usually means exploring a new neck of the woods, always working in unique project parameters (from ground conditions and traffic control to equipment needs and zoning restrictions). For these rolling stones, the office has always been on site, in a truck or in the cab of piece of equipment. In the past, there might have been a disconnect between the bookwork and business of managing contract specifics and the actual administration and construction of a project on site. With the advent of laptops and cellphones, that information gap for on-the-road construction contractors, landscapers and farmers has shrunk considerably.
For high-tech equipment professionals today, something as small as a smartphone or tablet can take the mobile office to new dimensions of efficiency and portability. Everything from equipment maintenance to worker timesheets to government safety regulations can be managed using innovative and user-friendly software designed specifically for your mobile devices. These software solutions for smartphones and tablets are called "apps" (short for applications), and the professional equipment and contracting industries are full of them (half the time they're free). On the next few pages, we've collected a few of our favorites. Feel free to download these apps yourselves, and see if they can really help streamline your mobile contracting operations.   
Keith Gribbins is managing editor of Compact Equipment, based in Brecksville, Ohio.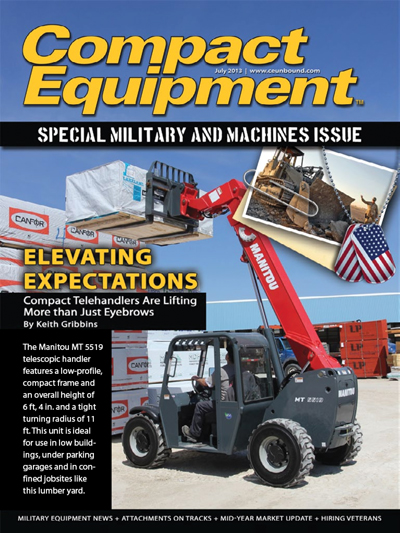 Compact Equipment Magazine
Is it a suspicious coincidence that we decided to do our big software issue the same month Compact Equipment releases its magazine app? Don't be fooled. It's just our normal impeccable planning. Visit the iTunes store online and experience anew the only trade magazine geared toward owners, operators and entrepreneurs who use right-size, compact construction equipment in their construction, landscape and agricultural operations. This free app re-imagines the Compact Equipment magazine experience, expanding editorial with interactive photography, videos and an infinite electronic shelf life (easy to reference with the click of a button). Compact Equipment is produced by the Cleveland-based publishing company Benjamin Media Inc. and will be published 12 times in 2013, and starting in July 2013, each magazine issue will be available in app format (only iOS platforms for now). Visit the iTunes store.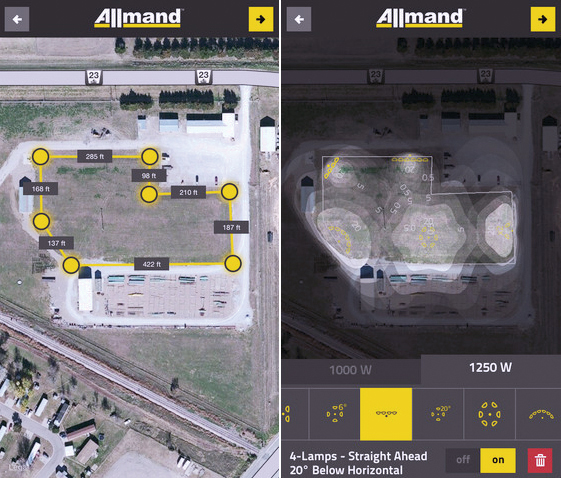 Allmand Mobile Light Tower Placement App
Responding to a growing need for assistance in determining the number and placement of portable light towers, Allmand created an iPad/iPhone application to aid in worksite light tower setup. Although the app is developed and offered by Allmand, it can be used as the basis for setting up 1,000- or 1,250-watt metal halide light towers from almost any manufacturer. The mobile application is designed for those who need to illuminate large areas for construction, special events, mining, energy production or any number of situations where portable lighting is required. To use this app, simply locate the area to be lit on the satellite image using either the general zip code, the name of a city or the specific street address of the site. Touch the screen to define the boundaries of the actual area to be illuminated and virtually set up and aim the portable light towers to determine the placement and quantity of the towers as well as the light configuration and efficiency of the desired level of illumination, which is measured in foot-candles (fc).  The Allmand app is available free for iPhones and iPads in the Apple App Store.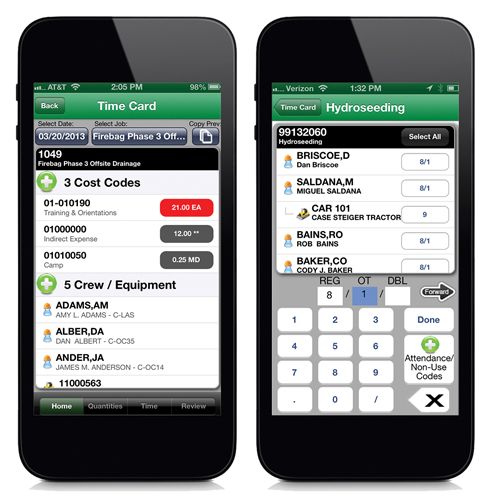 HCSS' HeavyJob Mobile Phone Time Card
Construction software developer HCSS offers a mobile phone time card with its selection of mobile apps available for smartphones and tablets. From the makers of HeavyBid construction estimating software and HeavyJob field management software, the mobile phone time card app allows foremen and superintendents in the field to enter time and see job production data on their "always on, always close-by" smartphone. With the HeavyJob mobile phone time card app, foremen and superintendents can enter time for workers and equipment, enter quantities and write notes for cost codes, as well as mark work for T&M. The time card app is great for individuals or small crews like truck drivers or flagging crews who may not be issued a laptop and also for larger crews who may prefer a mobile device to laptops. For more info, visit www.hcss.com/apps.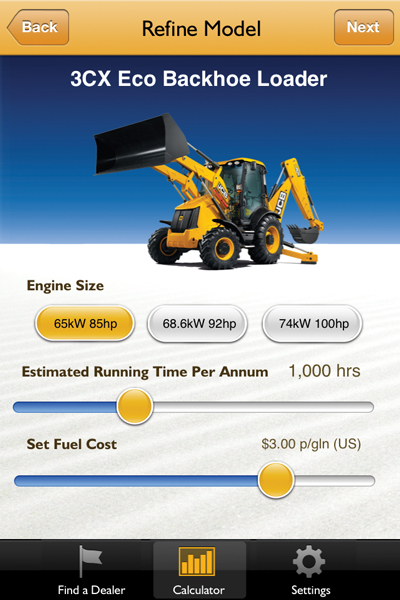 JCB's Fuel Efficiency Calculator
Compatible with iPhone, iPad Touch and iPad, JCB's Fuel Efficiency Calculator mobile app helps construction professionals determine the efficiency gains possible with JCB equipment. Users need to simply select the appropriate machine and model, indicate engine size, estimated annual machine run time and a set fuel cost. From there, users indicate by sliding percentages how much time they spend using their machine for different purposes. From there, the Fuel Efficiency Calculator will show the CO2 reduction, fuel savings and cost savings that the construction professional could enjoy simply by switching to a JCB machine. The JCB Fuel Efficiency Calculator also includes a handy Dealer Locator feature with the ability to zero in on the user's current location and return a list of nearby JCB dealers. The JCB Fuel Efficiency Calculator is free of charge and can be easily found with a quick search of the iTunes App Store.
NIOSH Ladder Safety
The National Institute for Occupational Safety and Health (NIOSH) announced the availability of a new Ladder Safety smartphone application. This new app uses visual and audio signals to make it easier for workers using extension ladders to check the angle the ladder is positioned at, as well as access useful tips for using extension ladders safely. The app is available for free download for both iPhone and Android devices. The app provides feedback to the user on positioning the extension ladder at the optimal angle. It also provides references and a safety guide for extension ladder selection, inspection, accessorizing and use. The app is based on a multimodal inclination indicator for ladder positioning that has been recently awarded a U.S. patent. For more info, visit www.cdc.gov/niosh/topics/falls.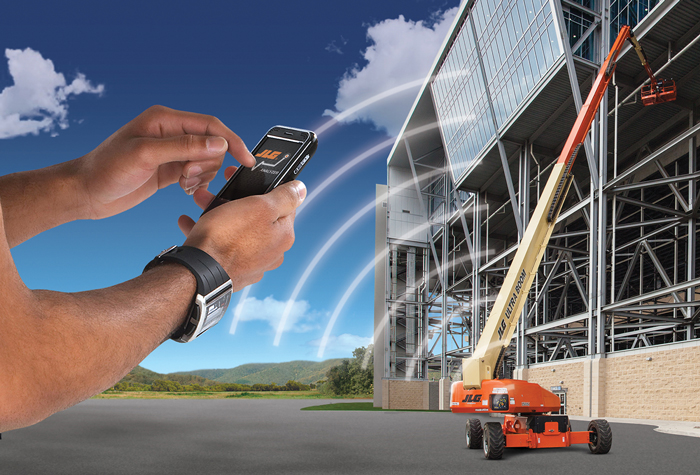 JLG's Mobile Aerial Work Platform Analyzer
JLG Industries Inc., a global manufacturer of aerial work platforms and telescopic material handlers, has released its JLG Mobile Analyzer. The new tool combines a free mobile application and a wireless access module to provide technicians with remote access to program, troubleshoot, calibrate or customize JLG equipment performance. The JLG Mobile Analyzer is a Wi-Fi-enabled evolution of the JLG Analyzer Kit, allowing technicians to do the same analysis they are currently doing with the handheld kit. However, this new tool for Apple or Google operating system devices allows for an extended operating range of up to 150 ft. Users can download the app at no charge on mobile devices compatible with Apple iOS 5.0 and up, as well as Android API 8 and up, through Apple iTunes and Google Play stores. The app works with the JLG Mobile Wireless Access Module, which can be ordered through JLG's Online Express or a JLG representative.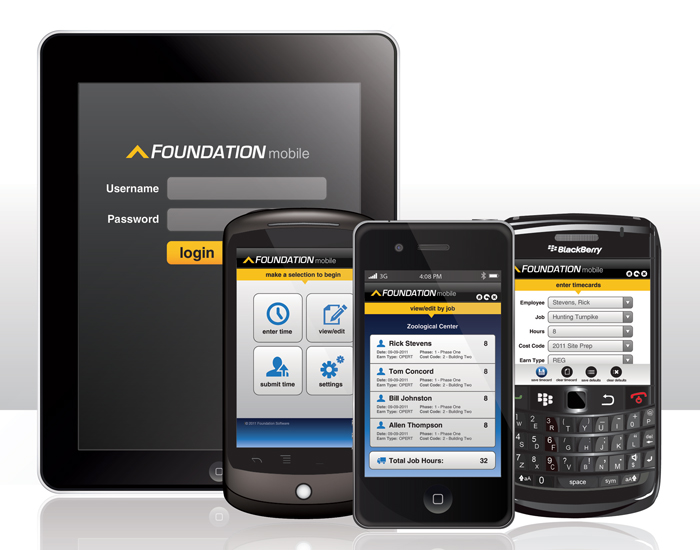 Foundation Mobile Construction Accounting Software
Foundation mobile is a web-based application for mobile devices that works with Foundation construction accounting software. It allows contractors to enter data from remote job locations and send it directly to the office. This app runs on multiple devices you already use like smartphones (Droid, iPhone, Blackberry, etc.), iPads, tablets, netbooks, ruggedized laptops and others.  Working at an extremely remote jobsite outside of your device's service area? No problem. Foundation mobile features offline capabilities. Your field staff can continue to enter and save data that will sync to the office once they are back within the service area. Plus, Foundation mobile is easy to run, with user-friendly entry and list screens with drop down menus. Where can you get it? As an additional module that works with Foundation construction accounting software. Visit www.foundationsoft.com or call 800.246.0800.

OSHA's Heat Safety Tool
When you're working in the heat, safety comes first. With the OSHA Heat Safety Tool, you have vital safety information available whenever and wherever you need it — right on your mobile phone. This app allows workers and supervisors to calculate the heat index for their worksite, and, based on the heat index, displays a risk level to outdoor workers. Then, with a simple click, you can get reminders about the protective measures that should be taken at that risk level to protect workers from heat-related illness, as well as reminders about drinking enough fluids, scheduling rest breaks, planning for and knowing what to do in an emergency, adjusting work operations, gradually building up the workload for new workers, training on heat illness signs and symptoms and monitoring each other for signs and symptoms of heat-related illness. For more info, visit www.osha.gov/SLTC/heatillness/heat_index/heat_app.html.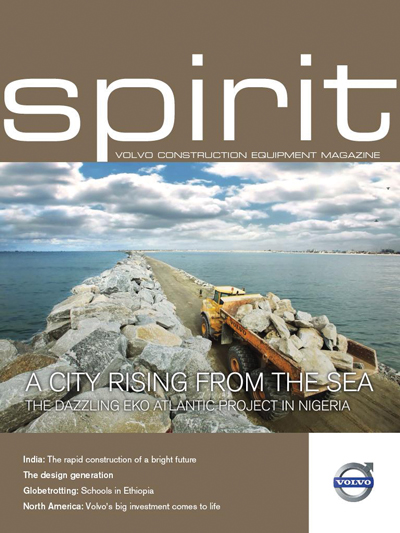 Volvo's Spirit Magazine
Volvo Construction Equipment has an iPad app for its company magazine, Spirit (a stellar publication). Spirit is a magazine published by Volvo Construction Equipment and includes Volvo news and business updates. The magazine is published quarterly in 12 languages and is available to anyone who has an interest in Volvo Construction Equipment. The app was created to offer readers more ways to enjoy the magazine on the go. The Spirit app, which is a tailored version of the printed magazine, has a range of features including animation and video, movable pictures and interactive pages. The app is free for download from the Apple iTunes store and is also accessible via the company's website at www.volvospiritmagazine.com.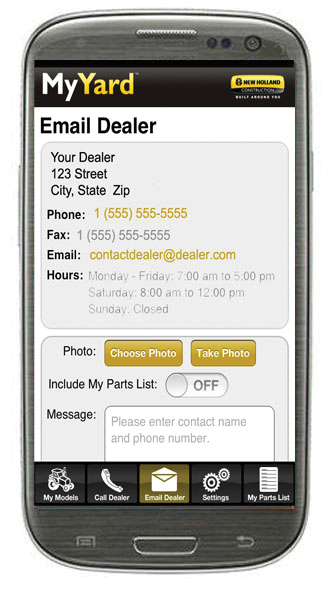 CNH Parts & Service's My Shed and My Yard
CNH Parts & Service, the product support arm for the CNH construction brands Case Construction and New Holland Construction, has new smartphone applications that make it easy for construction equipment customers throughout North America to find and order the CNH Original Parts they need, anywhere or any time. The new mobile applications are smartphone versions of My Yard — powerful fleet management tools that allow equipment owners to manage, organize and store equipment data online. The new mobile apps allow users to look up parts and create pick lists for their specific equipment — from any smartphone. My Yard mobile applications are available as free downloads from the Apple Apps Store or Android Google Play.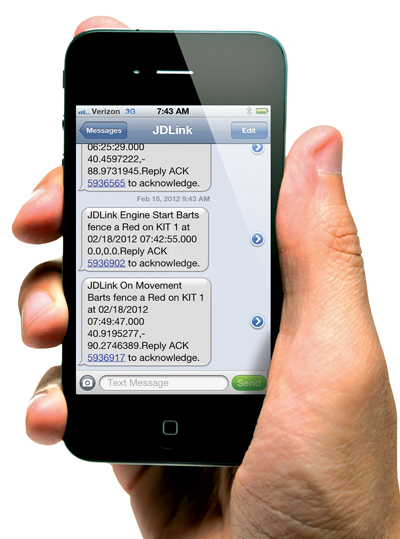 John Deere's Mobile JDLink
John Deere Construction recently extended the availability of the machine monitoring system JDLink to select mobile devices. The free JDLink mobile application allows contractors to access John Deere's proprietary system to keep tabs on machine location and alerts via their iPhone, iPad or Android devices. Customers can use a demo function to explore the features provided before subscribing for an account. The application includes a number of interactive JDLink features, such as: multiple machine mapping; directions to machines; ping and share locations of machines; and view and acknowledge alerts. JDLink is one of five technologies incorporated within John Deere WorkSight. The WorkSight suite of technology solutions assists in business optimization and also incorporates Fleet Care proactive machine health program, Service Advisor Remote dealer diagnostics, grade control and payload weighing. For more info, visit Deere.com/JDLink.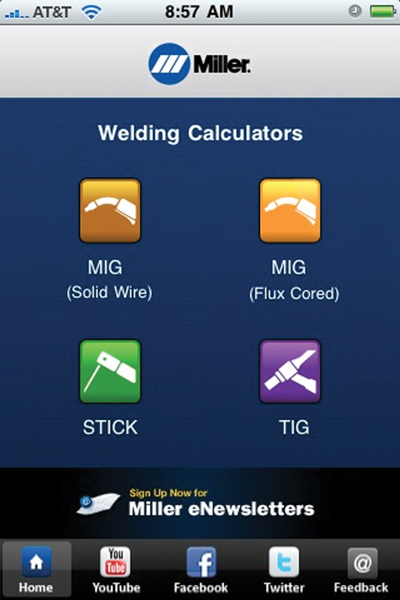 Miller Weld Setting Calculator
Miller Electric Mfg. Co. has developed a free Miller Weld Setting Calculator available via the iPhone App Store, Google Android app through Google Play or at MillerWelds.com/weldsettings. This free calculator app allows welders to conveniently access Stick, TIG, MIG and Flux-Cored equipment settings and other helpful tips. Upon entering weld parameters, e.g. the type of material and material thickness being welded, the calculator will provide suggested settings including wire size and wire feed speed, shielding gas, voltage range and amperage range. For stick applications, the app will provide information regarding polarity, penetration, weld positions and usage after entering the type of material being welded and the electrode being used. For more info, visit MillerWelds.com/mobile.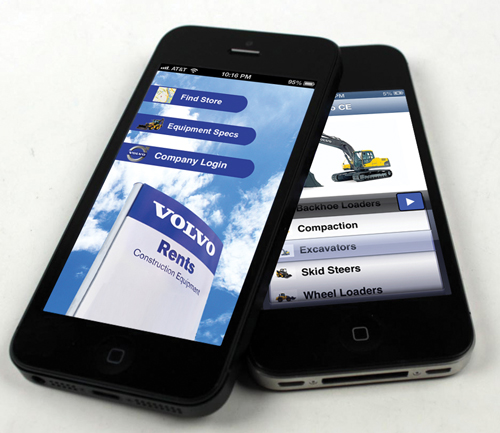 Volvo Rents iPhone App
Volvo Rents, a worldwide provider of small- to medium-sized construction equipment, released the latest version of its free iPhone application earlier this year. The application offers material and support for customers, vendors, salespeople and employees in a streamlined application which allows them to access product information, new models and specs for equipment, added RSS Feeds and company data. The content goes as far as including full interactive manuals from different manufacturers, saving time for both customers and employees. It also links all equipment specifications, images and documentation to content on the Volvo Rents website — from new models and specs for Volvo CE, Genie and JLG equipment to specs for Doosan, Magnum and Wacker Neuson equipment. For a free download, visit the iTunes Store.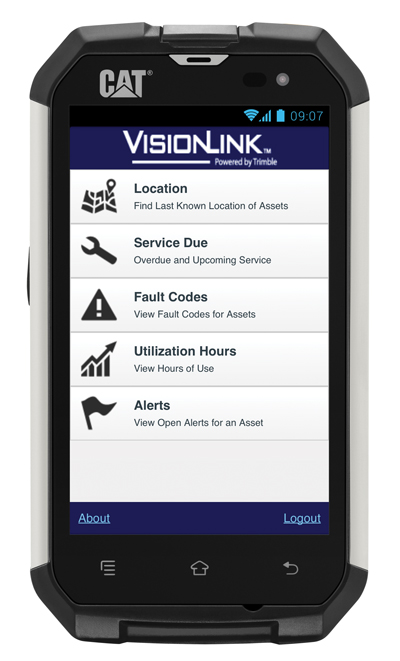 Cat's Mobile Product Link  
Caterpillar has enhanced the ability of managers to monitor equipment remotely with the latest release of VisionLink 2.7 Product Link's intuitive user interface, which provides customers a mobile optimized web application, the ability to schedule automated delivery of VisionLink reports and remote access to on-board payload system information. The mobile application is available on iOS, BlackBerry, Android/Chrome and Windows operating systems. Introductory functionality enables viewing the location of assets on a map, tracking scheduled services, viewing fault codes and open alerts and accessing idle, working and runtime through a smartphone. New productivity functionality leverages existing onboard payload systems for wheel loaders and off-highway trucks equipped with such systems. For more info, contact your local Cat dealer.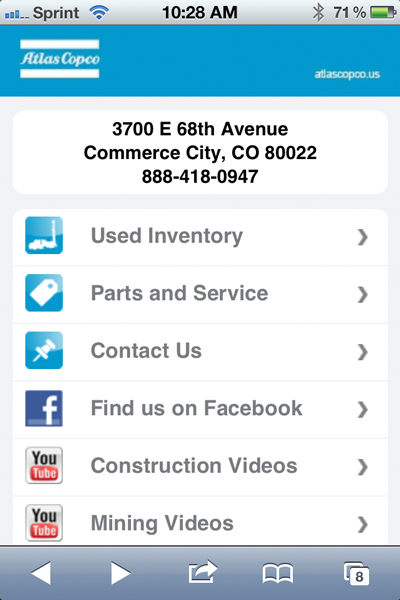 Atlas Copco Marketplace Smartphone Friendly
After a complete redesign of its Marketplace web page in April 2012, Atlas Copco has now made the site smartphone friendly. The mobile website makes accessing used Atlas Copco equipment even easier. Accessible via www.atlascopcomarketplace.com, the mobile website is one of several improvements since the site's 2008 debut that make the online service even more useful to customers. For instance, it is now possible for visitors to see images and read equipment listings in detail without having to log on to the site first. A "print a brochure" function allows users to create PDFs to e-mail or print out as hard copy. The homepage includes a featured unit of the month and links to pages dedicated to such things as financing and global equipment availability. Atlas Copco also promises to keep the site current. Links to additional content and various other Atlas Copco microsites and web pages will be provided as they are available or change.