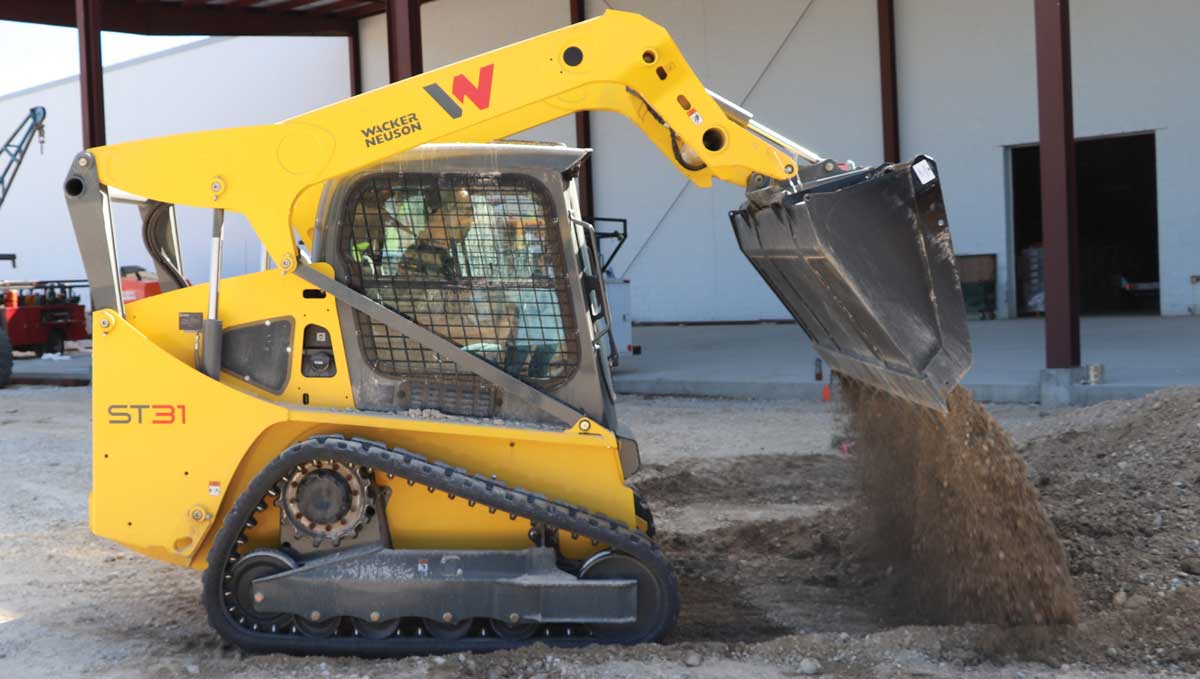 Three Models that Balance Power, Comfort and Efficiency
This post is a part of Compact Equipment's annual Spec Guide. View other brands' product and spec info by clicking this link. View the magazine version of these summaries by clicking right here. Sign up for the print edition right here. Now enjoy!
Wacker Neuson began manufacturing its locally designed, engineered and built line of compact track loaders in 2015 at its Menomonee Falls, Wis., facility. The Wacker Neuson brand is not new to the industry. The company has been manufacturing equipment for the construction and landscape markets for 65 years in the United States and has a legacy of more 175 years in Europe. This experience and knowledge of the construction industry's demands on equipment allows the company to develop products that withstand almost any jobsite demand.
Wacker Neuson's compact track loaders offer the latest enhanced cab design and service accessibility. The best-in-class daily maintenance accessibility starts with a cab that tips forward even when the loader arms are down. This provides complete and easy access to all maintenance components. The simple design and efficient layout means less time on daily service checks and more time on the job. The Kohler diesel engine features a maintenance-free, regeneration-free aftertreatment system, eliminating the impact of extreme heat or the need for filters. The engine also comes with a four-year/4,000-hour warranty.
The undercarriage offers an open design that makes it easy to clean. Drive motor technology from Rexroth provides high torque for maximum pushing power and efficiency and reduced noise (compared to planetary drives) for improved operator comfort. The simple design minimizes maintenance costs, and the drive lines leading to the drive motors are completely internal, so they're protected from harm's way.
The complete Wacker Neuson track loader line includes the 74-hp ST31 and ST45 and the 100-hp ST50 that offer more tractive effort, faster high-speed travel, increased standard auxiliary flow and high flow for more lifting capacity and higher dump height. All units offer a vertical-lift design with class-leading hinge pin height for extra lifting and loading height.
Wacker Neuson's compact track loaders offer a new era of comfort features, including strategically positioned joysticks that provide intuitive and comfortable operation. There are angled pedals and a foot bed, as well as conveniently located switches. There is a high visibility cab that provides an excellent view of the worksite, significantly reducing operator fatigue. Control options for operator preference include electric-hydraulic (EH) hand-foot and selectable EH (ISO and H-pattern).
Additional features include a 5.7-in. color display with expanded functionality that allows for a variety of customizable options and controls. The standard 40-gal (optional 50-gal) fuel tank means operators spend more time in the cab and less time refueling.

Advice to Buyers
"When shopping for a new compact track loader, don't just look at sticker price," says Adam Devins, product manager for skid steers at Wacker Neuson. "Consider the total cost of ownership [TOC], including ease of regular maintenance and service access, as these are going to play a roll in reducing TOC. Additionally, research long-term costs for components like diesel particulate filters and factor these into your buying equation."
For reprint and licensing requests for this article, please click here. Tags: July August 2022 Print Issue, Spec Guide, Spec Guide 2022, Wacker Neuson