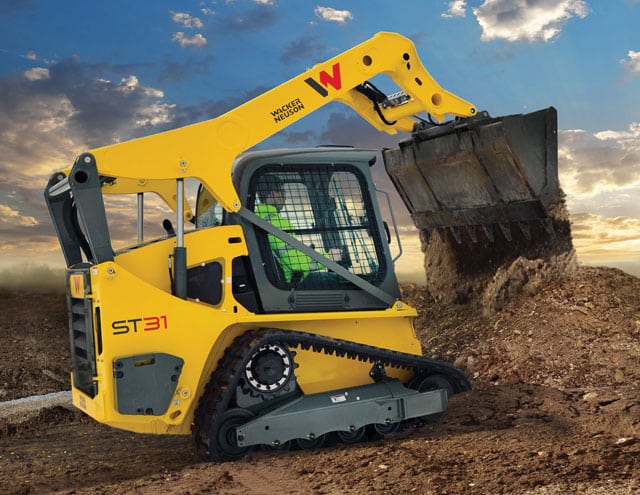 Four Tracked Models from the Expert Compact Machinery Maker
In 2014, Wacker Neuson entered the North American compact track loader market. This was a significant product launch for the global equipment manufacturer. In early 2017, Wacker Neuson introduced a new line of medium frame compact track loaders, which complement the original large frame models. The development of the new line started with a clear palate and the open minds of the U.S. engineers. These compact track loaders are designed and manufactured at the company's Menomonee Falls, Wis., facility and are the result of voice-of-customer research and creative engineering to design models that will stand out in an already crowded field, says Wacker Neuson.
As compact track loaders continue to grow in popularity, the Wacker Neuson team looked at new ways to make the compact track loader operating experience more comfortable and convenient as well as provide the durability customers demand. The result is a line of compact track loaders built for performance, versatility and convenience. Two models are available. The ST28 radial-lift machine and the ST31 vertical-lift unit. Both units feature a 74-hp Kohler diesel engine featuring a maintenance-free, regeneration-free aftertreatment system. These engines are backed by an industry-leading, four-year or 4,000-hour transferable engine warranty, which offers a significant value to customers buying the machine new or in its secondary life. The engine torque of 221 lbf provides the power needed for improved ground-engaging performance on all kinds of terrain.
Wacker Neuson says its new compact track loaders are extremely versatile. With the universal skid steer attachment plate, tools can be switched easily, allowing for more tasks to be done in less time. Category-leading hydraulic horsepower is standard (20 gpm) and optional high flow (30 gpm) enables the machines to handle high-performance attachments such as rakes, mowers, tillers and augers with ease. Additionally, the 30-gal fuel tank gives operators more time in the cab and less time refueling.
The ST28 and ST31 are the only compact track loaders to offer a one-piece pod style cab that fully tilts forward with the arms down, providing complete access to all maintenance components, says Wacker Neuson. The undercarriage has an open design that makes it easy to clean. Easy entry and exit from the cab was a design priority. From the location of the step, to the wide, frameless door, to the placement of the grab handles, operators will find the Wacker Neuson compact track loaders very convenient to get in and out of. Additionally, there is no restrictive lap bar and all the controls are intuitively placed. Mechanical hand-foot and selectable electric-hydraulic options (ISO/H-Pattern) ensure operators with a variety of experience levels can efficiently operate these machines.
Advice to Buyers
"Having a good understanding of the machine's application is key in the decision-making process," explains Brent Coffey, product manager for loaders with Wacker Neuson. "The best starting point is determining the type of surface it will operate on. If it is soft grass, dirt, mud, etc., the compact track loader will be a great machine. Also, understand up front that there will be additional maintenance tasks required to maintain the undercarriage and track system, so it is important to look for machines that are designed to minimize the time and costs associated with the track system."
Wacker Neuson
N92 W15000 Anthony Ave.
Menomonee Falls, WI 53051 | 262-255-0500 | wackerneuson.com
Click on table to enlarge