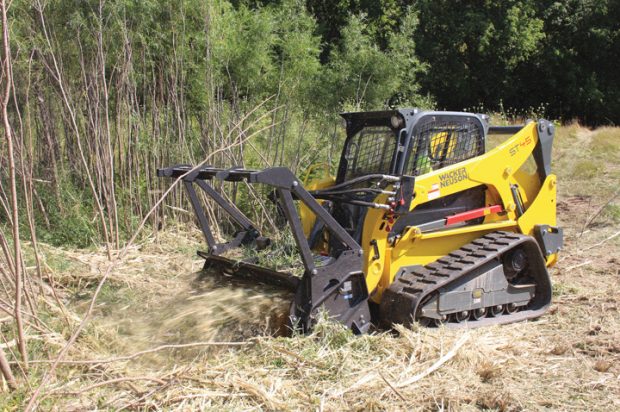 Designed for High Performance, Durability and Comfort
Wacker Neuson introduced its compact track loaders to the North American market in early 2014. These compact track loaders were designed specifically to meet the demands of the North American operator and were built for high performance, durability and operator comfort. With North America being the largest market for compact track loaders and skid steers, it was only natural for the company to bring the production closer to the market. In January 2015, Wacker Neuson began local production of the compact track loaders at the company's state-of-art production facility in Menomonee Falls, Wis. The ST track loaders, available in the United States and Canada, offer radial- or vertical-lift models and are backed by a two-year/2,000-hour (whichever comes first), bumper-to-bumper warranty.
The ST35 radial-lift compact track loader delivers 3,500 lbs of rated operating capacity at 50 percent of tip load (2,450 lbs at 35 percent ROC) and a lift height up to 10 ft, 5 in. The ST45 vertical-lift compact track loader delivers 4,500 lbs of rated operating capacity at 50 percent (3,150 lbs at 35 percent ROC) and a class-leading lift height of 11 ft, 2 in., says Wacker Neuson. Both machines are equipped with a 74.3-hp turbocharged Perkins Tier 4 Final engine, meeting the latest mandated emissions regulations, plus offering a maintenance-free aftertreatment that does not impact engine performance. The machines are available in either H-Pattern or ISO joystick hydraulic pilot controls.
The ergonomically designed controls and pressurized cab deliver comfort and visibility, reducing operator fatigue and increasing safety, says the company.
The 17.7-in. wide, high-flotation tracks enable these loaders to work in adverse terrain conditions where rubber tire machines can't. Heavy-duty, double-steel, reinforced Bridgestone rubber tracks provide durability that result in less downtime. Easy access to the undercarriage shortens end-of-day clean out and reduces wear due to dirt buildup.
Standard features include two-speed transmission, adjustable suspension seat, backup alarm, rear and top window, auxiliary hydraulics with faster quick-coupler pressure relief and a mechanical attachment coupler. A variety of packages are available to match features based on preference, jobsite conditions and price. Optional features available depending on the package chosen include a hydraulic universal attachment plate, fully enclosed pressurized cab with HVAC system, engine block heater, ride control, AM/FM radio, one-way hydraulic self-leveling, adjustable auxiliary high flow, additional counter weights, a rotating beacon and 14-pin electric attachment control.
Wacker Neuson's new compact track loaders offer wide open entry-ways, and flat floors allow for easier accessibility when getting in and out while providing ample leg and foot room. The cab is tightly sealed to keep out noise and dust, creating a clean and comfortable operating environment. Optional features such as the integrated HVAC system with automotive style louvers direct tempered air where the operator needs it most.
Advice to Buyers
"Compact track loaders allow operators to work in areas where skid steers do not perform well, such as soft, wet ground. Therefore, buyers should really look at machines where quality components are utilized and built to withstand these rugged applications," says Brent Coffey, Wacker Neuson product manager for loaders. "Obviously, downtime is a concern for any contractor. With new Tier 4 Final engines, it is very important for contractors to look for machines that promote minimal maintenance, such as maintenance-free aftertreatment."