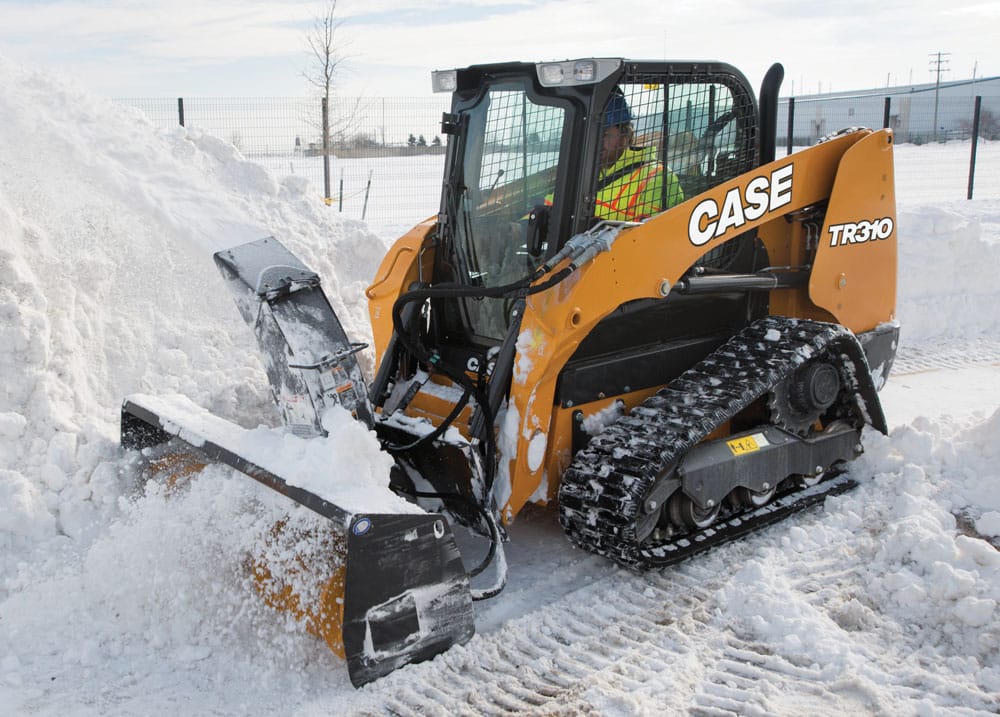 Compact track loaders extend seasons. During the wet weather months, these track machines can work earlier and later where skid steers can't (because tracks have better flotation, so they don't tear up surfaces or get stuck). In winter, heavier track loaders can gear up for snow removal too, even though traditionally many gravitate toward skid steers.
"Compact track loaders provide a robust and sturdy platform for running heavy-duty snow attachments such as blowers and angle brooms," explains Perry Girard, product manager with Case Construction Equipment. "Instinctually, we think of track loaders as a low ground pressure machine — which they are — and that could provide challenges with traction. But compact track loaders matched with tracks specifically designed for snow and ice can be very effective for snow removal."
Many manufacturers, track makers and attachment specialists are ready to help crews outfit a compact track loader for winter operations. Let's start where the rubber meets the snow.
Snow Tracks
Today, there are many different tread patterns on the market for compact track loaders (turf friendly, smooth ride/low vibration, long-lasting, aggressive and multipurpose for starters). Snow tracks are wider and feature more aggressive tread patterns than most, providing both a smooth ride compared to the simple bar lug and superior traction. Snow tracks often utilize a tapered outside edge that allows for snow and dirt to shed off and move away from the rollers and idlers as the machine travels. These tracks also tout a shorter stopping distance, ideal on snow-covered surfaces. Many brands market these tracks as not just snow tracks but an all-season-style option.
"Rather than offering winter tracks like some other manufacturers, all ASV compact track loaders come standard with four-season tracks," says Buck Storlie, ASV Holdings Inc. testing and reliability leader. "The tracks' pliability and flexibility promote excellent traction on ice, and our industry-low ground pressures mean maximum performance on snow. Therefore, contractors don't have to deal with switching out tracks as the seasons change."
How do you operate on those tracks? When working in snowy conditions, implement the same operating procedures as when working in mud. Utilize three-point turns to protect sensitive surfaces and reduce stress to tracks. Operate on level terrain as much as possible. When on an incline, drive straight up or down. Do not make sudden changes in direction, always move slowly and always carry loads low to maximize machine stability. Even with snow tracks, track loader operation will feel differently.
"Operators will soon discover that the low ground pressure — psi per square foot — advantage for soft working conditions can be a slight disadvantage when pushing snow on hard slick surfaces with the track machines," notes Jeff Jacobsmeyer, Kubota construction product manager. "Operators will need to start slow with a track machine to determine the limitations when pushing to avoid excessive track spinning and unwanted sliding because excessive spinning will reduce track life dramatically.
"Another thing is it's important to check if the loader is frozen tight to the ground before operation. To prevent a freeze down situation from happening, the operator needs to be careful not to park in mud or slush that can turn to ice. A frozen down situation can break or dramatically shorten the life of idlers, rollers, final drives and rubber tracks."
Snow work is often more difficult than typical construction. Snow inhibits visibility and hides jobsite objects. Contractors need to stay aware of their surroundings, both for safety and to prevent property and equipment damage. Operators should strap themselves in and always drive at safe speeds. Everyone knows slippery conditions make it harder to brake and maneuver, so it's extremely important for equipment drivers to keep their eyes open for vehicles and other snow-clearing equipment.
"Parking lots often contain obstacles such as curbs, medians and parking lot islands that can be difficult to see below snow," says Storlie. "To best defend themselves against the possibility of hitting one, snow-clearing contractors may want to take steps to evaluate their contracted property before the first snowfall to note possible hazards. Being aware of the obstacles could mean saving money otherwise spent on equipment repairs and property damage."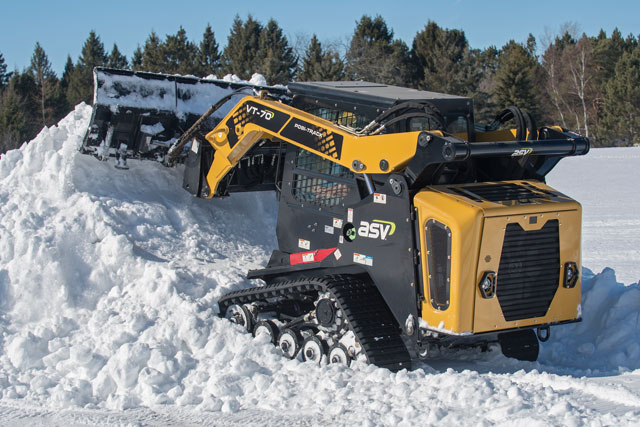 Cab and Maintenance
Winter work is clearly cold. Only a madman works in a ROPS-equipped loader. Though we have seen many pros unwisely brave al fresco operations.
"A cabbed compact track loader with a properly working heating system is critical," confirms Girard, "especially on large commercial lots where the operator might be spending the entire day there. You want that operator to be happy and content in the cab."
Ample heated airflow also prevents the windows from fogging up or freezing during the cold winter months. Heated seats are also a plus. Sticking with the heat motif, operators should take the time in colder temperatures to warm up both the engine and hydraulic oil. Today's compact track loaders have a number of features for getting started faster in cold weather without having to rely on starter fluid or other aftermarket methods. Case compact track loaders come standard with glow plugs and block heaters for getting the machine cranking after sitting for long, cold hours in a parking lot.
"It's also important for snow contractors to know how to use the master electrical shut-off switch," says Girard. "This serves two functions in cold weather. It prevents the battery from drawing down and serves as a theft deterrent for machines that may be sitting in remote parking lots waiting for the snow to fall. Those units are susceptible to thieves."
The battery is susceptible to cold weather problems. All contractors should perform load tests on their batteries before the snow starts to fall to ensure that it is capable of operating at full strength under load. A strong battery tested in the fall will be known to have the amperage needed to crank the starter in frigid temperatures. The undercarriage and tracks will also need to be a focus in snow and ice work. Before startup or after the workday, any ice or snow that has accumulated in the tracks and sprockets should be cleaned out.
"One must be careful to remove the material that is behind the track and closest to the drive sprocket as well," says Jacobsmeyer. "The warm planetary drive causes snow to melt, and then it will refreeze later with the potential to cause problems. The compact track loader needs to be thawed out and washed with soap and water to remove the salt residue as soon as possible after use. Keeping the track tension adjusted and planetary oil changed regularly will ensure dependable service from the compact track loader."
Greasing is also critical in winter months to keep out moisture and dirt that could then freeze in place while the machine sits overnight. DEF (diesel exhaust fluid) is a newer consideration for snow contractors, and it is a factor for units above 74 hp. DEF freezes at 12 degrees, so consider a loader with an internal tank heater to thaw frozen DEF.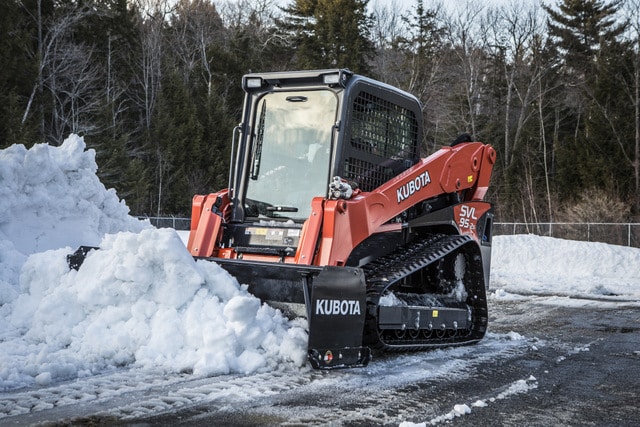 Attachments
Snowblowers, snowplows, brooms and salt spreader attachments are a great way to keep a track loader busy during the winter months.
"One of most popular attachments that we have seen increasing sales and demand for in recent years is the sectional snow pusher," cites Girard. "This attachment features independent moldboard sections that move independently, allowing each section to shift up and down in response to uneven pavement or obstacles. That provides a number of benefits to snow removal contractors, including the ability to clean a lot in fewer passes, use less salt, reduce wear and more quickly produce a safer driving and walking surface."
Snow plows and blades come in a lot of varieties, including V, snow, angle, straight, pusher and beyond. A V-blade uses the variable angle blade as a V-plow, scoop, straight snow blade or an angled snow blade. Snow blades, which can be as narrow as 3 ft or as wide as 10 ft, can push a tremendous amount of snow at high speeds. Angled blades can either be angled manually or remotely using the units' auxiliary circuit. Snow buckets (sometimes called bulk material buckets) are available in standard-, medium- and heavy-duty models and are a great option for heavy, wet snow removal. Hydraulic spreaders allow contractors to apply sand and salt. Optional drop shields or deflector kits allow for big broadcasting or spreading precisely (like the width of the sidewalk). These spreaders can also come in bucket form, so operators can simply scoop up material.
Snow brooms come in push and angle. The push broom, which like it sounds, is a giant broom head that simply pushes down and pushes debris forward; it's the most economical option. An angle broom does exactly what its name implies too: It operates at an angle to the left or right and pushes material off the surface and away from the machine, but an angle broom also has a cylindrical brush head that spins. For snow depths larger than 2 ft, snowblowers create the best solution to relocate the material so the path can be cleared. The typical in-cab electrically controlled adjustable chute rotates left and right and the deflector controls the height of the discharge allowing you to position the material exactly where you need it to go.
As you can see, there are many attachments and options for track loaders doing snow work. Units just need the right tracks, cab and attachments for your specific snow removal applications.
"We most often see our machines used for snow clearing in limited-space areas," says Storlie. "This includes sidewalks because of a compact track loader's high speeds and narrow widths. Contractors also use them in small parking lots thanks to the equipment's easy maneuverability. This same ease-of-movement allows operators to move from residential driveway to driveway as quickly as could be done with a snowplow. When equipped properly, these are versatile productive machines."
---
What Oils Should You Use in the Winter?
"Refer to the manufacturer's recommendations on oil selection based on the ambient temperature of the working location" suggests Perry Girard, product manager with Case Construction Equipment. "There are specially formulated engine and hydraulic oils recommended for these regions. Northern climates with colder temperatures generally require a synthetic or lighter viscosity oil in winter months that will allow it to flow more quickly to the engine. A 15W-40 should be sufficient if the weather never gets below 14 degrees Fahrenheit (F). A 10W-40 is fine down to -4 degrees F, and a 0W-40 can be used down to -22 degrees F."
---
Dig this Volvo Snowblower on Tracks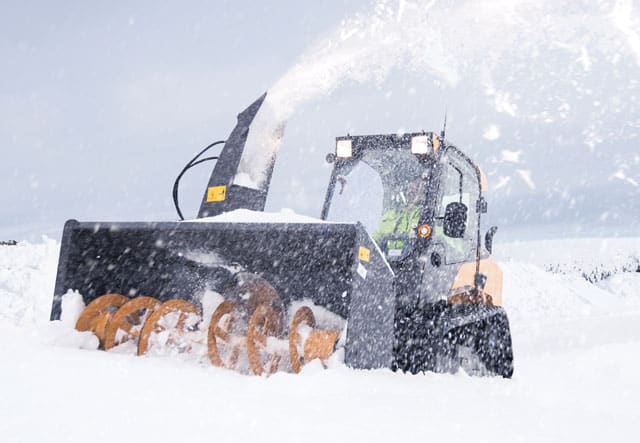 The Volvo snowblower for skid steers and compact track loaders is ideal for fast, reliable removal of snow with its two-stage hydraulic blower. The attachment features a poly-lined chute to ensure that it will not become clogged with packed snow and is electronically controlled from the inside of the cab. The high-volume chute opening throws snow up to 45 ft. Additional features include replaceable tapered wear edges, adjustable skid shoes, and a single auger motor for standard flow and dual auger motor for high-flow snowblowers. For more info, visit volvoce.com.
We tracked down more track loaders here.
Tags:
ASV
,
ASV Holdings
,
Case
,
Case Construction Equipment
,
home
,
Kubota
,
October 2018 Print Issue
,
Volvo CE
,
Volvo Construction Equipment