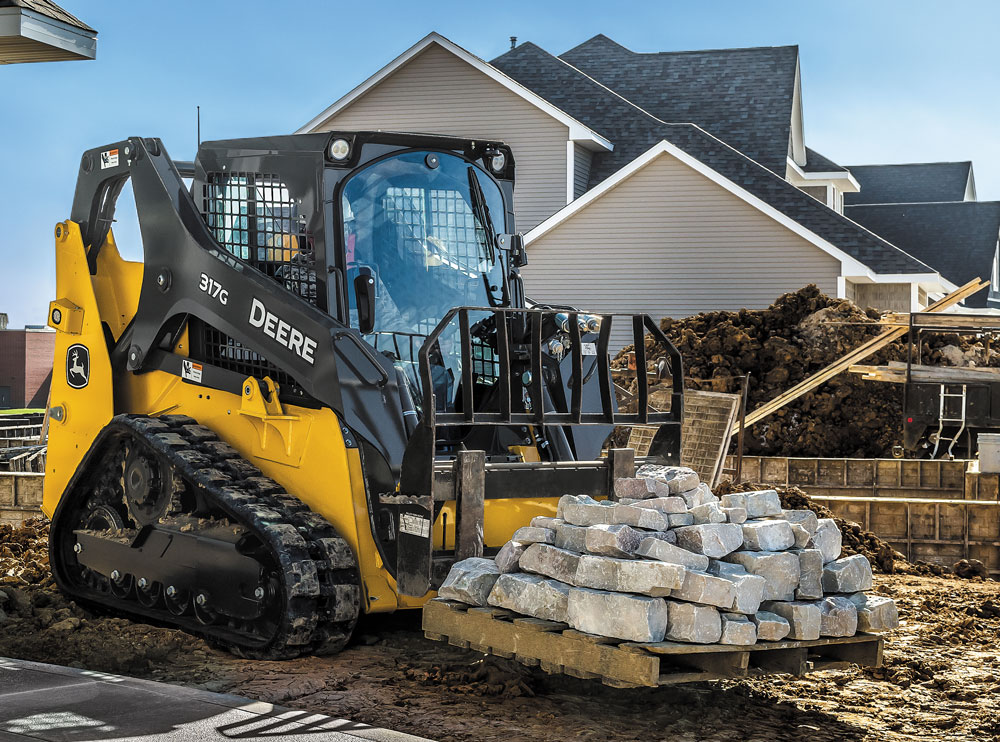 The inclement weather of spring and fall always makes finishing those construction and landscape projects a constant challenge. The wet weather makes jobsites slick and unworkable, and skid steers get little traction on those slippery inclines and delicate work surfaces. That's why it's time to call in the mobile artillery — your little Sherman tank on tracks — compact track loaders. Tackling tough terrain and giving extra power are what compact track loaders are all about. Sometimes called rubber track loaders or multi-terrain loaders (depending on the manufacturer), these compact loader/tool carriers are engineered just like your skid steers (including the same attachment plate) but with the added versatility of a dedicated track undercarriage. Rolling on rubber or steel tracks, compact track loaders can spearhead operations and navigate jobsites with extra flotation.
A dedicated undercarriage also gives added tractive power (great in dozing operations), yet dispenses the weight of the entire machine through multiple track contact points for a lighter footprint. With extra power, lower ground pressure and added flotation and traction, the advantages of compact track loaders are growing on all types of professionals.
Wheeled skid steers will always have their strong markets (especially when hard surfaces, cost of ownership or increased cycle times come into play), but compact track loaders will continue to eat up market share in their specific applications. From Bobcat to Kubota, John Deere to JCB, Caterpillar to Case, we've compiled 13 manufacturers that are producing or branding these dedicated track machines today. Large or small, vertical or radial lift, enclosed cab or just ROPS, basic or opulent, suspension or no suspension, low-cost or expensive — today's market offers a wealth of choices for buyers.