Small track loaders just got smaller. With the introduction of ASV's RT-25, the threshold for seated track loaders drops to 25 hp and an operating capacity of 665 lbs. To put it in perspective, the new compact track loader has less operating capacity than some stand-on compact cool carriers (like a Toro Dingo).
"These little guys [the RT-25 and slightly larger RT-40] offer customers a way to do the work and not have to stand up," says Buck Storlie, product line manager for ASV Holdings. "They get customers into something they can sit down in with more protection around them, so they can travel at faster work speeds and get more work done." Storlie fully expects the smallest track loaders to take sales from the minis.
Storlie sums up the thinking behind the RT-25 in seven words: light, nimble, small and minimal turf disturbance. "The other thing is it can be towed behind a half-ton pickup. Its weight [3,755 lbs] is very unique. There's nothing else other than a stand-on that is that light." In comparison, the unit is roughly half the size of ASV's mid-size compact track loader — the 7,630-lb RT-65.
Gehl introduced a miniaturized track loader of its own in January. The RT105 is a 35-hp 4,700-lb loader with 14.5-gpm auxiliary hydraulic flow. Gehl's regional training manager, Brian Rabe, says the new model is a derivative of the company's R105 skid steer — to a point.
"A heavy-duty track loader undercarriage was engineered for this machine, and the RT105 has all the enhancements of our bigger track loaders. We kept the simplicity of the skid loader, rock-simple, and put it into the track loader family."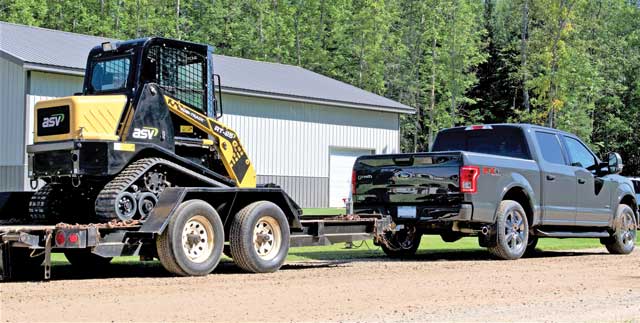 Rabe says the RT105 was the result of Gehl customers suggesting development of a smaller track loader version. "When we bumped the concept around internally, as well as talked to our partner rental companies, it really opened up an opportunity for us to touch several different customer bases we hadn't touched before with a skid loader product." The two targets are so-called "weekend warriors" and fleet owners wanting to augment their skid steer fleet with track loaders.
The T450 is Bobcat's most diminutive track loader. Introduced five years ago, the T450 is, at 61 hp and 6,140 lbs, almost twice as large as the industry's smallest track loader, yet still is a player in that market. A large number of T450 units manufactured annually go into rental yards. "It also does well in commercial and residential construction and landscaping," says Tyler Zima, the company's loader product specialist.
Zima concedes, however, that as building lots get smaller, "smaller machines are becoming more popular. As a manufacturer, we always are looking at potential markets to make business better for us." While the T450 is currently the smallest track loader in the Bobcat lineup, the company has two popular mini track loaders (called compact tool carriers generically) that are popular for smaller jobs.
"The walk-behind or ride-on is a convenient machine, because you can simply step off instead of getting on and off through a door," says Zima.
Kubota's lightest model, the SVL65-2, also was introduced in January. It is larger in both operating capacity and power (68 hp) than the T450 but still targets the light-weight market segment. "Customers requested a smaller and lighter compact track loader with all the features of our larger Kubota CTLs," says Jeff Jacobsmeyer, product manager. "The small-but-mighty size allows the SVL65-2 to maneuver easily in tight areas, but it still packs a powerful punch."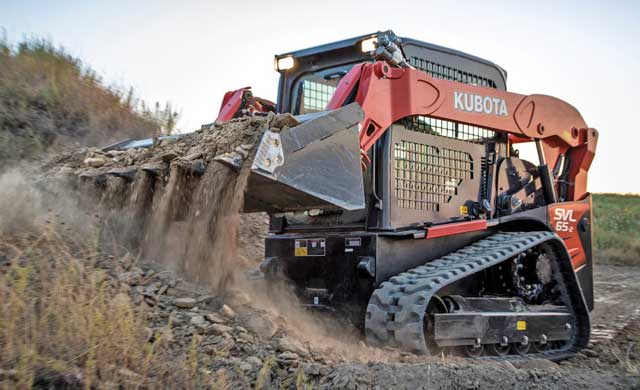 So, the "small" category of compact track loaders is interpreted loosely by manufacturers. The smallness of the price tag for one of these machines is also a matter of interpretation. Suggested prices are in the $40,000 range.
Manufacturers also tend to stress different features in appealing to buyers in that category. For example, Kubota offers the sliding overhead front door on its small loader just as it does on larger models, a feature that indeed gives operators open-air or closed environment working conditions without interfering with boom operation.
Jacobsmeyer also talks about the loader's "advanced multifunction valve," which smooths simultaneous hydraulic functions. It enhances the use of the auxiliary hydraulic system on the track loader, which runs at 27 gpm for more demanding high-flow attachments. "The goal was to maintain the SVL65-2 as a purpose-built compact track loader from the ground up, just like the two larger models."
Besides being the current record-holder for offering the smallest sit-in track loader, ASV sets itself apart via the RT-25's light touch. The machine has a ground pressure rating of 3.1 psi. The comparable reading on competing track loaders in the segment is above 4 psi. "The biggest differentiator is our undercarriage, weight distribution and minimal ground disturbance. No one else can offer what we do, including our turf track options," says Storlie.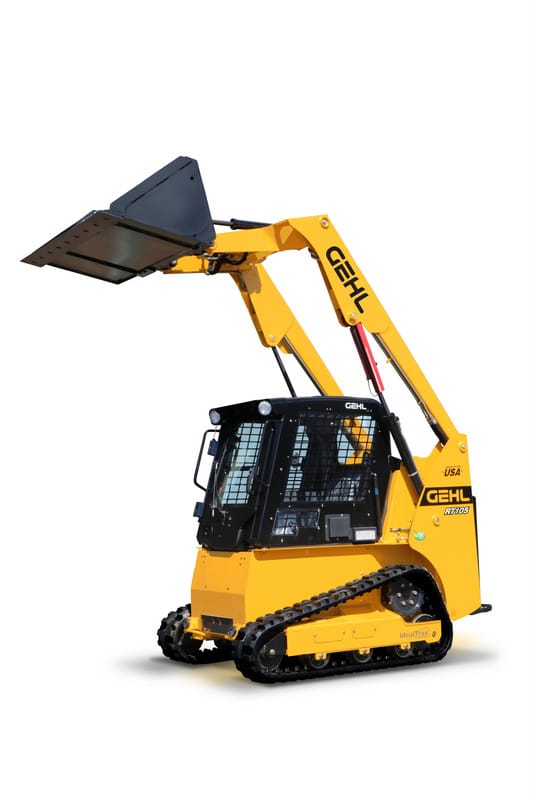 He relates his experience at a recent tradeshow where the RT-25 was put through its paces on grass, including counter-rotations that barely marred the sod. Watchers were impressed. "The machine distributes its weight so well that you can get in to do your job and not destroy grass."
The Gehl RT105 offers operator control system options that let a buyer match his or her experience. The proprietary T-bar system is a hands-only set of levers — the left controlling movement of the machine, the right the bucket and boom functions. "Rental houses have a lot of random operators, so the controls need to be intuitive," Rabe says. "We also have the familiar hand-and-foot controls as an option for guys who are used to running with that type."
Rabe also places a high value on Gehl's patented IdealTrax track-tensioning feature, which automatically keeps optimal tension on tracks while the machine is running and reduces tension when the unit isn't operating. The feature is claimed to extend the life of tracks by up to 15 percent. "Anyone buying a tracked machine knows tracks are 5 to 15 percent of the cost of ownership during the life of the machine."
Zima notes that compact track loader manufacturers are competing at a very high level now, with differences in products narrowing. "At Bobcat, we have redesigned fans for better cooling and offer ride control for riding long distances more comfortably. With the 450, we have industry-leading lift capacity of machines that are around 55 in. in width. Things like that help separate the T450."
Manufacturers are noncommittal about how much smaller, if any, compact track loaders will become. Most speak in terms of nothing being on the radar, yet neither do they rule it out. "When we launched our machine at World of Concrete," Rabe says, "we had a lot of people looking at our machine who weren't the usual people looking at our machines. And some asked the same thing, 'Are we going to go smaller?'" Better keep an eye on that radar.
Giles Lambertson is a freelance writer for Compact Equipment.
---
Smaller Budgets? John Deere Announces Low Monthly Payment Program for Track Loaders and Skid Steers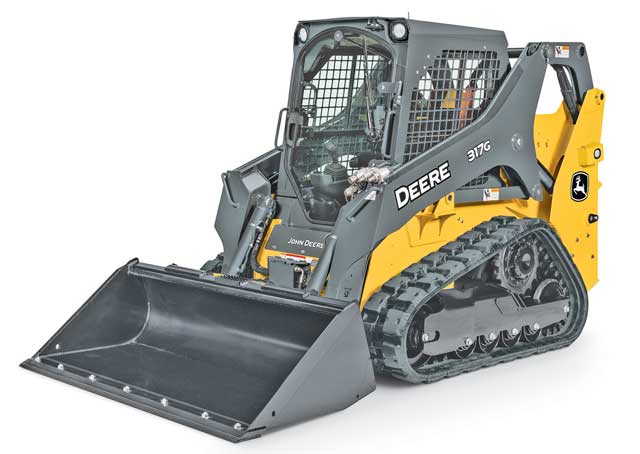 Keeping with the small theme, a new John Deere low monthly payment lease program was just announced, aimed at customers seeking financial flexibility when acquiring select models of John Deere compact track loaders and skid steer loaders. The 314G and 318G skid steers, and the 317G compact track loader models are offered within the new program. By offering this payment plan, customers looking for compact construction machinery with certain specifications can acquire durable products without breaking the bank. In the United States, a skid steer with a canopy starts at $379 per month or with a cab option at $429 per month. Canadian customers can purchase a skid steer with a canopy at a starting price of $512 per month (CAD) or with a cab option for $565 per month (CAD). Exclusions apply in both the United States and Canada, and local dealers should be contacted for further information. For more info, visit deere.com.
---
The Narrowness Factor
Compact track loaders compete in terms of lift and hydraulic flow and other functional criteria. But size itself — a machine's compactness, particularly its width dimension — also plays a role in satisfying customer demand. The smallest sit-in track loader today is ASV's new RT-25 with a 25-hp unit and auxiliary pump flow of 11.3 gpm. It's operating weight of 3,755 lbs rides on independent torsion axles. More to the point, it is 48 in. wide. Is that the right width for one of these compact machines? It depends who you ask.
"The width is very sensitive," acknowledges Tyler Zima, Bobcat loader product specialist. "You might lose half your customer base to concern about width. We decided there is a customer base that wants to get the maximum horsepower and also be well-balanced. A loader can only be so narrow and still be stable during lifts."
Bobcat's answer is the T450, which is a full 55 in. measured across the tracks. Introduced five years ago, the 450 has a 61-hp engine, hydraulic flow of 16.7 gpm and weight of more than 6,000 lbs. So how does Bobcat address the size concern? "I think it comes down to our salesmen understanding what the customer is doing, the applications and lift requirements," says Zima. "If a width requirement is narrower than what the 450 offers, then a 450 won't work and the customer needs to be directed toward a stand-on mini track loader."
Brian Rabe, regional training manager for Gehl, has a different take. The smallest Gehl track loader, the RT105, is 51 in. wide (without a bucket, 54 in. with bucket). "If a customer needs to get down to a 4-ft width, the application is sometimes better suited for a wheeled skid loader, such as the Gehl R105." The R105 skid steer is 48.4 in. wide sans bucket.
Furthermore, says Rabe, the applications of a track loader are less frequently impacted by width. "Access restrictions aren't typically the same for track loaders as for wheeled machines. With track loader applications, the building, doorways or gate may not exist if the machine is being used in new construction. These are some of the reasons we didn't sacrifice stability and serviceability to get to an even lower width on the RT105."