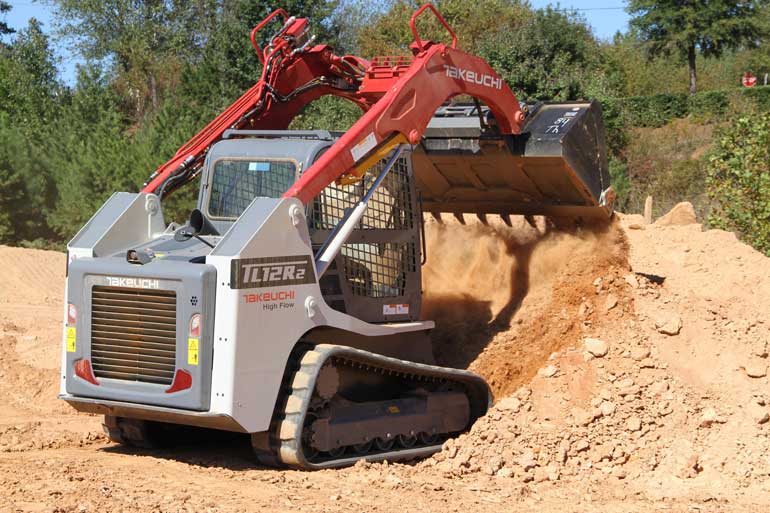 Four Units from One of the Original Track Loader Pioneers
Takeuchi Mfg. began in 1963 and has been a pioneer in the compact equipment industry ever since. Takeuchi developed one of the world's first compact excavators in 1970, and the company's innovation continued again in the mid-'80s with the introduction of its first compact track loader. Takeuchi compact track loaders are designed and engineered with power, strength and maneuverability, says the company, providing a high level of quality and performance. Each of the company's compact track loaders features a two-year, 2,000-hour full machine warranty.
Now available in both radial- and vertical-lift configurations, Takeuchi can meet the needs of a wide range of customers. Each Takeuchi track loader is purpose built and features a unique undercarriage design that features model-specific components that are matched to each specific platform for greater durability. A fully welded track frame incorporates a unitary design with multiple cross members for superior strength and rigidity. Double reduction planetary drives produce excellent power for torque and performance in the most demanding applications. The operator's station on Takeuchi track loaders are spacious and feature a deluxe high back suspension seat with multiple height adjustments, placing the operator in the optimum position to see the attachment edge. Pilot-operated joystick controls are utilized to control all loader and travel functions. Their precision and responsiveness, due to the low effort controls, reduce operator fatigue, says Takeuchi.
Advice to Buyers
"Compact track loaders offer tremendous pushing power, low ground pressure for operating in soft unstable material and, when coupled with high breakout forces, they are an excellent choice for someone who is excavating dirt or truck loading," says Michael Shebetka, product manager at Takeuchi-US. "There are many factors to consider. Horsepower and weight are usually the first specifications buyers look at. Rated operated capacity versus tipping load, height to hinge pin and reach requirements are important factors in determining the right size loader. Another factor is loader arm design, vertical or radial lift. Radial is well suited for excavation and provides excellent mid-height reach whereas vertical lifts are excellent for load-and-carry applications."
Takeuchi-US
519 Bonnie, Valentine Way, Pendergrass, GA 30567
706-693-3600 | takeuchi-us.com
Click on table to enlarge