When compact track loaders (CTLs) first appeared as an off shoot of skid steer loaders in the 1990s, they were considered specialty machines designed primarily for landscaping operations. But the enhanced floatation, high traction, low-ground pressure and great pushing power offered by a dedicated rubber-track undercarriage soon found converts in a diversity of applications ranging from agriculture to forestry to grade control. So much so that today's CTLs are by far the compact tool carrier of choice for American contractors.
"At first, CTLs were kind of lumped in with skid steers because we use similar engineering resources to design them, and they have many similar capabilities," explains Luke Gribble, solutions marketing manager at John Deere. "Over time, we've seen CTLs emerge as the more popular machine, and the market for them is continuing to grow. Now that contractors really understand what these machines can do, they're starting to push the limits with them. We're even seeing them taking the place of small dozers on some jobsites. And now, as manufacturers, we find ourselves looking at where we can go next with these machines in terms of size, power and productivity."
Technology and automation have been a trend for most categories of off-highway construction equipment for quite some time, but we're seeing impressive progress for compact track loaders. Let's recap some examples. John Deere's 333G SmartGrade compact track loader is factory engineered with fully integrated grade control technology, giving operators access to DozerMode, a breakthrough control solution that enables the EH joystick control system to function like a crawler dozer with the push of a button. Bobcat released a phone app called Bobcat MaxControl Remote Operation that allows remote-control operation of a loader using a smartphone. Caterpillar offers Smart Attachments for its track loaders and skid steers — Cat's Smart Dozer Blade, Smart Grader Blade and Smart Backhoe — all of which adapt the machine's standard controls to precisely match the recognized Smart Attachment and add new functionality (like use of the in-cab controls to operate like a dozer or to control a backhoe).
Those are just a few examples. Telematics, backup cameras, Bluetooth radios, heated seats, touchscreen displays, automation features like return to dig and ride control — compact track loaders have nearly as many technology options as big dirt work machines like dozers.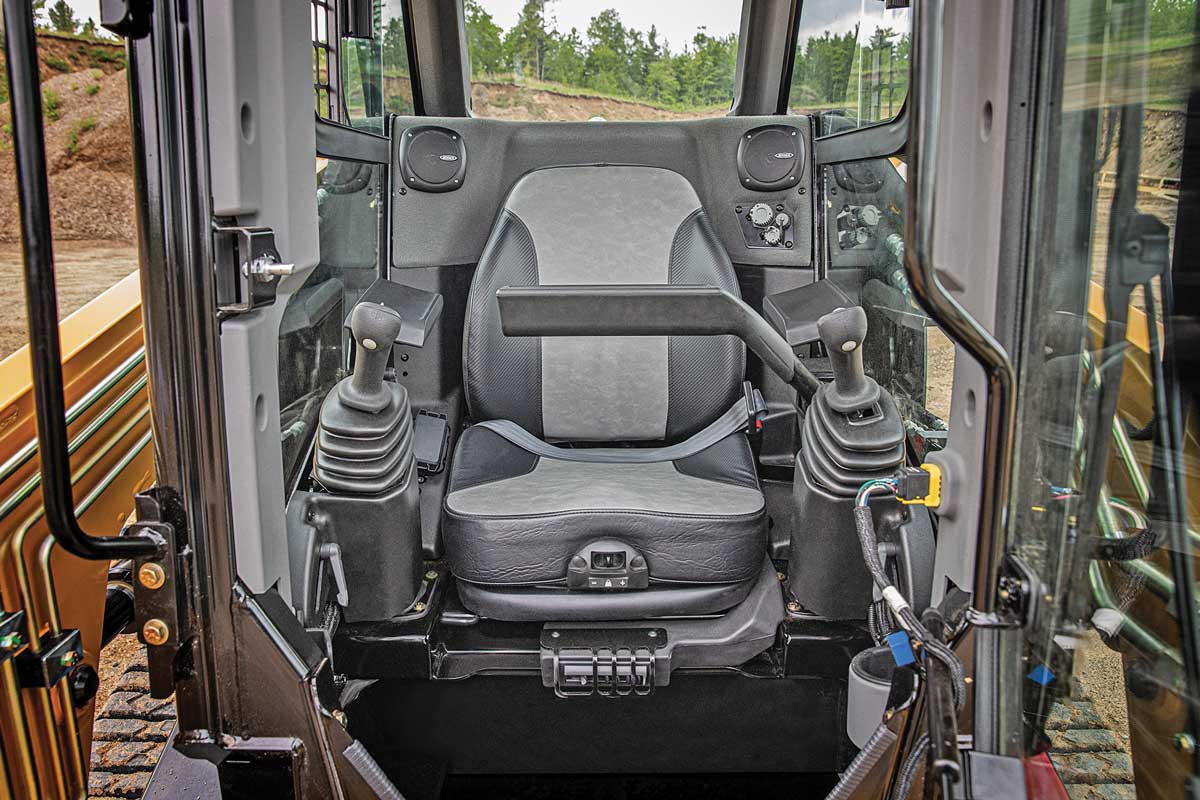 "Customers now are looking for more technology, more power and more performance when it comes to CTLs," says Patrick Baker, product manager of construction equipment with Kubota. "When it comes to specific features and upgrades, customers are looking for a quieter, more comfortable cab with less vibration. We're hearing more requests for added technology such as an interactive display, telematics and rearview and 360-degree cameras for added comfort, machine control and safer operation."
Kevin Coleman, product specialist with Caterpillar, notes that contractors want to expand the capabilities of these machines to be more productive, comfortable and efficient.
"With the design flexibility built into the Cat CTLs, customers have the ability and flexibility to add items to the existing machines in their fleet to meet their needs," he says. "This includes features like speed sensitive ride control, high-flow hydraulics, LED side work lights, electrical connection to support certain attachments, additional machine guarding, hydraulic coupler, a water tank for dust suppression or even enclosing an open canopy machine to make it an enclosed cab with heat and air. Contractors are also looking for ways to help protect their investment like a coded security system to deter theft or a rearview camera to provide maximum visibility in the tight quarter tasks CTLs tend to find themselves performing."
Undercarriage Tech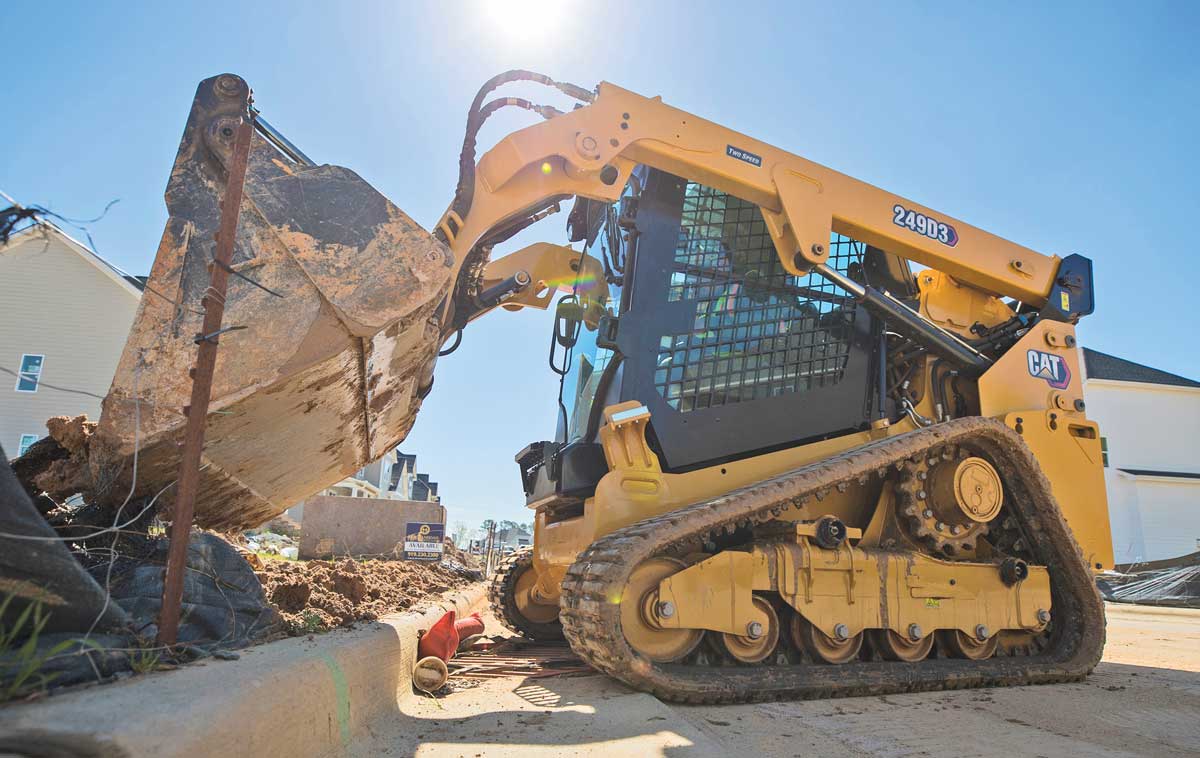 Track loader makers continue to re-engineer the dedicated track undercarriage. There are rigid-mounted — also known as solid-mounted — or suspended undercarriage systems. There are single- and dual-level suspension systems that include torsion axles and bogie wheels that flex with the track. There are options and brand exclusives. John Deere recently introduced its anti-vibration undercarriage system for the 333G compact track loader. Caterpillar offers a torsion suspension undercarriage on all of its CTL models, while offering a steel track option for its largest models. All Gehl and Mustang by Manitou track loaders come standard with IdealTrax, which is an automatic track tensioning system that simplifies maintenance and reduces downtime by ensuring proper track tension when the engine is running and relieves pressure on the track components when the engine is turned off. Ask your dealer about all the cool undercarriage options and tech on the market.
Touchscreens to Smart Attachments
Speed, accuracy and flexibility are all built into a CTL's DNA, but increasingly, OEMs are turning to new technologies to help contractors take their machines to the next level in terms of productivity. For the most part, these efforts are focused on two areas: inside the cab and on the business end of the boom out in front. Buck Storlie, product line manager at ASV Holdings, says that one definite CTL trend he's seeing is the increased use of modern controls like touchscreens.
"Operators — especially owner-operators — want to be able to do more from the cab and have more information at their fingertips," Storlie says. "Our new Max-Series line includes an optional state-of-the-art, 7-in. touchscreen display. The simple-to-use screen includes all vital monitoring tools, provides a view of the backup camera and integrates with service history and schedules, such as engine oil changes and other maintenance needs. Passcode operator lockout is also available as a safety and security feature."
"Things like Bluetooth radio and a microphone to enable music streaming and hands-free phone use are now fairly common CTL options," Coleman adds. "Customers are also taking note of what productivity enhancing features the compact track loader can be equipped with that can help less experienced operators maximize their potential and productivity. These would include monitors or displays that provide the ability to adjust implement and drive response settings for task, tool or experience level — like dual self-leveling for handling materials or speed sensitive ride control for maximum material retention in load-and-carry situations."
Compact track loaders are the most popular category of compact equipment in America. Learn why with loads of track loader features right here.
As with virtually any type of machine today, telematics systems are also becoming increasingly important tools for maximizing uptime. Telematics is an umbrella term for a variety of technologies and services that monitor a unit, collecting and sharing digital data on everything from systems analysis (think maintenance) to location (think theft). A telematics monitoring device would be installed on the unit or multiple units, and vested parties would be able to monitor those machines via smart devices like a computer, phone or tablet.
"Kubota launched their KubotaNOW telematics system on Jan. 1, 2021," Baker says. "And KubotaNOW telematics is a standard feature on the newest Kubota CTL — the SVL97-2 — and is available on new Kubota SVL models. Telematics is a great tool for owners and operators to track maintenance and service schedules, identify error or fault codes, check machine diagnostics, as well as setting up geofencing and GPS tracking."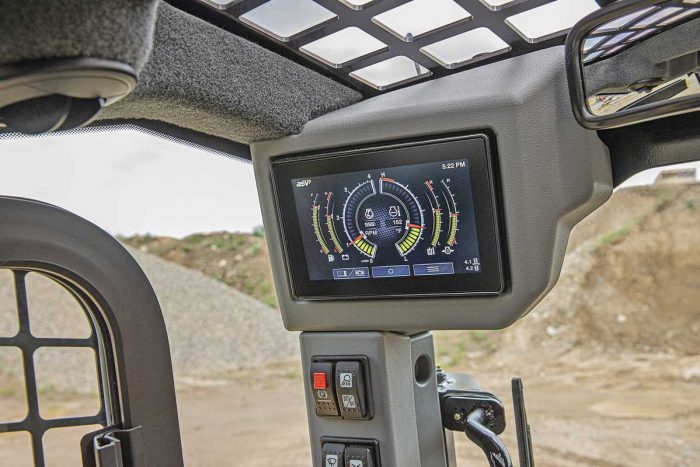 Attachments are getting techy too. Caterpillar's Smart Attachments, as mentioned earlier, are highly advanced hydraulic attachments with advanced electronic control systems. Once a Smart Attachment is mated with a track loader, ECMs on both the machine and the attachment "recognize" each other and begin communicating, electronically tailoring the controls and operator information screen to match both the tool and the task at hand. Coleman says this unprecedented level of integration between the machine and attachments allows for better machine utilization and a better finished product by delivering easy, intuitive operation of new grading and excavating operations with a CTL.
"Smart Attachment technology starts with a plug-and-play attachment recognition protocol, which means the machine understands when a Smart Attachment is connected," Coleman explains. "It also knows which Smart Attachment is connected. With the press of a button, the operator can enter the Attachment Control mode. Once in the Attachment Control mode, the machine's existing joystick controls are changed from the traditional drive and implement control functionality and are instead converted to meet the control needs for the specific Smart Attachment that has been attached. This recognition allows the machine's joystick controls to be tailored to now provide specific control actions for the connected Smart Attachment. This eliminates the need for extra controls or complex button/trigger/switch pressing to control what are traditionally difficult to operate and control hydro-mechanical tools."
Grade Control and Beyond
Implements overall are embracing the call for more efficiency, power and accuracy through technology. All types of attachment categories — brush cutters, breakers, augers, rock drills, planers, trenchers and beyond — have seen big technology improvements over the last few years. A great example is the variety of automated grade control options that can be paired with a compact track loader and a detachable grader or box blade attachment. Adding machine control helps turn CTLs into highly productive and efficient grading machines, achieving 1/4-in. accuracy and ensuring much less material is needed during site prep. 2D machine control is ideal for leveling parking lots, building pads or sporting fields where everything runs on the same slope. 2D grade control systems are guided by a rotating laser or sonic tracing and can use a single or dual grade rotating laser and laser receiver to control the lift and tilt of the grading attachment on a CTL.
3D machine control systems can take on more complex designs, including building pads, roads and fine grading applications using more precise technology, including extras like a total station or base station and a 3D design of the project. 3D machine control can be guided by single GNSS, total station/base station or dual GNSS. This kind of technology is a serious investment with options for a total station, base station or full GNSS 3D system running between $50,000 and $80,000 with all the related components and systems. Manufacturers are now even releasing specialized grade control track loaders.
Bobcat Invests Heavily in High Tech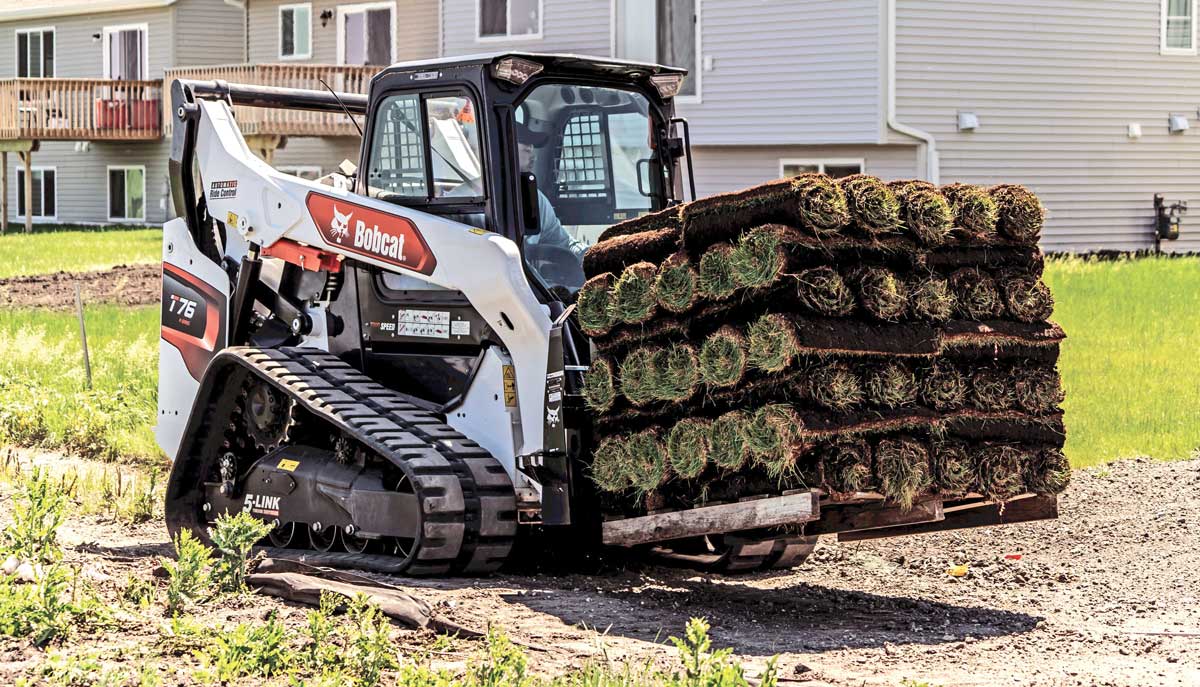 Bobcat Co. has released some of the coolest digital machine products on the market over the last couple of years. Let's start with the Bobcat MaxControl app, which allows remote operation of Bobcat equipment via a mobile phone or tablet. Bobcat has its Features On Demand option, a patent-pending technology that gives customers the flexibility to enable additional features on its R-Series compact loaders like software as a service. Customers can install and uninstall options like: 2-Speed travel; high-flow hydraulics; automatic ride control; dual-direction bucket positioning; and even a reversing fan. Bobcat also upgraded its Machine IQ wireless telematics service with two new subscription packages — Machine IQ Basics and Machine IQ Health and Security. Earlier this year, Doosan Bobcat North America even announced a strategic equity investment with Ainstein AI Inc., a startup radar technologies company located in Lawrence, Kan., to continue the development of next-generation radar sensor systems for Bobcat equipment solutions (like object avoidance). So high tech.
Case Construction Equipment boasts its DL550B — a "compact dozer loader" — leveraging the footprint of a CTL with the C-frame and blade of a dozer to create a powerful two-in-one machine for grading and loading applications, fitted with a six-way blade and a full complement of 2D and 3D machine control solutions. John Deere's SmartGrade 333G compact track loader hit dealer lots this summer, engineered with fully integrated grade control technology. Operators will have access to DozerMode, a breakthrough control solution that enables the EH joystick control system to function like a crawler dozer with the push of a button.
"Being the first to market with a new technology is always exciting," says James Leibold, the product manager of connectivity with John Deere Construction and Forestry. "But that technology also needs to be dependable. We made our largest and most dependable CTL into a precise fine grading beast by integrating our 3D SmartGrade control system. This system utilizes some of the same proven hardware as our industry-first SmartGrade motor graders to give customers the first OEM 3D controlled CTL."
Leibold says the new Deere SmartGrade 3D system uses dual global navigation satellite system cab-mounted receivers, inertial measurement units and an in-cab display to precisely grade material to the jobsite plan.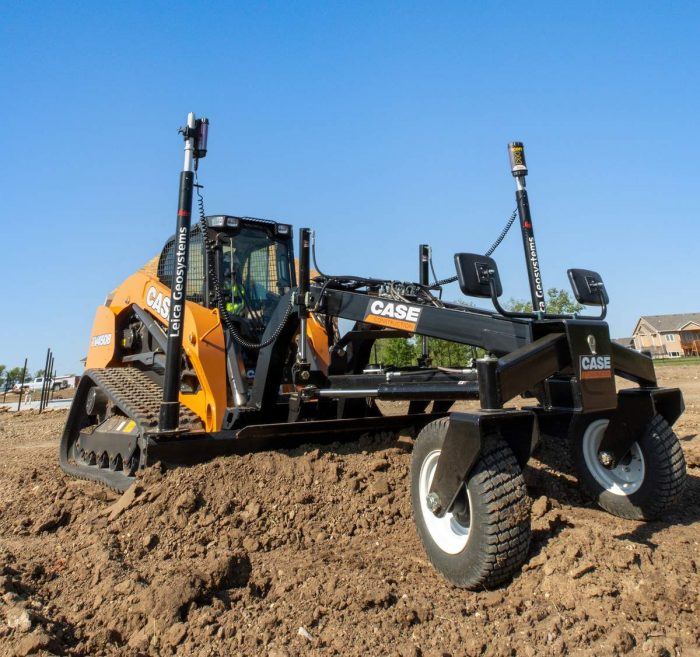 John Deere's 333G SmartGrade compact track loader is a top-of-the-line technology unit, and its cost will start out at $115K (kudos to Deere for publishing prices on its website now), but you don't have to break the budget to a get a high-tech CTL. Most brands of track loaders today offer a high technology experience. Routine tasks such as boom settings, attachment speeds, hydraulic flows, wheel speeds, ride control and return-to-dig functions can be automated into your joysticks. Operators can choose between pilot joystick, EH joysticks or hand and foot controls. Quick-attach systems allow the operator to engage and disengage the attachment without ever leaving the operator station. Digital interfaces allow operators to individualize and save attachment settings, change languages and add security measures.
These advanced control features provide the operator with the ability to adjust a machine to match his or her operation style, experience level or even a specific job task. The ability to tailor machine performance allows operators of varying skill levels to be comfortable and productive in a compact track loader, no matter the task or attachment.
Jack Roberts is a freelance writer for Compact Equipment.
For reprint and licensing requests for this article, please click here.
Tags:
ASV
,
ASV Holdings
,
Bobcat
,
Caterpillar
,
John Deere
,
Kubota
,
October 2021 Print Issue