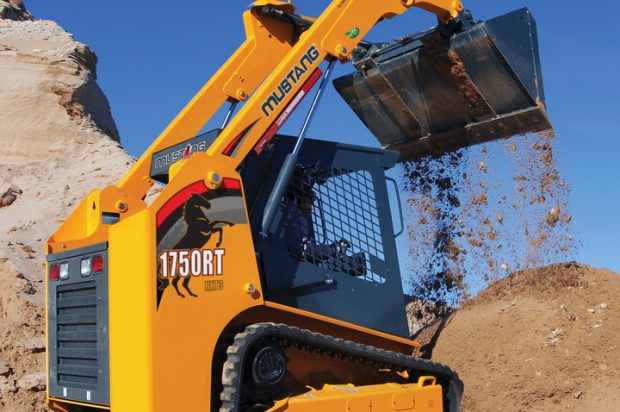 Three Radial-Lift Loaders with the Automatic Track Tensioning
Mustang began in the 19th century as the Owatonna Mfg. Co. Starting as an agricultural implement manufacturer, Mustang has since grown into a 21st century compact equipment leader. Mustang built its first skid steer in 1965. Entering the track loader market in 2001, Mustang has a lot of experience in the dedicated track loader industry. Mustang track loaders are manufactured in Yankton, S.D.
Mustang offers three track loader models to meet the needs of today's compact equipment users with the all-new 1750RT NXT3, 2100RT NXT3 and 2500RT NXT3. Engines rated at 69.9, 72 and 74.3 gross hp, respectively, are at the core of these Mustang track loaders. These engines, in concert with industry leading horsepower management technology and planetary final drive, contribute to high tractive effort and fuel efficiency, says Mustang.
Models feature radial-lift loader arm geometry, offering power in ground-engaging applications and additional reach at trailer loading height. A low-profile boom design enhances visibility, while providing a lift height of more than 127 in. Auxiliary hydraulic flow is standard (high flow optional), with connect-under-pressure couplers.
Mustang track loaders feature a dedicated welded undercarriage designed to withstand the most arduous of applications. The undercarriage design assists in weight distribution, which enhances stability, grading, tractive effort and ride control. The newest generation of radial-lift track loaders offer many industry-leading features, including the patented IdealTrax automatic track-tensioning system. This system eliminates manual track tensioning and increases the life of the tracks, sprockets and bearings, due to the relief of track tension when the engine is shut off. This system saves the suggested 10- to 15-minute track tension checks that are recommended every 50 hours and the 30- to 45-minute tension readjustments required approximately every 300 to 400 hours depending on usage.
Advice to Buyers
"Ensure that you are reviewing the physical machine performance beyond what the specification sheet states," says Brian Rabe, senior product manager of skid and track loaders with Mustang. "The key is to first determine what you plan to do with the machine. What tasks do you need to accomplish? What terrain and space do you work in most often? What attachments do you already own, and what ones do you still need?"