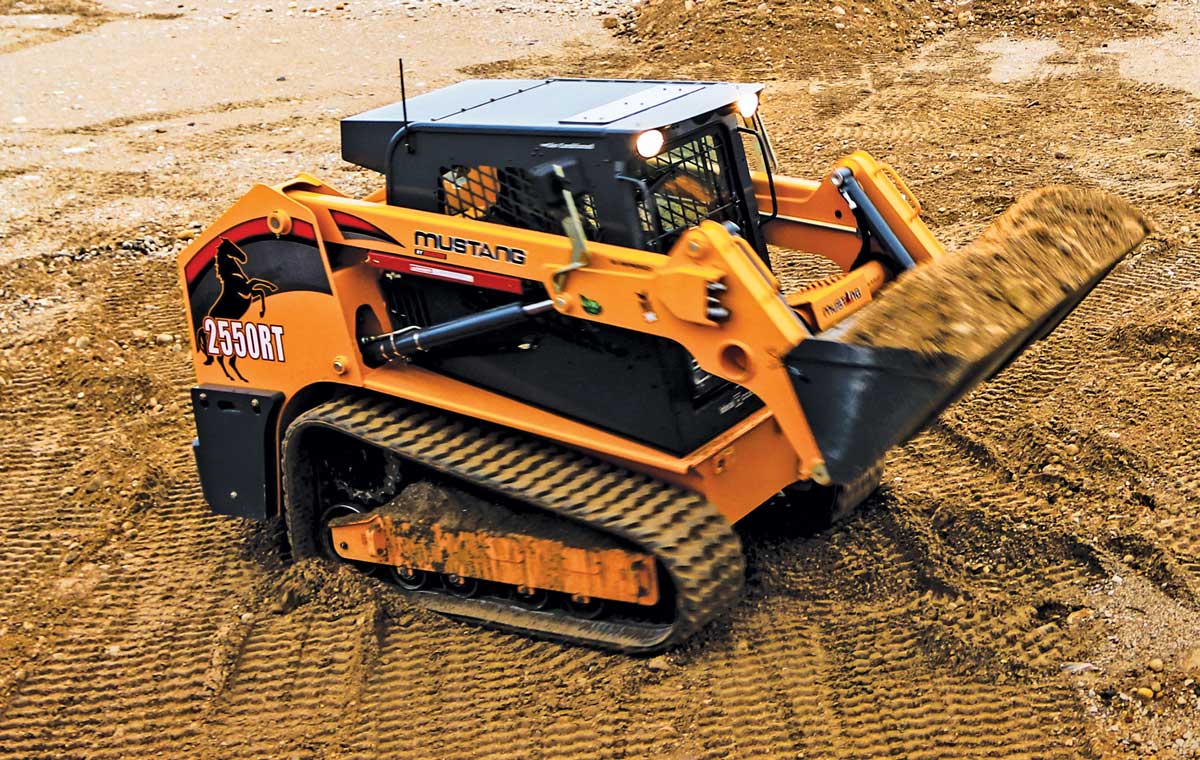 Large Lineup Boasting IdealTrax Automatic Track Tensioning System
Mustang by Manitou began in the 19th century as the Owatonna Mfg. Co. Starting as an agricultural implement manufacturer, Mustang by Manitou has since grown into a 21st century compact equipment leader. Through innovation driven by customer feedback, Mustang by Manitou describes its units as workhorses that deliver safety and performance for construction, agriculture and industries beyond.
The Mustang by Manitou track loader line has a large lineup consisting of seven radial-lift (RT Series) models and one vertical-lift (VT Series). These machines are blazing new trails in the track loader market with many exclusive features, industry-leading breakout forces and a durable chassis design, says the company.
The Mustang by Manitou 1050RT is the most compact track loader of the company's offering. It has an overhead clearance height of 71.5 in. and width of 50.8 in. This machine is built for ultimate efficiency with a high-power drive motor for rugged conditions and tight work areas.
Mustang by Manitou also recently introduced a group of Pilot Series track loaders that feature revolutionary hydraulic pilot joystick controls for true one-to-one proportional control over the drive system. The controls are mounted to the seat for added legroom and comfort during operation. The result is a responsive system that provides both low- and high-end speed controllability. Models include the 1650RT, 1850RT, 2150RT and 3200VT.
The Mustang by Manitou 1650RT track loader is a game changer. It goes up to 10 mph in two speeds, and operators can choose between pilot joystick, T-bar or hand/foot controls. The machine width is also customizable with frame and track options that give the machine an overall width of 66 to 71.3 in.
Mustang by Manitou's vertical-lift model, the 3200VT, is a high performance track loader with class-leading breakout forces that deliver the power to break up a pile of dirt or remove tree stumps with ease. Lift breakout force reaches up to 7,491 lbs and tilt breakout force is up to 9,901 lbs. The 3200VT also features the same hydraulic pilot controls from the Pilot Series line.
Mustang by Manitou's industry-exclusive features include an IdealAccess fold-up door and IdealTrax automatic track tensioning system. IdealTrax simplifies maintenance and reduces downtime by ensuring proper track tension when the engine is running. The IdealAccess fold-up door allows the door to be open or closed during operation without increasing the overall machine height.
The standard All-Tach attachment mounting system provides maximum versatility, and the optional Power-A-Tach system allows the operator to engage and disengage attachments without leaving the operator station. With many attachments and track loader models to choose from, Mustang by Manitou track loaders are up for any challenge, from landscape to agriculture to construction, says the company.

Advice to Buyers
"When considering which machine to buy, a combination of machine performance and post-sale support balances the scales of decision making," says Nathan Ryan, product manager of skid and track loaders with Mustang by Manitou. "Not only do you want to choose a machine that meets the needs of the application and environment, but you must ensure that the network that will support you after the purchase in terms of parts, service and warranty as well."
Tags:
July August 2021 print issue
,
Mustang by Manitou
,
Spec Guide
,
Spec Guide 2021