Fellow Machine Heads, welcome back to the fourth episode of my new video series. This is once again Keith Gribbins, publisher and resident guinea pig at Compact Equipment. What's in store today? Innovative Iron Awards you say? What are those? Well, I've prepared a speech…
Even when the world shut down this year, construction equipment continued to roll. Since the beginning of the pandemic, crews and projects have been considered essential. Key machinery markets like housing are actually bucking the trend and growing in our new Covid economy. The persistence, dedication and innovation of both equipment makers and the equipment trades (construction, rental, ag, landscape and beyond) blew me away this year. They helped build a clearer path in our radically changed world, and I'd like to honor them all of them by highlighting what we at Compact Equipment consider the best pieces of machinery released for sale or concept in 2020 with our Innovative Iron Awards.
In this episode, we'll celebrate new products and Innovative Iron Award winners from John Deere, ASV and Mecalac. Here's a quick summary…
John Deere's SmartGrade 333G Compact Track Loader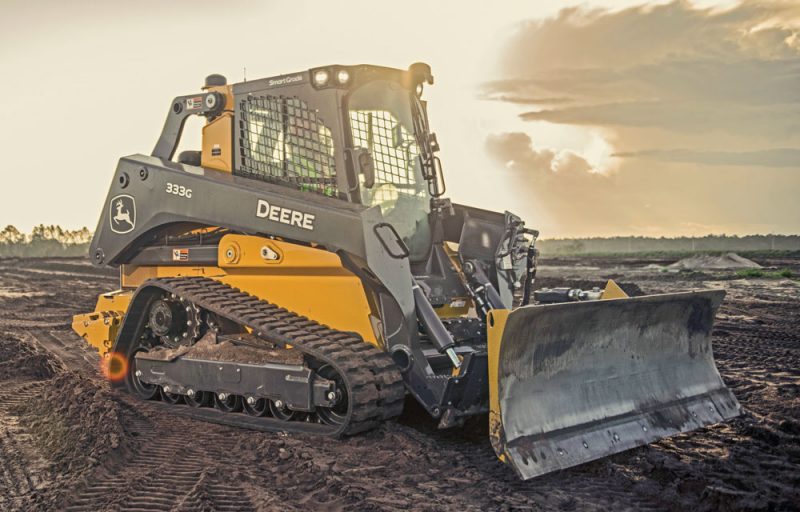 Track loaders are evolving. CTLs are officially the most popular loader tool carrier in America, leaving skid steers (apologies here) in their tracks. Now, smart companies are niching these units with market-focused hybrids. John Deere's SmartGrade 333G compact track loader combines the versatility and convenience of a compact track loader with the power and reliability of a crawler dozer, and it looks utterly awesome. Released in concept in 2020 and for sale in early 2021, the SmartGrade 333G integrates John Deere's "mastless" SmartGrade grade control software and accessories (Topcon's 3D-MC2 tech) directly into the structure at the factory.
Also, with the push of a button, DozerMode enables the EH joystick control system to function like a crawler dozer, benefitting an operator wielding a six-way dozer blade attachment. Precision grade work is a hot market for CTLs right now, and the SmartGrade 333G brings new category-changing dimensions as an exacting dozer hybrid that both reduces the amount of operator input needed for a complex task while ultimately lowering that operator's fatigue. For more info, visit deere.com.
ASV's MAX-Series Track Loaders
Ye old skid steers and track loaders are notorious for their mediocre visibility and comfort. All the latest SSL and CTL brand revamps try to address this, but none have created a cab experience quite like ASV's new MAX-Series units. That floor-to-ceiling glass cab design with clear sides and frameless door provide unmatched visibility (unless maybe you compare a one-armed loader from JCB).
The operator station can be upfitted luxuriously: a new fully suspended seat, four-way armrest settings, 7-in. touchscreen display, one-sided lap bar, 2 more inches of width at the shoulders, 8 in. more width at the knees and up to 4.5 in. more foot room than previous models. Bluetooth radio and improved speakers are available. There's even an escape hatch on the roof (an industry first). This is all built on the hydraulic performance, Posi-Track undercarriage technology, reliability and serviceability expected from an ASV loader. For more info, visit asvi.com.
Mecalac's MCR Series Crawler Skid-Excavators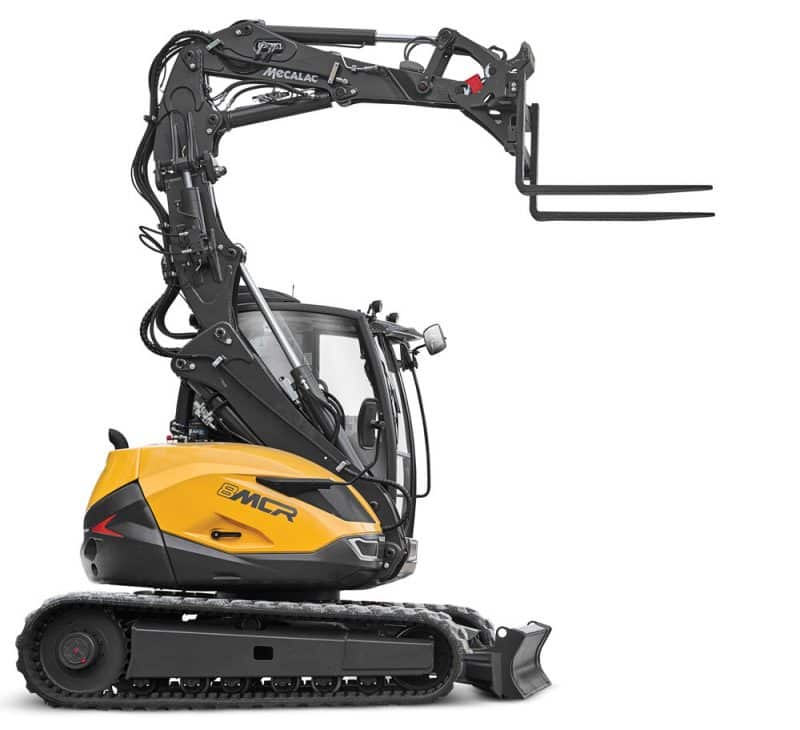 Combine the swiftness and attachment dexterity of a skid steer with the 360-degree rotation and dig skills of a mini ex and you have Mecalac's MCR Series. Excitingly, the French-based Mecalac brand has recently been releasing its unique species of Euro machines into the American market (dumpers to rail excavators). That includes the newly updated MCR Series "crawler skid-excavators" (the 6MCR, 8MCR and 10MCR).
These units feature a hydrostatic transmission, drive motors and dedicated pump drives that allow MCRs to travel twice the speed of a traditional mini ex (6.2 mph). The company's patented quick coupler Connect allows operators to quickly transition between implements (pallet forks to buckets) without leaving the cab. MCR units also utilize a unique three-part arm, boasting 360-degree reach during operation and zero-turn compactness when confined or stowed. The MCR Series also utilizes a range of attachments from buckets to breakers, so contractors can easily do the job of several machines with a single unit, freeing up resources and space without sacrificing efficiency. For more info, visit mecalac.com.
Tags:
ASV
,
home
,
Innovative Iron Awards
,
John Deere
,
Machine Heads
,
Mecalac