Curtis Allen is no stranger to taking risks. There was that time he went skydiving, and he cannot forget about the toboggan ride he took down the mountain after visiting the Great Wall of China.
"That was pretty sketchy," he recalls with a laugh.
Allen's also taken some risks to establish, grow and improve the efficiency of his business, Gila Water Management. He started the company in 2018, focused on maintaining irrigation canals for the local Irrigation District in Thatcher, Ariz. The small community is in the Upper Gila River Valley, northeast of Tucson. Along the 25-plus miles of canals he's responsible for, most of the work is reclamation.
"When I started, there was a lot of overgrowth and areas that hadn't been touched in years," explains Allen. "I'm getting it where it needs to be, as well as ongoing maintenance and cleaning. It's a big job."
Allen strives to run an efficient, effective company. His company's small size — "It's just me and two other guys full time," he said — and large workload means the right equipment and top-notch services are must-haves.
Searching for a Partner
When Allen took over the work for the Irrigation District, he inherited a backhoe that had severe problems. "My contract began on January 1. The backhoe had to go in for service on January 2," he recalled.
Not long after that experience, he felt it was worth the investment to move on from the problem-plagued backhoe and buy one that would be more reliable. After a bad experience with a local dealer, Allen wanted a different partner, but there wasn't another equipment dealer in the area. So, he expanded his search and found RDO Equipment Co., a John Deere dealer with multiple stores in Arizona.
Even though he grew up around and had operated other manufacturers' equipment, Allen had no concerns about making the change to Deere equipment. "Deere makes good machines," he said. The one thing he was concerned about with RDO. It was more than just a few miles down the road. RDO's closest store was in Tucson (200 miles away).
I hate to be the bearer of bad news, but sometimes you can't have it all… unless you rent. From finding the right dealer to scoring the perfect rental machine, we have you covered!
Risk to Reward
Early signs were good that Allen made the right choice. Going in with a tight budget, he assumed the "new" addition to his fleet would be a used one. However, sales professional John Davis showed him how financing options worked in his favor, and he could get the exact machine he wanted: a new 410L backhoe.
After getting it onsite, Allen found the Deere backhoe was the reliable workhorse he expected. But Allen, always looking to improve efficiency, quickly identified that a mini excavator would be the next smart addition to his fleet. It would offer greater range of motion and functionality on certain tasks compared to the backhoe. There was one condition: He only wanted the machine if RDO could pair it with a safety quick coupler and a tiltrotator. Davis worked with engcon, a specialty attachment manufacturer that also offers both. They added it to a Deere 50G mini excavator.
"Curtis' work often meant he'd need to dig a trench, put pipe in the ground, then bury the trench, so that's three different attachments he's switching for one job," Davis said. "The engcon would let him do the whole job without getting out of the cab to switch the attachments."
Allen was so pleased with the combo, he added an engcon quick coupler and tiltrotator to his backhoe as well — even though, "no other company in the country had put an engcon on a backhoe before," he said.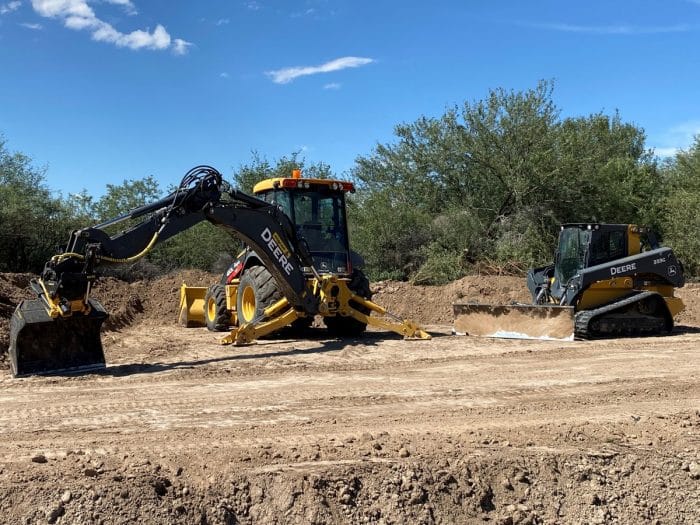 Making the Grade
In 2019, Allen purchased a John Deere 333G compact track loader (CTL) with a dozer blade. It was another great tool that played a key role in helping him maintain the canals. "We're cleaning and dredging. Then we need to clean up the slopes and slope away as the final step," he said. Because the machine did not have grade guidance, Allen and his operator were simply eyeballing the work. That led to extra passes and a lot of rework — sometimes twice as much time spent going back to fix the work that had been done.
In 2020, Allen saw Deere's launch of its new SmartGrade CTL at CONEXPO-CON/AGG. He was convinced it was exactly what he needed — a 3D grade control solution on a compact piece of equipment. Davis agreed the SmartGrade CTL would work well for Allen and reached out to Matt Asche, a Deere territory sales manager. He arranged for Allen to demo a prototype at John Deere's Proving Grounds in Sacaton, Ariz. He was hooked. In November of 2021, Allen received RDO's first SmartGrade CTL in its Southwest region. Even with minimal experience running grade guidance, Allen and his operator got up to speed quickly, thanks in part to help from another RDO team member, Jason Riley, a compact construction sales professional based out of RDO's store in Chandler.
Allen also realized the benefits quickly, saying, "I have run this exact machine with the blade, both with and without the 3D guidance. Without grade guidance, I was making 10 to 12 passes on a road, trying to get the right grade. Now with it, I do a better job in only three or four passes."
All the Pieces of the Puzzle
Gila Water Management continued to grow throughout the past two years, even with pandemic challenges. Allen acknowledges that the machines and technology have been game-changers for his operation. He understands many companies, especially smaller ones, are hesitant to try new machines and technology, but he sees those moves as risks he can't afford not to take.
"I operate with a razor-thin budget," he said. "And I would pay double what the engcon and SmartGrade cost because they save that much time and do the work that much better."
Lindsay Paulson is the public relations specialist for RDO Equipment Co. Learn more about RDO Equipment at rdoequipment.com.
Compact track loaders are the most popular category of compact equipment in America. Learn why with loads of track loader features right here. Tags: John Deere, March 2022 Print Issue, RDO Equipment