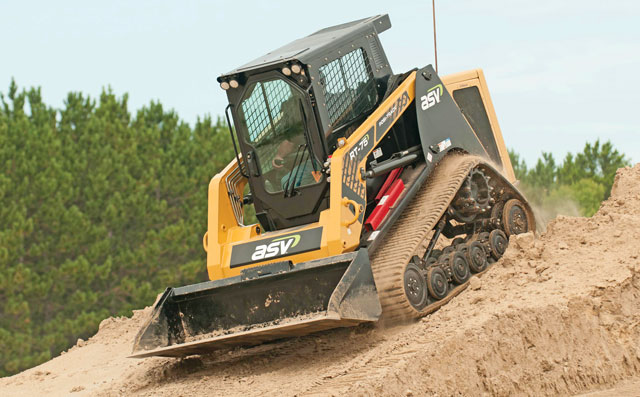 Everyone loves versatile tools. It's a big reason why compact track loaders are so popular with today's contractors, who can use the machines in a wide range of applications and conditions. While all track loaders are able to use different attachments to perform a variety of jobs, they don't all do so with the same level of performance and efficiency. Because contractors need their machines to not only be versatile but also high-performance and efficient, it is important that they look beyond the spec sheet when making their buying decision.
There are a number of points to consider when choosing a compact track loader that can significantly impact productivity and ROI. It's important to examine basics, such as what the machine will be used for, the types of surfaces it will be used on, ease of maintenance and operator safety and comfort. The best combination of features results in an all-weather, all-application machine.
Is Size a Factor?
Contractors should first consider the jobsites typical for their work. One common compact track loader application is landscaping when workers often haul material to and from the street and backyard. This requires the unit to work in tight spaces between houses or through gates. Such applications require a machine small enough to quickly and efficiently get where it needs to go. In these situations it's not uncommon for contractors to opt for stand-on units that boast compact design and light footprint. However, these units are less efficient and powerful, plus they are often difficult to operate and not nearly as safe as a ride-on unit. Some manufacturers offer machines with a complete operator's station and in a similar size class with the same durability and reliability as a full-size unit but with a footprint as small as 4 ft wide and capable of being transported on a standard-sized trailer.
On the other end of the spectrum, the most demanding jobsites require bigger, more powerful machines for large-scale construction and forestry applications. The most powerful machine on the market produces 360 lbf of torque. A lot of larger machines are sold for applications where high-flow performance is critical. Many manufacturers publish theoretical hydraulic flows and pressures on their spec sheets but cannot run more demanding attachments entering the market, such as mulching heads and cold planers.
Another important application consideration is if any lift-and-carry work will be required. Vertical-lift designs are best for that type of work, such as handling materials, moving pallets and loading trucks. The radial-lift design is the best solution if the primary function is mulching and excavation that require heavier attachments.
Lifting also requires an examination of lift height and reach requirements. Determine the appropriate height, whether the machine will be doing tasks such as filling dump trucks or placing pallets on high shelves. A lifting height of greater than 10 ft could mean the difference between moving material twice or being able to sort and load with one unit. This can provide for time savings in demolition, recycling and agricultural applications. Choose a vertical-lift machine for a greater forward reach at full lift height.
Make sure the unit works with attachments that fit the type of work it will be doing. Manufacturers design compact track loaders to be attachment drivers. The diversity of attachments leads to higher utilization and more flexibility to complete a variety of jobs. Research what attachment types and sizes the machine will accommodate. This includes looking at the unit's hydraulic flow rate and the weight of the attachment to match it to the loader specifications. Having a unit that allows for both brush clearing and snow removal allows a contractor to expand business opportunities and create year-round work.
To maximize torque to the attachment and enhance overall performance, the unit must run at peak efficiency. Rubber track undercarriages reduce friction, improving horsepower efficiency by as much as 10 percent compared to steel-embedded undercarriages. This is because the engine requires less horsepower to power the tracks, meaning more power is directed to the hydraulic system for powering the attachment.
Demanding applications often require specialized features in order to maximize durability and productivity. A one-machine-fits-all approach simply won't work. If the typical applications include high debris, rough terrain and difficult surroundings, it's best to look for a machine purpose built for those demands. Forestry applications are especially demanding, involving driving over logs and debris with significant amounts of flying material. Forestry-specific or heavy-duty models offer features that enhance comfort, reduce downtime and extend the life of the machine. Several purpose-designed units offer reinforced windows, a full rear brush guard, extra guarding around key machine components, auto-reversing fans to clear the engine compartment screens or heavy-gauge cabs rated for withstanding falling objects and rollovers.
Forestry and right-of-way work often involves sharp turns and driving across hills, things that frequently cause track derailment on standard track loaders. Choose a model with a large number of lugs and contact points to virtually eliminate derailment when working in such harsh environments. Track width is also a point to consider. Forestry often means soft and extreme terrain. Look for a wider track for more traction. Some manufacturers offer forestry machines with up to 20-in.-wide tracks. The extra width can mean the difference between completing a job and spending the day getting unstuck.
A demanding environment is more than debris and obstructions. The heavier the attachment and the higher the ambient temperature, the more important it is to have an efficient cooling system to prevent overheating and limit downtime. Look for a machine designed to keep water and oil temperatures in safe operating ranges under 100 percent load, 100 percent of the time at temperatures exceeding 118 degrees F. These units can run attachments such as mulchers without the addition of expensive external cooling. Many manufacturers stack the radiator, oil cooler and air conditioning condenser on top of each other. These designs run the same air through multiple coolers, reducing efficiency. For enhanced cooling efficiency choose a side-by-side radiator and hydraulic oil cooler with a separate A/C condenser. This will prevent debris from trapping between coolers and the warm air from one reducing the efficiency of the other.
Efficient hydraulics and cooling systems can allow a lower horsepower machine to outperform a higher horsepower unit, resulting in more power and lower fuel consumption. It's important to consider that, though a less-efficient cooling system costs less up front, there will still be the price of added cooling systems that are required to perform some of today's more demanding tasks.
Consider Conditions
Choosing the best machine for a variety of jobs requires identifying the surfaces the unit will most often work on. A compact track loader with excellent ground pressure, flotation, traction and ground clearance is a valuable, all-season machine. In order to prevent extra costs, landscaping jobs call for equipment that won't damage delicate turf. This is even more important for work on golf courses' manicured greens. The lower a unit's ground pressure, the lower the risk of damage. Rubber track machines have as many as four times more ground contact points in their tracks than steel embedded models. This spreads the unit's weight evenly for lower psi and extra flotation on delicate surfaces. Look for wider tracks for even lower ground pressure or choose smooth turf tracks as another option to prevent surface damage.
More contact points also means more flotation and traction on steep, slippery and wet ground, giving contractors more control on snow, ice, mud and slush. The additional traction allows for faster and safer work during snow clearing or while driving on a muddy construction site, ranch or farm. Low psi and good flotation can even give a compact track loader the ability to drive on top of snow or mud without sinking. For example, this allows a farmer to fetch hay bales from the middle of a snow-filled or soggy field without being bogged down. While turf is a key consideration, obstacles can't be overlooked. Units without enough ground clearance can get hung up on rocks, logs and other debris.
Minimize Downtime
While performance is the key to any machine, maintenance and downtime have a significant impact. Designs that make it easy and convenient to perform regular maintenance enhance utilization and overall efficiency. Most models only offer a rear door to access the engine compartment, which provides limited access for daily tasks, such as checking oil and filters. Some manufacturers build machines with multiple side panels in addition to the rear access. This provides more accessibility and can cut recommended maintenance times in half.
Be sure to consider whether the ground the compact track loader will be driven over includes brush or small abrasive materials that could become trapped in the undercarriage and wear away at components.
Think of the Operator
Having a year-round machine means year-round work. Watch for additional ease-of-use and comfort-focused features in the machine's cab. Small comforts can mean a lot to operators who spend hours in a compact track loader. Sealed-in glass side walls and corners provide easy visibility in all directions leading to an overall safer worksite. In addition, AC and heating vents distributed throughout the cab for even temperature allow for a pressurized, all-weather cab. Other comfort features include cup holders, a cell phone tray, an adjustable lap bar and joystick and a USB charging port. Some new models even have hands-free Bluetooth cell phone systems so a contractor can take calls while operating the machine. This means the opportunity to take on more work doesn't stop while in the cab and safety is maintained.
Bill Wake is the director of product development at ASV Holdings Inc.
---
Southeastern Equipment Donates CTLs to Team Rubicon for Revitalization in Detroit
Case Construction Equipment dealer Southeastern Equipment Co. Inc. donated the use of two TR310 compact track loaders with grapple buckets to Team Rubicon for Operation Joe Louis — an urban blight response project in Detroit. Team Rubicon has worked in partnership with the City of Detroit's Motor City Make-Over event — an annual citywide volunteer cleanup and beautification initiative — and Herman Kiefer Development LLC to clean up the Herman Kiefer Hospital complex and neighborhood by conducting damage assessments, debris management and home repairs in the area.
Team Rubicon brought in more than 100 volunteers and training personnel from around the United States to assist local residents in the cleanup effort of their properties, as well as any vacant or abandoned properties adjacent to occupied structures. The Case TR310 compact track loaders were used in debris management initiatives during the project, including the removal of fallen or dangerous trees, trash, overgrowth and the consolidation of debris and refuse, as well as the demolition of several garages and other outbuildings.