Last week, Kubota Tractor Corporation introduced the new SVL75-3 to its compact track loader lineup from the showroom floor at CONEXPO-CON/AGG in Las Vegas. The new SVL75-3 replaces the popular SVL75-2 with a wide range of performance, comfort and productivity features and will be available at authorized Kubota dealerships beginning in May 2023.
"The new SVL75-3 really raises the bar for Kubota's compact track loader line with the introduction of the first model in the -3 series," said Jerry Corder, Kubota product manager, construction equipment. "With a wide range of performance and functionality improvements over its predecessor, and standard technology features included in the cab, operators are going to work faster and more efficiently on the jobsite."
Increased Torque and Elevated Performance
The new SVL75-3 is powered by a 74.3-hp Kubota engine with higher maximum torque, allowing for quick and efficient work. With a working range that includes a rated operating capacity of 2,490 lbs at 35 percent or 3,557 lbs at 50 percent, an impressive 6,191 lbs of breakout force and a hinge pin height of 122.7 in., the SVL75-3 can tackle the toughest tasks.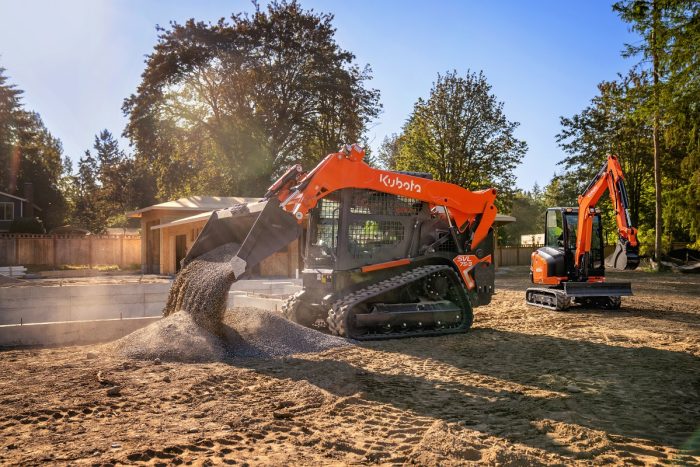 The SVL75-3's hydraulic system features an innovative Advanced Multifunction Valve (AMV) that helps to ensure smooth movement of all hydraulic functions when operated simultaneously allowing operators to run the auxiliary hydraulics, bucket and loader arm functions at the same time with a lower risk of stalling. The Electronic Travel Torque Management System is designed to enable operators to work faster and with more power by constantly monitoring the load of the machine to optimally control hydraulic pump output according to the load, reducing engine stalls for smoother operation in even the toughest conditions.
Updated travel features include faster two-speed travel and the Advanced Auto Downshift system from Kubota compact excavators that automatically downshifts from high to low gear while making turns, immediately providing the maximum amount of torque needed when exiting a turn. Operators also have the ability to change their travel response sensitivity with the choice of three track response settings: mild, normal and quick.
A Spacious One-Piece Sealed Cab with Advanced Technology Features
The SVL75-3 is equipped with Kubota's new one-piece sealed cab that helps prevent dirt, dust, rain and debris from entering the operator space while also reducing noise levels. Operators step into a wide cab entrance through a sliding front door that can be opened regardless of the position of the bucket or loader arms, and machine operation is possible with the door open. Front and rear LED work lights and a large upper windshield allows for increased operator visibility, day or night.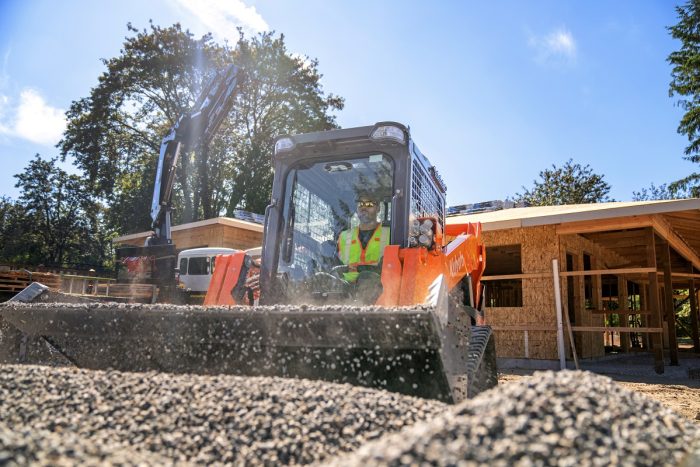 A new 7-in. color LCD touch panel with jog dial comes standard in the SVL75-3 and is conveniently positioned to the front right of the operator for easy visibility and fast access. The LCD panel gives operators access to a wide range of functions and vital information, like battery charge, hydraulic oil and coolant temperature, auxiliary mode and fuel level, and is also where the standard rear-view camera is displayed. Additional features include keyless engine start, with the ability to save up to 51 user passcodes, and a new integrated Bluetooth radio that provides seamless streaming and hands-free calling, available in closed cab models only.
Maintenance Made Easy
When it is time to service the SVL75-3, maintenance is a breeze thanks to easy access to the engine compartment, battery and fluid filters, while the radiator and oil cooler are conveniently located on top of the engine compartment making them easy to reach for cleaning and routine maintenance. An optional reversing fan helps to keep the radiator intake free of dust and debris to ensure optimal air flow. The one-piece sealed cabin can be tilted up 56.5 in. without having to lift the boom, providing access to the hydraulic pumps, valves, lines and hydraulic tank.
The new SVL75-3 will be available at authorized Kubota dealers beginning in May 2023. For more information or to find an authorized Kubota dealer near you, visit www.KubotaUSA.com.
Compact track loaders are the most popular category of compact equipment in America. Learn why with loads of track loader features right here.