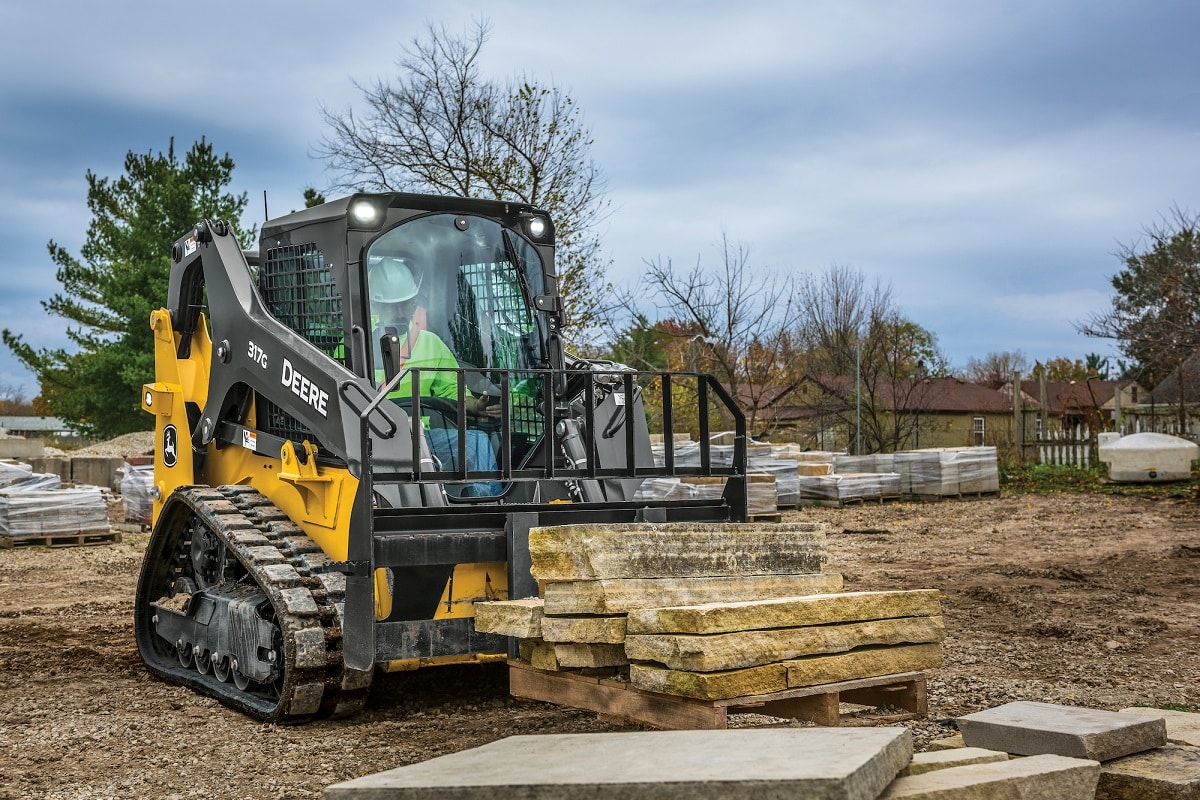 The SmartGrade 333G Is the First Fully Integrated 3D Grade Control CTL
This post is a part of Compact Equipment's annual Spec Guide. View other brands' product and spec info by clicking this link. View the magazine version of these summaries by clicking right here. Sign up for the print edition right here. Now enjoy!
John Deere has been manufacturing compact track loaders for nearly 20 years and prides itself on delivering durable and reliable products to customers. Four G-Series compact track loaders make up the current lineup of Deere's offerings, including the small frame 317G, mid frame 325G and large frame 331G and 333G. Over the last 20 years, Deere has focused on continuing to deliver machines with increased technological features that enable operators to complete tasks quicker and more accurately through a suite of grade control offerings.
Deere started this journey with the introduction of an onboard grade indication system, which is an option available on all large frame skid steers and compact track loaders. Onboard grade indication provides cross-slope (roll) and mainfall slope (pitch) of the machine within the in-cab monitor display. These are viewable as either degrees or percentages and allow real-time grade checks from the cab of the machine, which reduces the need for an individual outside the cab to check grade. This is a fully integrated solution, meaning that no additional hardware or software is required.
Customers desiring to have the blade adjust automatically when grading to predetermine simple slopes or on flat pads may want to look at slope control or laser slope control; either of which is an option on the 333G. Slope control is an entry level grade control system that allows operators to grade to desired slopes or build flat pads using the system's automated controls. Laser slope control assists operators in grading smooth planar surfaces with increased precision utilizing a laser base station and two receivers mounted on the blade. This system allows, similar to slope control, real-time cross slope and/or main fall slope percentages to be displayed in the Deere monitor and utilizes the automated features of the slope control system to automatically control blade movements to hit target grades.
For customers wanting the most out of a unit with grade control technology and that are working on jobs with varying slopes and grades that utilize an engineering drawing, SmartGrade is Deere's solution. The SmartGrade 333G compact track loader is the industry's first fully integrated 3D grade control solution on a compact track loader. This solution installs and integrates precision 3D grade control technology at the factory while maintaining the existing versatility and productivity capabilities of John Deere's existing 333G compact track loader. The factory integrated solution also leverages key features like the company's newly designed dozer blade attachment, EZ Grade software, dozer mode and factory calibration, all of which assist in the overall ease of operation of the machine and help ensure that you are productively and accurately hitting grade every pass, specifically getting accuracy to within one tenth of an inch. In regard to attachments, John Deere currently has over 100 models.

Advice to Buyers
"If customers are not needing a machine with grade control or grade indication technology, the large frame compact track loaders offer a great solution for many other applications," says Luke Gribble, solutions marketing manager at John Deere. "Our large frame compact track loaders excel in both site development and vegetation management, as well as many other applications accompanied by our extensive lineup of attachment options. Optioning up to high-flow hydraulics on your large frame machines gives you superior versatility in terms of options for running different attachments."