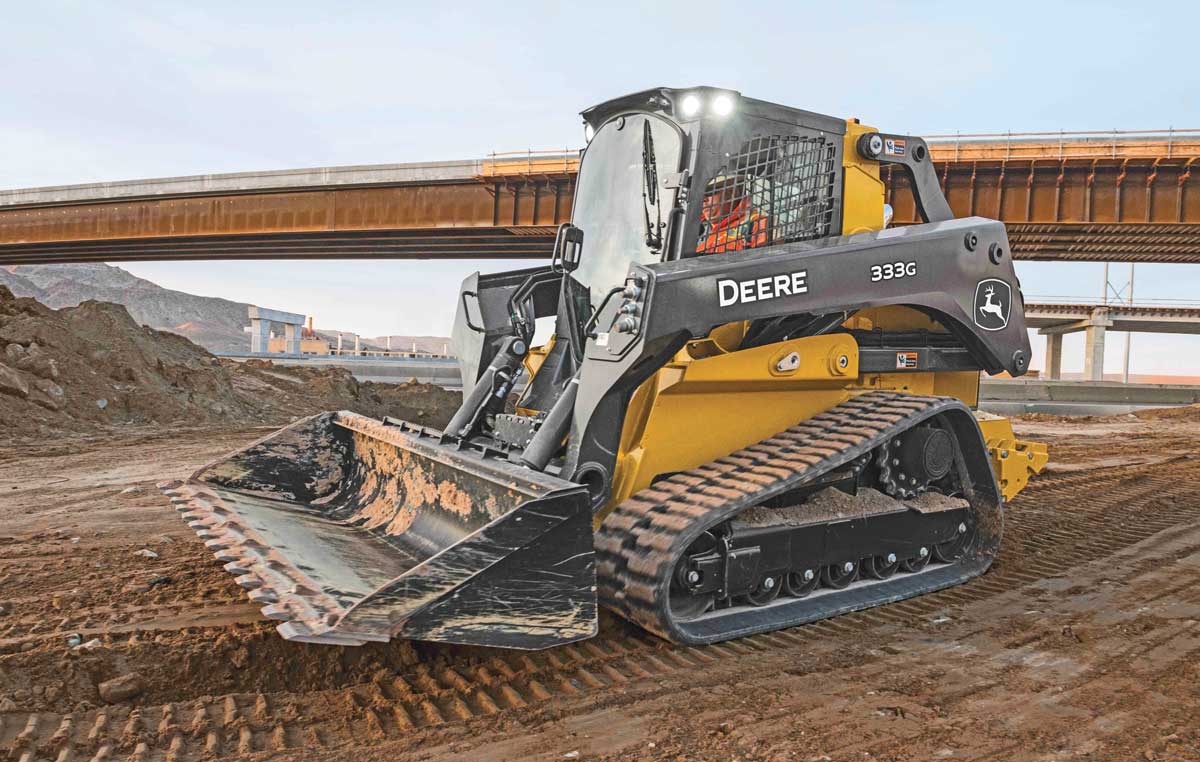 John Deere started offering two track loader models beginning in 2005. The company has expanded its offering over time to include four models, as well as a growing number of options and attachments. The current G-Series machines include the 317G, 325G, 331G and 333G, which are known for their enhanced visibility, overall reliability, low owning and operating costs and productivity features. Track loaders, like the rest of John Deere's compact equipment lineup, are not only available through John Deere Construction and Forestry dealers, but a large portion of John Deere Ag and Turf dealers also have the ability to sell and support these machines as well.
Deere classifies its track loaders in three categories: small, medium and large frame When looking at the broader track loader market, the trend continues to go toward customers buying larger machines. This doesn't necessarily mean the entire market is shifting to one size class, but rather customers who historically needed machines in a small frame size class (317G) may now be looking to go up to a midframe model (325G). The same is true for historic mid-frame model customers (325G) now looking to move up into the large frame track loader category with 331G or 333G machines. As customers continue to rely on these machines to be more productive on a range of jobsites along with needing a multitude of attachments, they are seeing that the larger machines will get them to the productivity level they desire. One feature to help customers maximize productivity is adding the EH Boom performance package to a machine. This shortens cycle times and speeds up repetitive boom movements like boom height kickout, return to dig and return to carry.
In regard to attachments, John Deere currently has over 100 models. In terms of popularity, it very much depends on the most common type of jobs that customers are working on. For general construction, buckets, brooms and grading attachments are very common, but within agricultural applications, attachments such as bale spears and huggers, manure scrapers and silage defacers come to mind. Other popular choices include pallet forks, rotary cutters, mulching heads, augers, trenchers and snow attachments.
Deere is also known for easy-to-access service checkpoints on all of its machines. In addition, John Deere track loaders allow more hours to be put on machines between recommended service intervals, which is going to increase the amount of time you are utilizing the machine versus having it down for service. The rubber track undercarriage is obviously an important topic to hit on when talking about CTLs. John Deere's undercarriage offerings have recently undergone new improvements which resulted in 22 percent improvement of roller path life, 15 percent improvement of steel cord durability and 11 percent improvement of metal core adhesive strength when compared to the previous models. On top of this, the new machine and service parts warranty on track loader rubber tracks has increased 50 percent over the previous warranty.

Advice to Buyers
"With over 100 models of attachments available, it's important to ensure you are specing your machine correctly to support those attachments," says Luke Gribble, solutions marketing manager at John Deere. "Hydraulic flow capabilities of your machine are very important to understand. Some attachments may require a high-flow option be installed on this machine and that is not a feature that can be addressed via a dealer-installed field kit. Even understanding the density of material that you will most often be handling is key as this effects which size and type of bucket will be the best match."